Schebler working on hitting to opposite field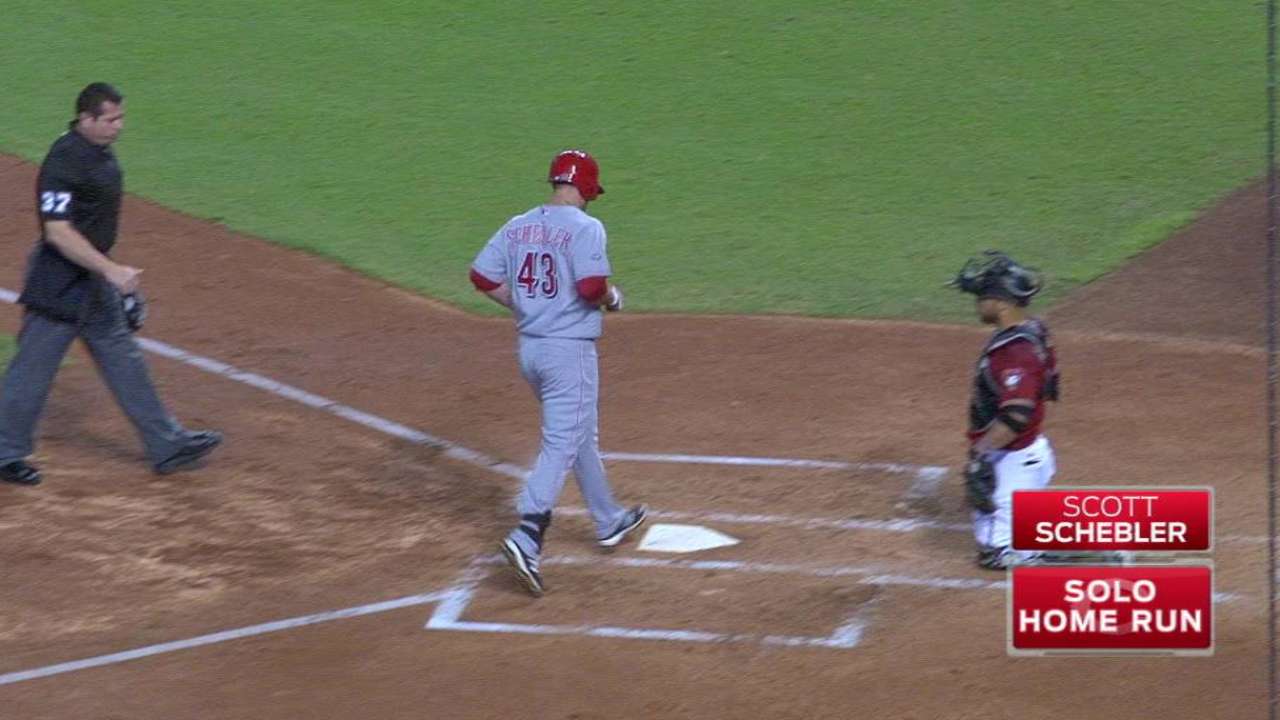 PHOENIX -- When Reds right fielder Scott Schebler hit his second home run of the game in the second inning of Saturday's 13-0 win over the D-backs, it didn't just mark the first multihomer game of his big league career. It was also the first time this season he cleared the fence hitting to the opposite field.
He didn't have to wait long for his second, as Schebler did it again in the Reds' 11-2 loss on Sunday.
Like other clubs, Arizona presented the left-handed-hitting Schebler with a heavy right side infield shift.
"I got that one pretty good," said Schebler, who entered Sunday with six homers this season. "That's one of the things we've been working on, going the other way because of the way they've been shifting me. So for it to show up in the game was kind of nice."
According to spray charts over his brief big league career, the vast majority of Schebler's hits -- and his outs -- are to the right side.
Reds manager Bryan Price saw Schebler working to go the other way during Spring Training.
"That's what he does when he's swinging the bat well," Price said. "We saw that in the reports when he was in Triple-A. His power wasn't simply pull power. It wasn't all pull homers. There were balls from left-center field to the right-field line."
Schebler brings one element that many left-handed hitters with power lack -- above average speed. If he does hit a ball to short right field, the infielder needs to hustle his throws to first base.
When the left side is left wide open, Schebler can bunt for a hit. He successfully bunted for a single to an open third base and scored a run in the 10th inning of Friday's 4-3 loss in 11 innings.
"Little stuff like that gets you going in this game. … If they keep shifting me like that, I don't see why I wouldn't keep doing it," Schebler said. "I don't think I'm a bad bunter. You don't have to be a good bunter to bunt on that. The third baseman was playing by second base almost. I just have to make sure I get it past the pitcher almost, and fair."
Schebler made the Reds out of Spring Training, but was sent down to Triple-A Louisville on May 8 after hitting .188. He got off to a slow start following his Aug. 2 recall from Louisville -- including a 0-for-28 stretch -- but has heated up lately and now showing he can hit to the opposite field.
"It gives an indication that he's starting to become more comfortable being himself and not pressing as much as when he first got here," Price said. "It's being able to access the things that he needs to compete at this level. We didn't bring him here to hit 50 pull home runs. We brought him here because he's an athlete and he can hit at this level beyond just the power."
Worth noting
Reds pitcher Alfredo Simon, on the disabled list since June 21 because of a strained right trapezius, is nearing the end of his rehab assignment with Louisville. Simon pitched five innings with one run on Wednesday and is due to pitch again on Monday.
Simon could be activated sometime after rosters expand. His role will likely be in the bullpen, but Price noted he could pick up a spot start.
Mark Sheldon has covered the Reds for MLB.com since 2006, and previously covered the Twins from 2001-05. Follow him on Twitter @m_sheldon and Facebook and listen to his podcast. This story was not subject to the approval of Major League Baseball or its clubs.