Folty thrives while keeping emotions in check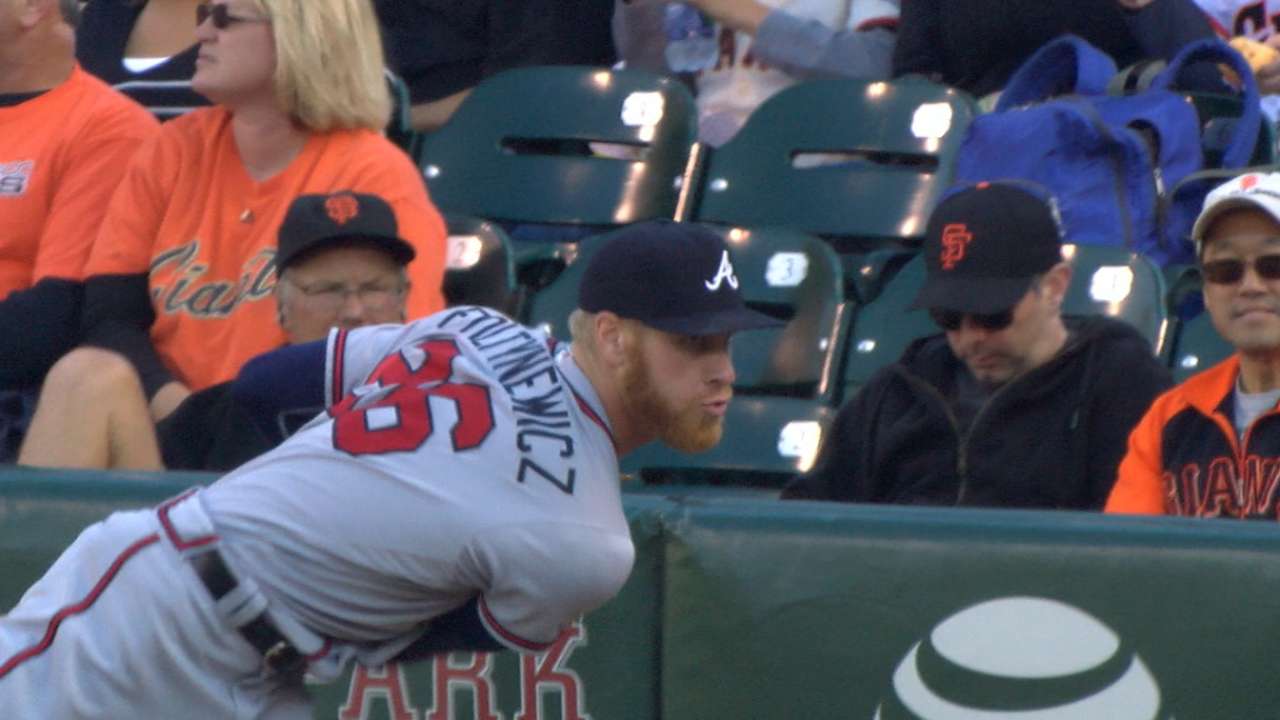 SAN FRANCISCO -- Mike Foltynewicz has often been his own worst enemy, as he has too frequently allowed his emotions to negate his tremendous physical talents. But as the Braves' right-hander remained composed throughout Saturday's 3-1 win over the Giants, he once again proved he has the capability to establish himself as a top-flight starter.
"Everything was under control," Braves manager Brian Snitker said. "That's just what he's capable of doing."
Feeding off the energy created by the always-energetic crowd at AT&T Park, Foltynewicz scattered five hits and allowed one run over 7 2/3 innings. The 24-year-old completed this 103-pitch effort without displaying the negative body language that has been seen when a call doesn't go his way or when he encounters some other form of adversity.
Foltynewicz made a mistake with the center-cut fastball Brandon Crawford hit for an opposite-field home run in the second inning. But instead of dwelling on the homer, Foltynewicz regained his focus and exited the sixth inning having retired 18 of the 21 batters faced.
"There were a lot of good pitches I made where they put the bat on it and got hits," Foltynewicz said. "In the past, I might have gotten a little upset and tried to throw harder to the next guy or things could have snowballed. But, yeah, I think I kept my composure very well tonight. We just need to keep working on it."
A few weeks ago, Foltynewicz admitted he has spent the past couple years attempting to harness those emotions. He seemed to be coming into his own around the All-Star break, but as he produced a 5.94 ERA in the six starts made from July 27-Aug. 22, he too often allowed his next pitch to be influenced by the previous one.
Such was not the case on Saturday as Foltynewicz progressed through his 33rd career start and provided reason to once again believe he could eventually become the legitimate ace the Braves have lacked over the past few years.
"He didn't have the lapses and the reactions," Snitker said. "It's all natural. He's a competitive kid. He kept himself together and stayed focused on what he was doing."
Odds and ends
• Right-handed pitcher John Gant was optioned to Triple-A Gwinnett to create a roster spot for Aaron Blair, who was recalled from Gwinnett to make Sunday's start against the Giants.
• The Braves have not decided who will start Thursday afternoon's game against the Padres, but they are not expected to provide Joel De La Cruz another start this season. They could bring Foltynewicz back on regular rest or give the start to left-hander Jed Bradley, who is expected to be among the additions when the active roster expands in September. Bradley is a former first-round pick who has flourished since being acquired from the Brewers in June.
Mark Bowman has covered the Braves for MLB.com since 2001. This story was not subject to the approval of Major League Baseball or its clubs.