Giants' bullpen stalwart Law lands on DL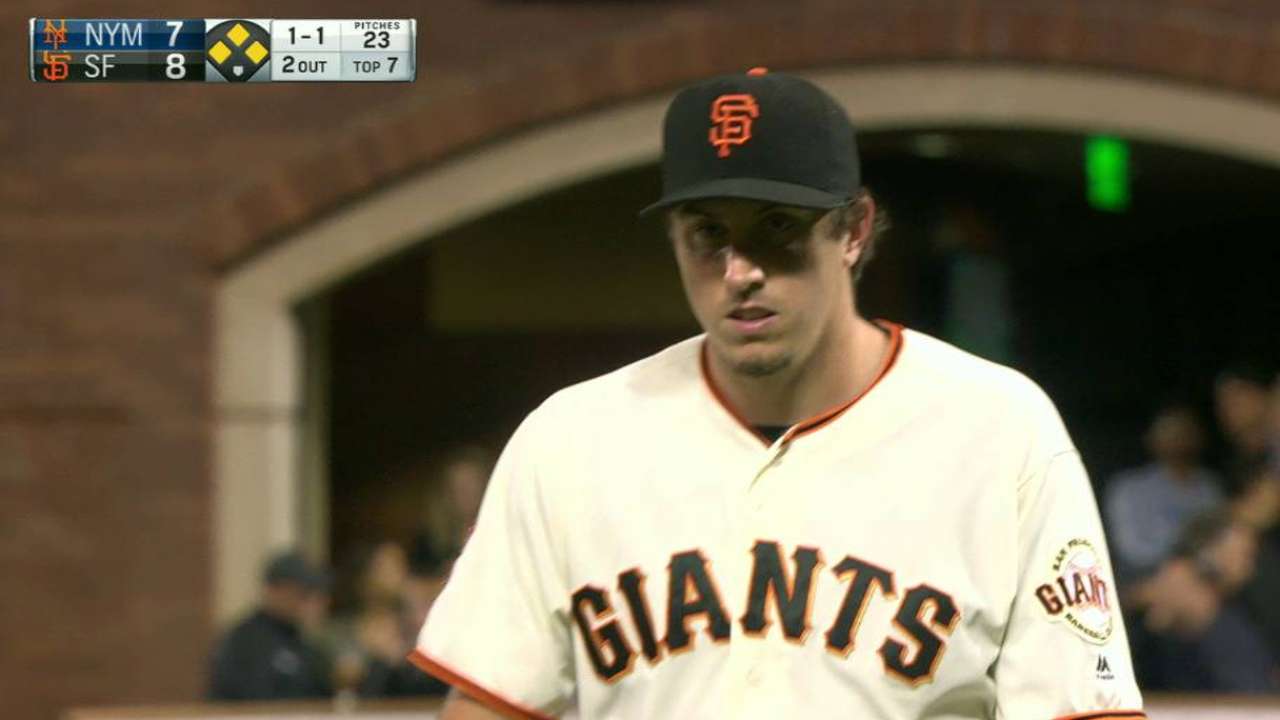 SAN FRANCISCO -- Giants relief pitcher Derek Law was unexpectedly placed on the 15-day disabled list Sunday due to a right elbow strain. Jarrett Parker was recalled from Triple-A Sacramento in a corresponding roster move.
Law pitched one inning during the club's 3-1 loss to the Braves on Saturday. However, Giants manager Bruce Bochy said that the club has noticed a dip in the right-hander's velocity and is being cautious because of it.
"His velocity had been down a little bit," Bochy said before the Giants' series finale with the Braves on Sunday. "He hasn't been feeling pain, so to speak. Actually, today he said he felt a lot better, just felt like he couldn't get the extension he normally gets."
Law, who had Tommy John surgery in 2014, has become a staple of the Giants' bullpen in 2016. The rookie has a 1.94 ERA in 53 appearances, which ranks fifth among National League relievers. He had also seemed to be progressing as the season wore on, posting a 0.41 ERA in his last 24 outings. But, the issue involving his dropped velocity isn't something the Giants want to mess with.
"You look up there and you see the velocity down, and that's where our concerns are," said Bochy. "We got to take care of this kid and make sure nothing's going on."
The announcement regarding Law came just a day after Jake Peavy was placed on the 15-day DL due to a lower back strain. The Giants anticipated having Peavy, who moved to the bullpen after the club acquired Matt Moore, starting for an injured Matt Cain (lower back strain) on Saturday. Instead, Albert Suarez was recalled from Sacramento and made his seventh start for the club this season.
Suarez allowed three earned runs in 4 1/ 3 innings and will remain with the club likely as a relief pitcher. Bochy said he was hopeful that Cain would rejoin the starting rotation when the Giants face the Chicago Cubs later this week. Cain allowed six runs (four earned) in five rehab innings for Sacramento Saturday.
"Matt was OK," Bochy said. "He felt fine, healthy. He got his pitches in, and the most important thing is he threw strikes and he felt fine."
Cain's status is still to be announced, according to the manager.
With three stints on the DL already this season, Cain hasn't been a consistent starter for the club, though. He also has labored through many outings, and is 4-8 with a 5.81 ERA in 17 appearances. It is why Bochy said the club may pick a fifth starter depending on matchups down the stretch. Bochy is also open to the prospect of moving a Minor Leaguer, such as Ty Blach, into that spot in the rotation. Blach is 14-7 with a 3.43 ERA in 26 starts for Sacramento this year, and the big league roster expands on Thursday.
"You could expand," said Bochy. "Blach has been throwing the ball well; these are things we're talking about."
• Hunter Pence (hamstring tightness) was out of the Giants' starting lineup for the third consecutive game Sunday. But, his MRI "came out pretty clean," according to Bochy. Bochy believes the right fielder will return for the club's upcoming series with the Arizona Diamondbacks that starts Tuesday.
Justin Wise is a reporter for MLB.com based in the Bay Area. This story was not subject to the approval of Major League Baseball or its clubs.