Giants hit 4 HRs to secure series win vs. Braves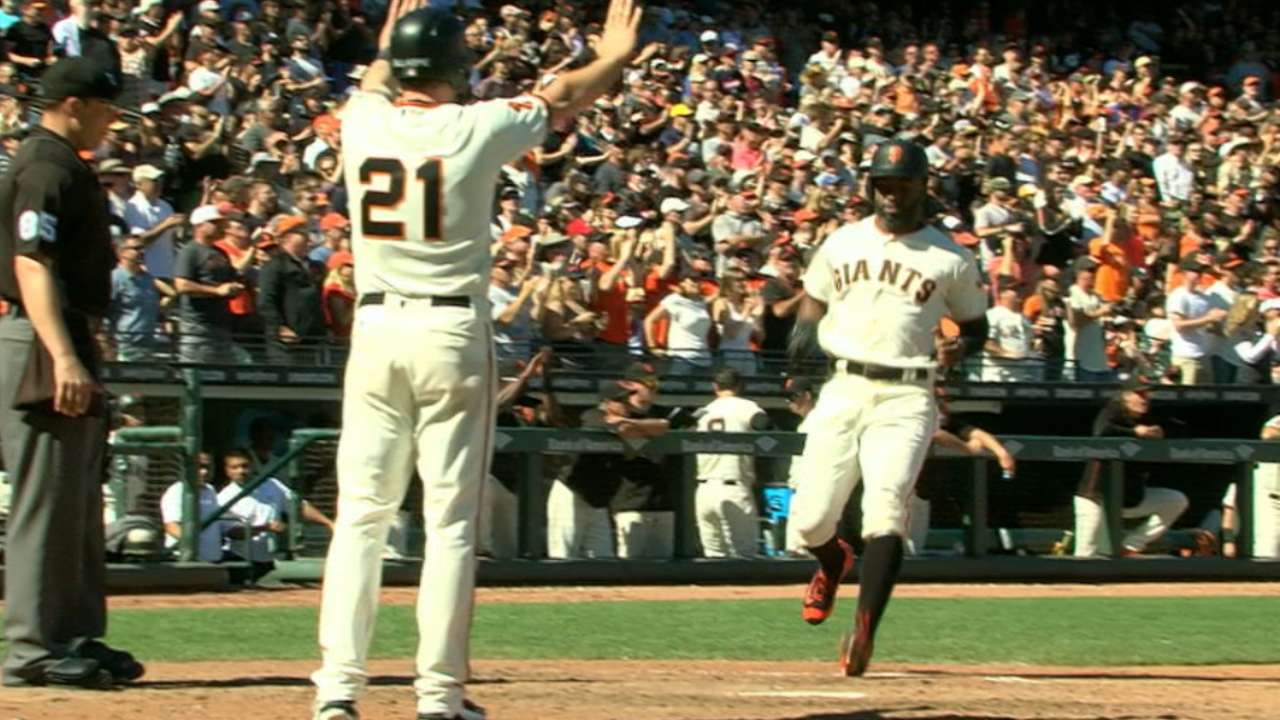 SAN FRANCISCO -- The first multihomer game of Joe Panik's career and an eight-run seventh inning on Sunday led the Giants to a 13-4 victory over the Braves and their first series win at AT&T Park since the All-Star break.
"It's great to take a series here; it's great to take any series," said Giants manager Bruce Bochy. "We haven't had many of those since the break. It's good to get one."
The Giants, who are a Major League-worst 14-26 in the second half, kept pace with the National League West-leading Dodgers and have now won three of their last four games.
While Madison Bumgarner didn't return entirely to form, the ace left-hander provided the Giants with his first quality start since Aug. 13. He didn't have to pitch perfectly, as the offense broke out, totaling four triples and four home runs. Panik crushed a solo home run in the second and added a two-run shot in the fourth.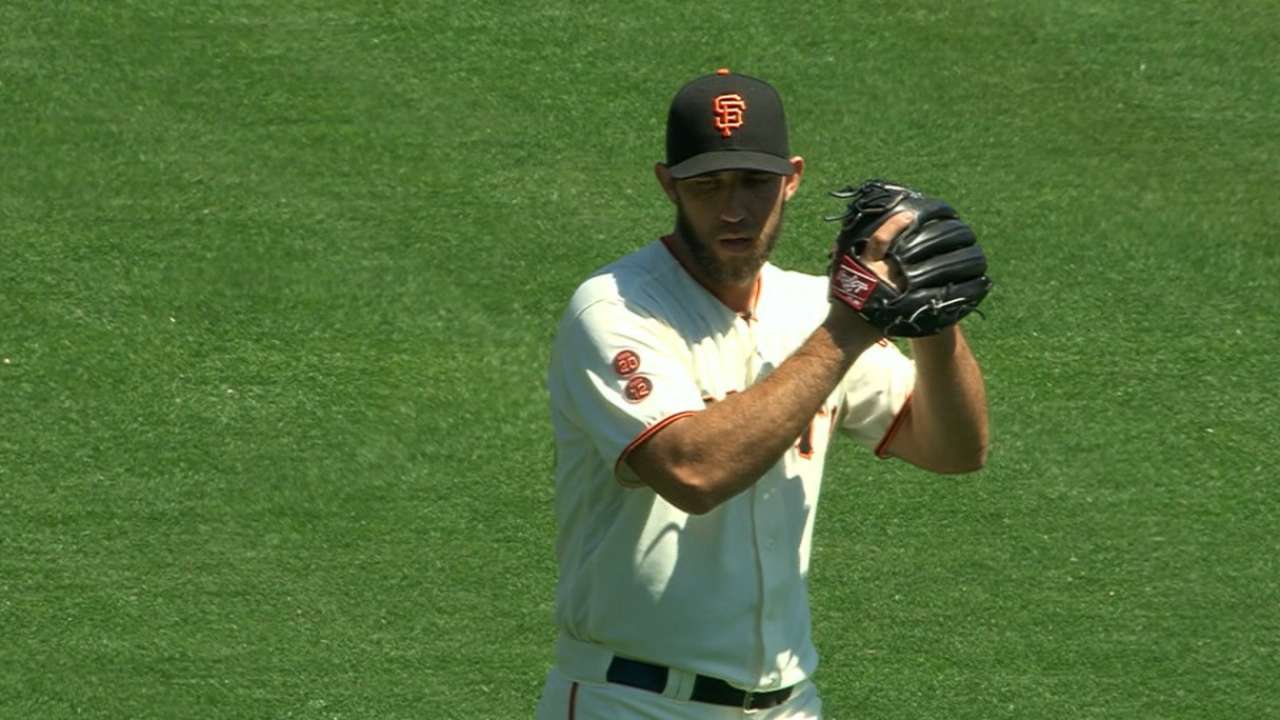 "The past couple weeks I've felt like myself again," said Panik, who is batting .339 in his last 16 games. "It was a combination of getting some good counts [where] I could be aggressive, and not missing. I put some good swings on those pitches."
Denard Span also hit a solo home run in the fourth before the Giants sent 14 batters to the plate in the seventh. The Giants had three triples in the inning, a San Francisco-era record.
Seven players had RBIs for the Giants, who entered Sunday averaging 3.1 runs in their last seven games.
"It was just one of those days," said Conor Gillaspie. "I think we all needed that."
San Francisco recorded 11 extra-base hits for the first time since July 2, 2002. This marked just the seventh time since 1913 the Braves allowed as many as 11 extra-base hits in a game. Atlanta starter Aaron Blair set the tone as he surrendered five earned runs, including three home runs, in four innings.
"It got out of hand there, but to be in the game that long against Bumgarner, we played good baseball for six innings," Braves first baseman Freddie Freeman said. "Everything just kind of unfolded there in the seventh."
MOMENTS THAT MATTERED
Finding power: The Giants entered Sunday ranked 29th in the Majors in home runs, but bucked the trend with four homers in the series finale. In addition to Panik's two and Span's one, Eduardo Nunez smashed a solo shot in the seventh to give the Giants their third four-plus-homer game this season.
"The ball was flying today," said Bochy. "It's always good to get home runs; we don't get a lot of them. It's good to see them break out, get some confidence and hopefully some mojo here with this offense."
Added Gillaspie: "I've never seen so many home runs hit here; that's pretty rare."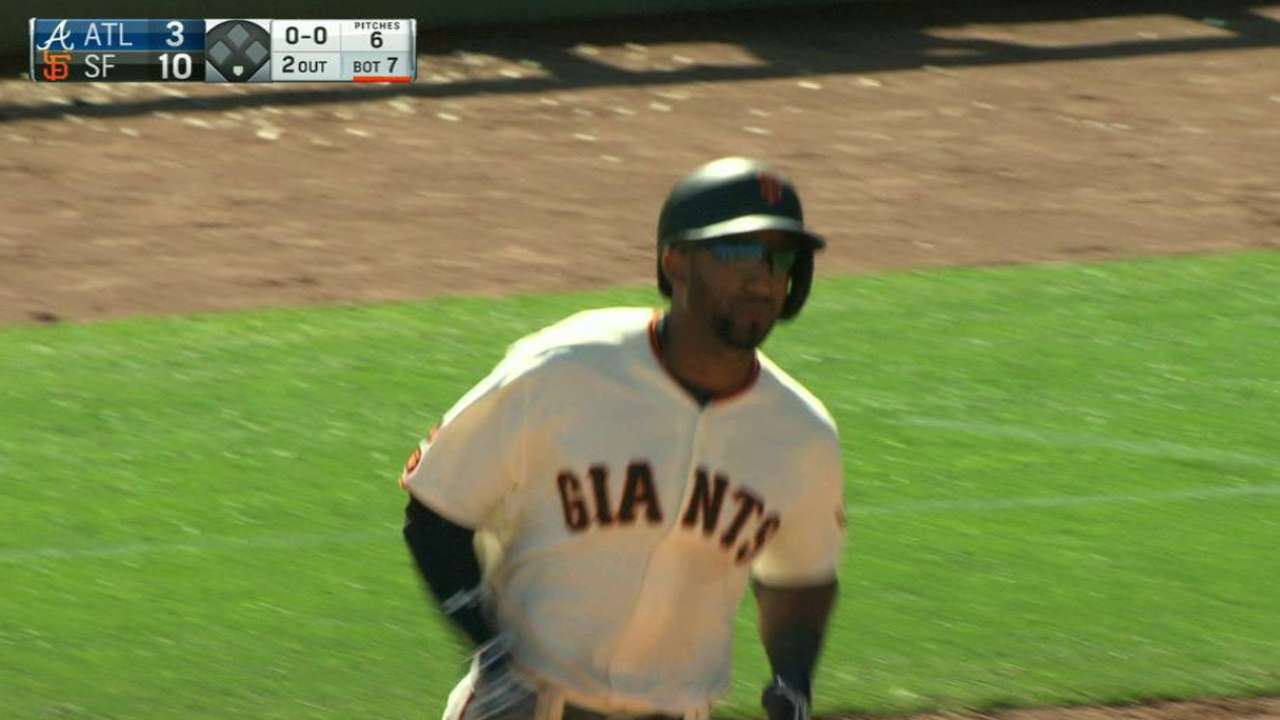 Ugly return: Long before the Braves' bullpen surrendered five extra-base hits, Blair set the tone as he made his first start since being demoted to Triple-A Gwinnett in late June. The right-hander surrendered a pair of home runs to Panik and another to Span while allowing five runs over four innings. The Braves need to figure out how he fits their future, but there is currently some doubt, as he has completed fewer than five innings in six of his past nine starts.
"I'm just trying to get back to where I was at the beginning of the year," said Blair, who allowed one home run through this season's first 31 innings and nine home runs over the 23 2/3 innings that have followed. More >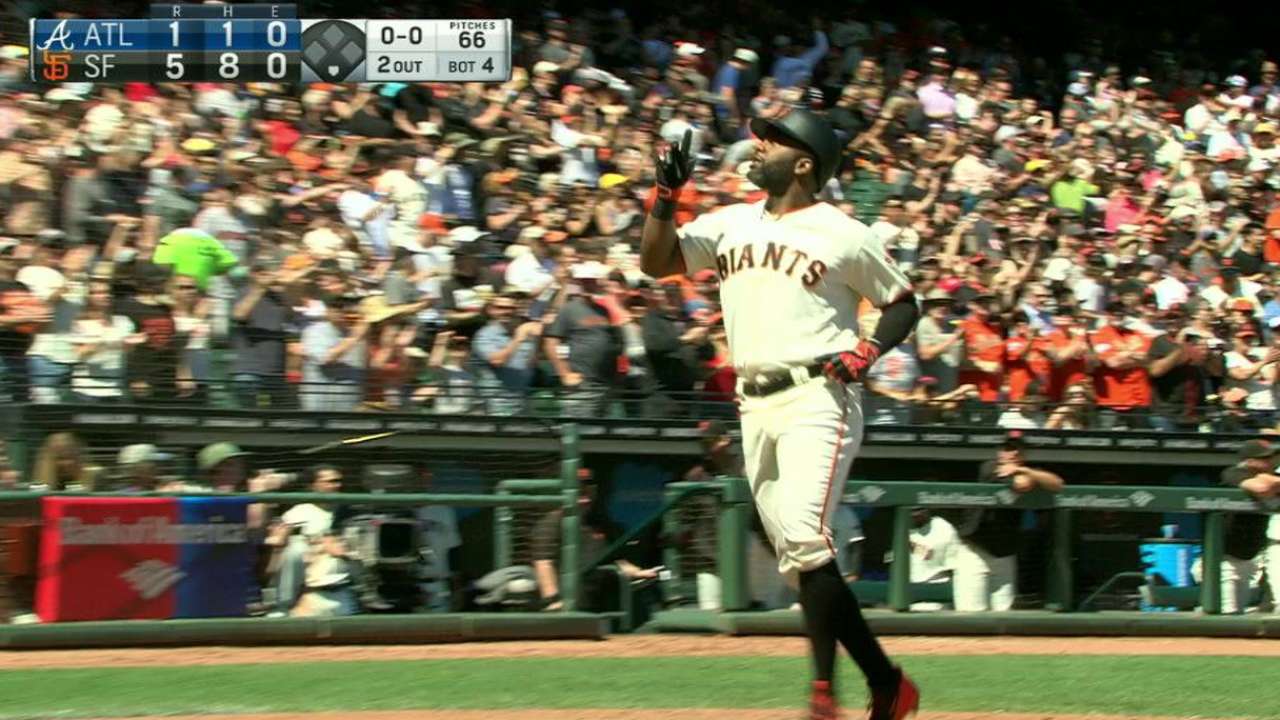 Early tease: Ender Inciarte opened the game with a triple and scored on Matt Kemp's sac fly, then he added a double that put him in position to score on Freeman's two-run home run in the sixth inning. But there weren't too many offensive highlights for the Braves, who saw Bumgarner retire 12 straight after putting two on with none out in the first inning.
"I felt good today, even with Bumgarner on the mound," Braves manager Brian Snitker said. "The way our guys grind at-bats out and battle guys like that, I felt if we could do our part on the mound and keep the game manageable, we would have a chance."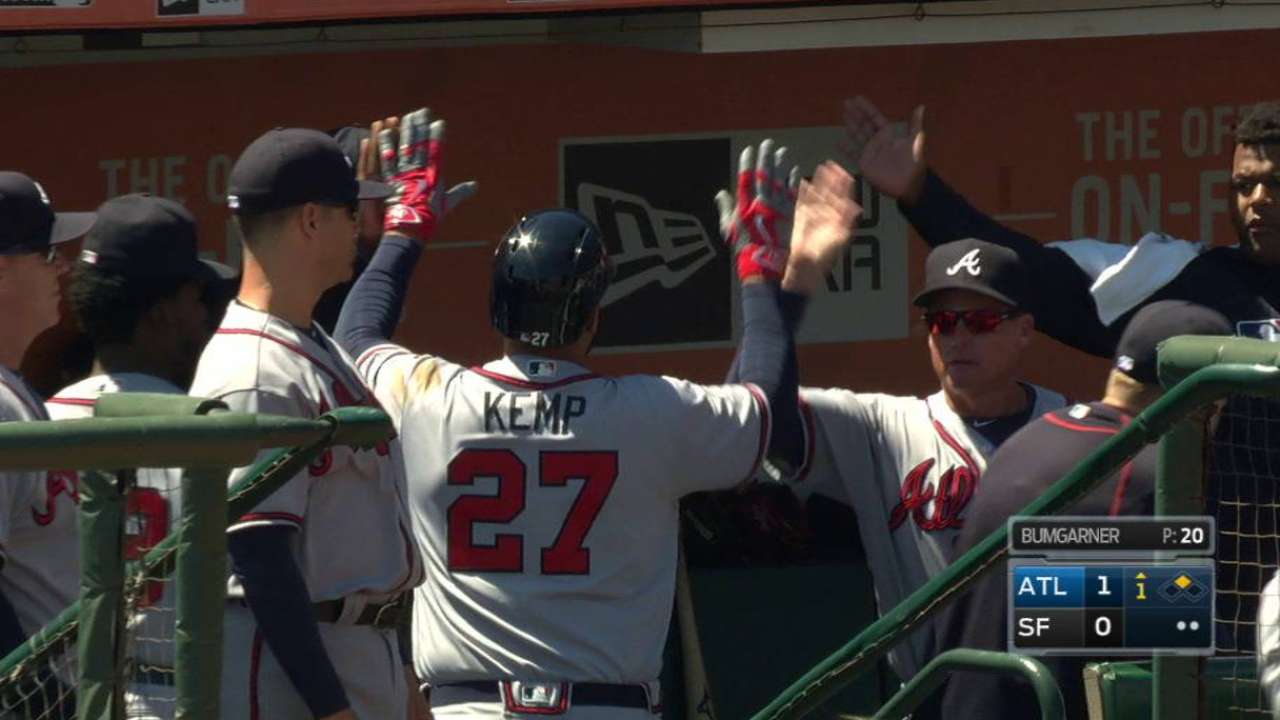 Offensive outbreak: It took over 35 minutes for the Braves to record three outs against the Giants in the bottom of the seventh, as San Francisco erupted for a season-high eight-run inning. Brandon Crawford, Jarrett Parker and Gillaspie hit triples, Nunez homered and six players recorded at least one RBI in the inning.
"Our luck is changing a little bit," Bumgarner said. "The offense really came to life; that's fun to watch."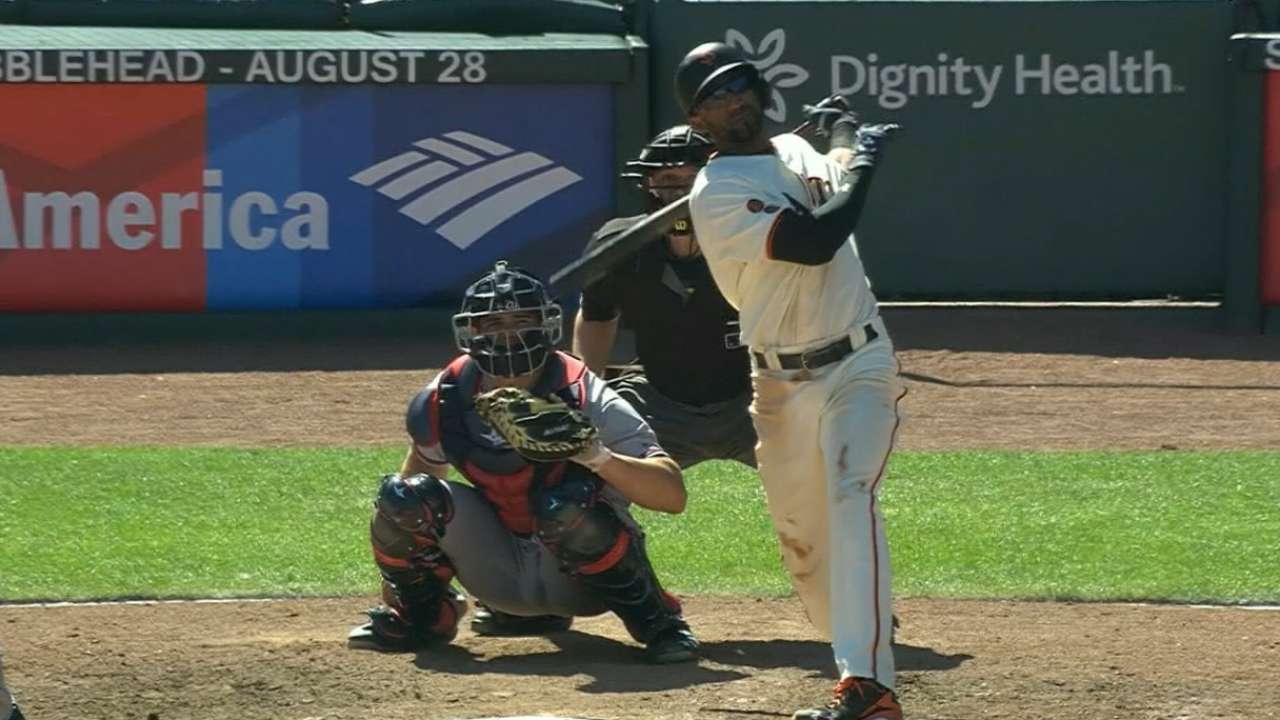 SOUND SMART WITH YOUR FRIENDS
Sunday marked the first time in the modern era that the Giants accumulated four or more home runs and four or more triples in a game. The last team to total four home runs and four triples in a game was the Yankees, on May 6, 1998. More >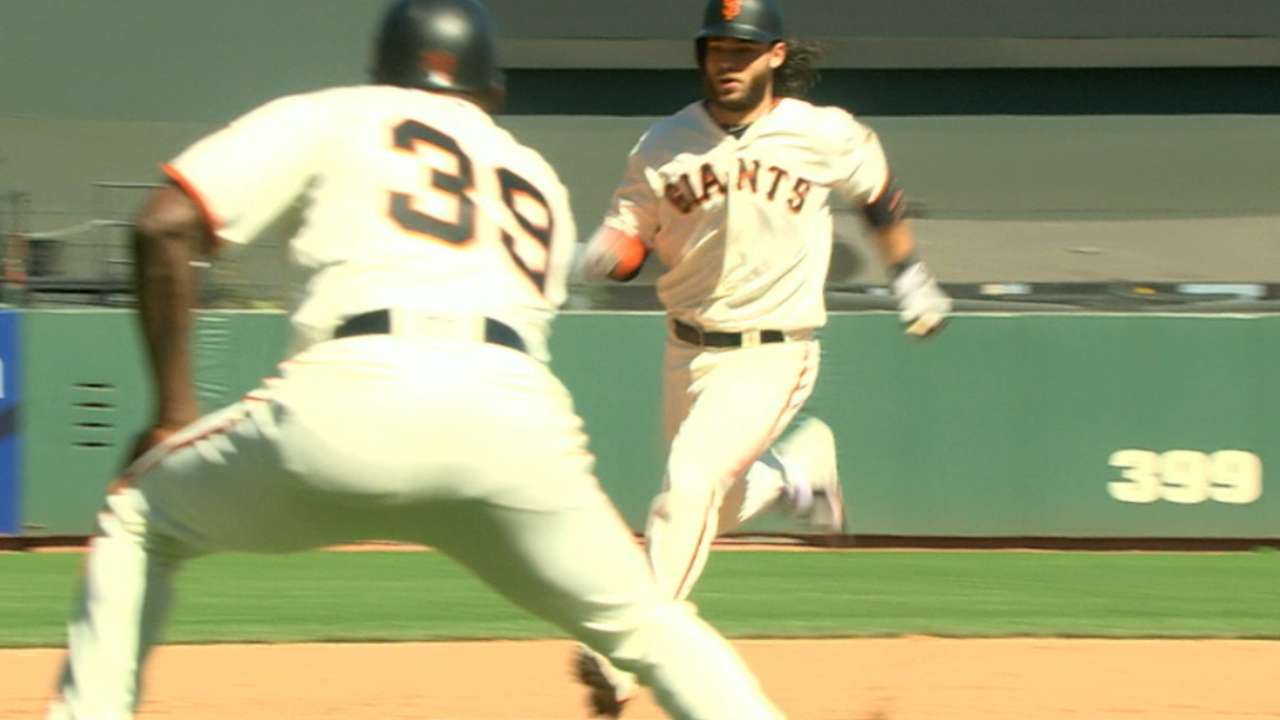 WHAT'S NEXT
Braves: Atlanta heads home to begin a three-game series against the Padres on Tuesday at 7:10 p.m. ET. Julio Teheran will attempt to halt his recent woes as he starts the opener. The right-hander has been shaky in the two starts he's made since missing three weeks with a right lat strain.
Giants: Following an off-day, the Giants will open a two-game series against the Arizona Diamondbacks on Tuesday at 7:15 p.m. PT with Johnny Cueto squaring off with Zack Greinke. Cueto is 8-2 with a 2.93 ERA in 11 career starts against the D-backs.
Watch every out-of-market regular-season game live on MLB.TV.
Mark Bowman has covered the Braves for MLB.com since 2001.

Justin Wise is a reporter for MLB.com based in the Bay Area.

This story was not subject to the approval of Major League Baseball or its clubs.