Blair gets knocked around in return to Braves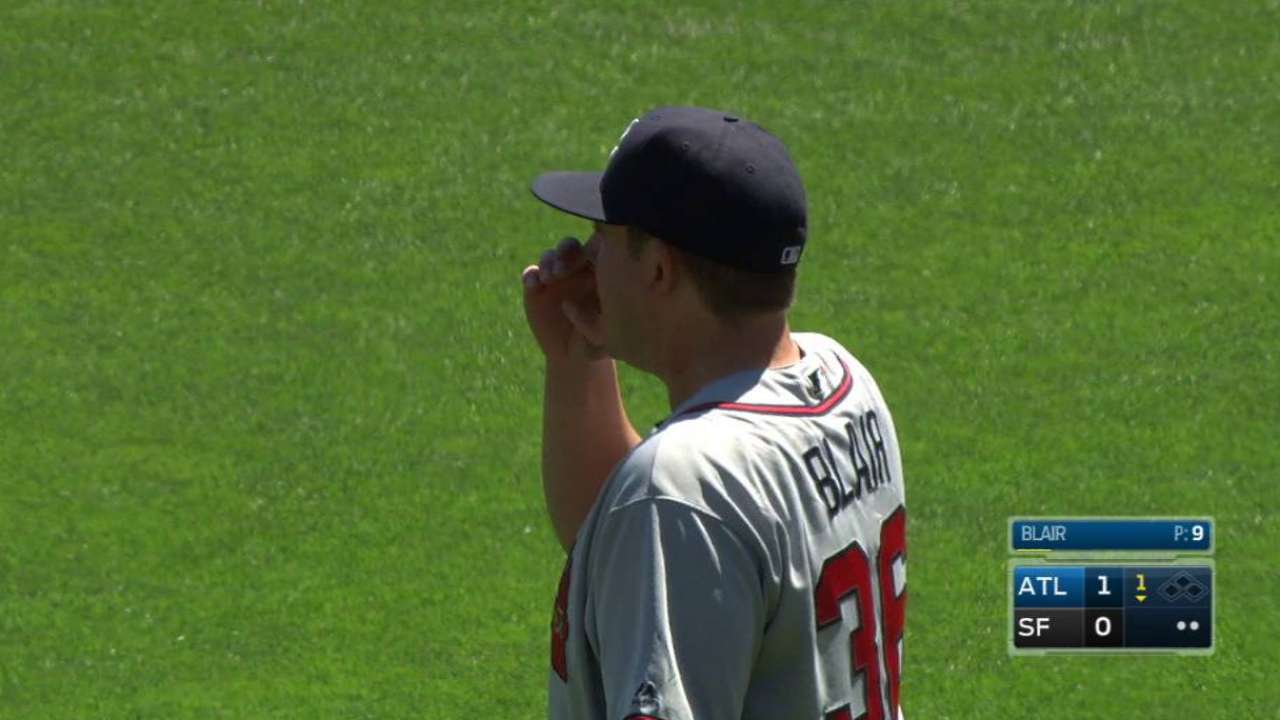 SAN FRANCISCO -- Instead of providing an indication that the past two months have been beneficial, Aaron Blair returned to the Major League level and simply extended the frustrating stretch that led the Braves to demote him to Triple-A Gwinnett near the end of June.
Blair certainly did not have any reason to be encouraged after he allowed three home runs and completed just four innings during Sunday's 13-4 loss to the Giants at AT&T Park. His shaky return enhanced doubts about the promising future he seemingly had when he entered this season as one of baseball's top pitching prospects.
"I had my name on the map early," Blair said. "I kind of faltered during the middle months. I'm trying to get my name back on that map again."
Blair has completed fewer than five innings in six of his past nine starts and compiled an 8.32 ERA over the 12 starts he's made dating back to his April 24 big league debut. But while the results have been ugly, the opportunity remains for the 24-year-old rookie to spend this season's final month proving whether he should be considered a key part of the Braves' future or simply one of those highly touted prospects who ultimately don't live up to the hype once they reach the Majors.
"We've just got to stay with him," Braves manager Brian Snitker said. "He's young. You saw glimpses of the stuff, but it's got to be consistent and it's got to be every pitch because a team like [the Giants] will make you pay for it."
Given that he produced a 5.98 ERA over nine starts with Gwinnett, an encouraging part of Blair's return centered on reports that his fastball was back in the 93-95-mph range that had been touted when he was acquired in the blockbuster package the D-backs sent over in exchange for Shelby Miller in December.
But after displaying a lively two-seam fastball and a four-seam fastball that touched 93 mph during Sunday's scoreless first inning, Blair looked much like he had during his previous stints with Atlanta this year. He was unable to consistently keep his two-seamer down and seemed tentative to throw his four-seamer in an aggressive fashion.
Joe Panik hit home runs and Denard Span drilled another off Blair, who entered the fourth inning of his June 2 start against the Giants having allowed one home run through the first 31 innings of his career. He has allowed eight home runs, including three to Panik, within the 23 2/3 innings that have followed.
"I think it's just trusting my stuff," Blair said. "I've got to be a little tougher out there when somebody gets on base. I'm still one pitch away if I get a ground ball. I've just got to be a little tougher on the mound."
Fortunately, Blair seems to understand he needs to gain some of that same aggression good friend Matt Wisler was asked to gain when he was demoted to Gwinnett earlier this month.
Wisler has a better arsenal of pitches, but until utilizing it in a more aggressive way during Thursday's eight-inning gem in Arizona, there were lingering doubts about his future.
Like one start didn't completely alter what might occur over the remainder of Wisler's career, this latest start didn't doom Blair. But what transpires over the next few weeks will significantly influence his status entering next season.
Mark Bowman has covered the Braves for MLB.com since 2001. This story was not subject to the approval of Major League Baseball or its clubs.