Francona using DH starts to keep Napoli fresh
Indians first baseman approaching career high in playing time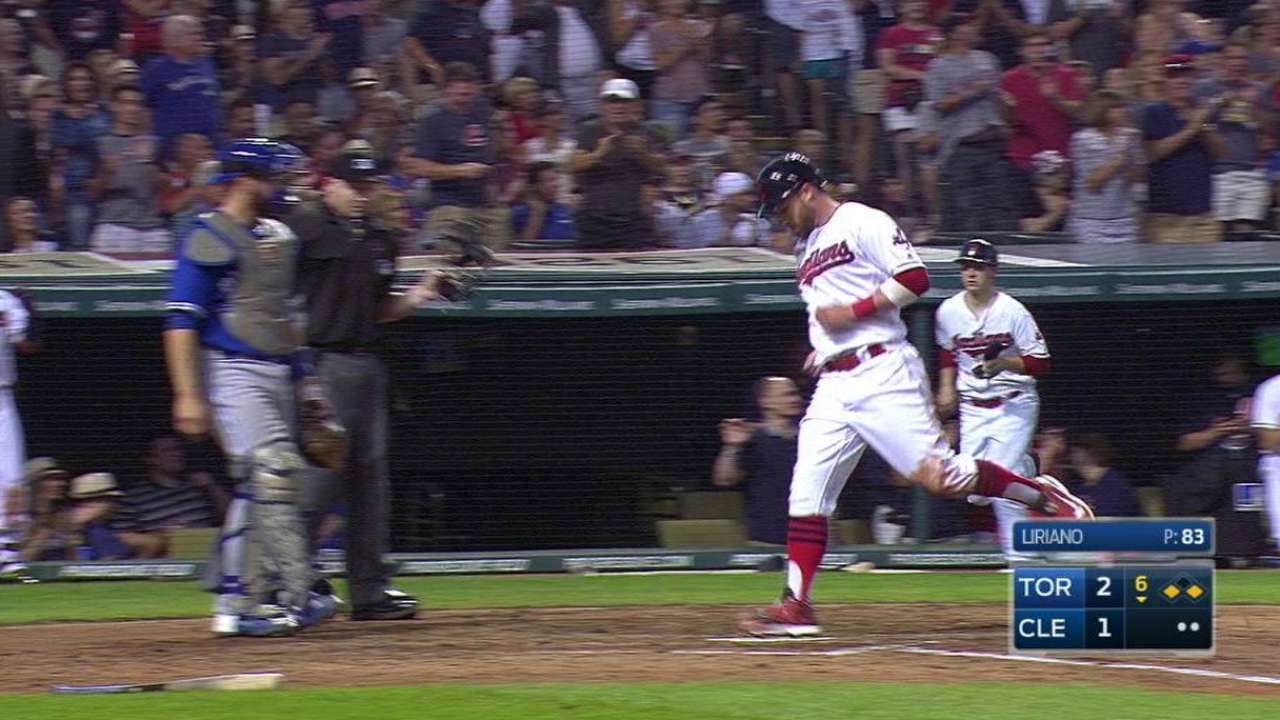 ARLINGTON -- Mike Napoli was on his way to the field at Globe Life Park earlier this weekend when he overheard a reporter ask manager Terry Francona what the first baseman has brought to the Indians this year. Napoli stopped inside the visitors' dugout, leaned in behind the media and waited for Francona's response.
"Nothing," Francona quipped. "Zero."
Napoli threw his arms up and laughed.
"Oh, come on," roared the first baseman. "Let me hear it!"
"He's probably one of the worst guys I've ever been around," Francona continued with a smirk.
Once the laughter died down, Francona went on to praise Napoli, not only for his play on the field, but his leadership behind the scenes. The manager said the first baseman has helped keep the team pulling in one direction and has led by example through his daily preparation. Francona has been repaying Napoli of late by carefully managing his playing time.
Sunday's game in Texas marked the 10th time in the past 15 games that Napoli served as the designated hitter, with Carlos Santana handling the first-base duties. Cleveland signed Napoli to be its first baseman this year, but the 34-year-old veteran is approaching uncharted territory for games played and plate appearances in a single season.
Given the circumstances, and the fact that the Indians are also trying to prepare for a possible postseason run through October, Francona wants to give Napoli some kind of rest when he can.
"I want to keep his bat in there, and I don't want to run him into the ground," Francona explained. "He's never really played this much and he's doing a really good job of kind of communicating to me. He was fine to play first [Sunday]. I just thought, it's hot, it's a day game, and I know Carlos likes to play first, as long as he's not beat up."
Entering Sunday's gane, Napoli was batting .257 with a team-leading 29 home runs and 88 RBIs through 120 games played and 515 plate appearances. With more than a month left to play, Napoli is on pace to exceed his 2013 career highs of 139 games and 578 plate appearances with the Red Sox. Napoli has logged 710 1/3 innings (81 games) at first and has been given 39 starts as a DH this year.
"I'm on a streak where I'll probably play the most games I've ever played in a season," Napoli said earlier this week. "Everything is good. Obviously, [Francona and I] talk about it. We're trying to do what's best for all of us. With these long stretches [of games] with only a couple of days off, we're trying to be smart and do what's best for us to stay healthy and finish the season strong."
Francona reminded reporters that Napoli has an ongoing hip condition -- he was diagnosed with avascular necrosis in both hips prior to the 2013 season -- that the first baseman has to manage. Given Napoli's health history, Francona has been impressed with everything Napoli has done to keep himself healthy and on the field as much as possible.
"He deserves every bit of the credit. He is so diligent," Francona said. "He's the first one here at the ballpark. He's the first one out to the dugout. He prepares himself to play, and to be ready to play. Because, I don't doubt his body doesn't feel good all the time. Shoot, he's got hips that are degenerative and he's a big-bodied guy.
"He throws himself all over the field. He's done a great job on, not just being ready, but being ready to be good."
Jordan Bastian has covered the Indians for MLB.com since 2011, and previously covered the Blue Jays from 2006-10. Read his blog, Major League Bastian, follow him on Twitter @MLBastian and listen to his podcast. This story was not subject to the approval of Major League Baseball or its clubs.