N.Y. tops Seoul to give U.S. Little League title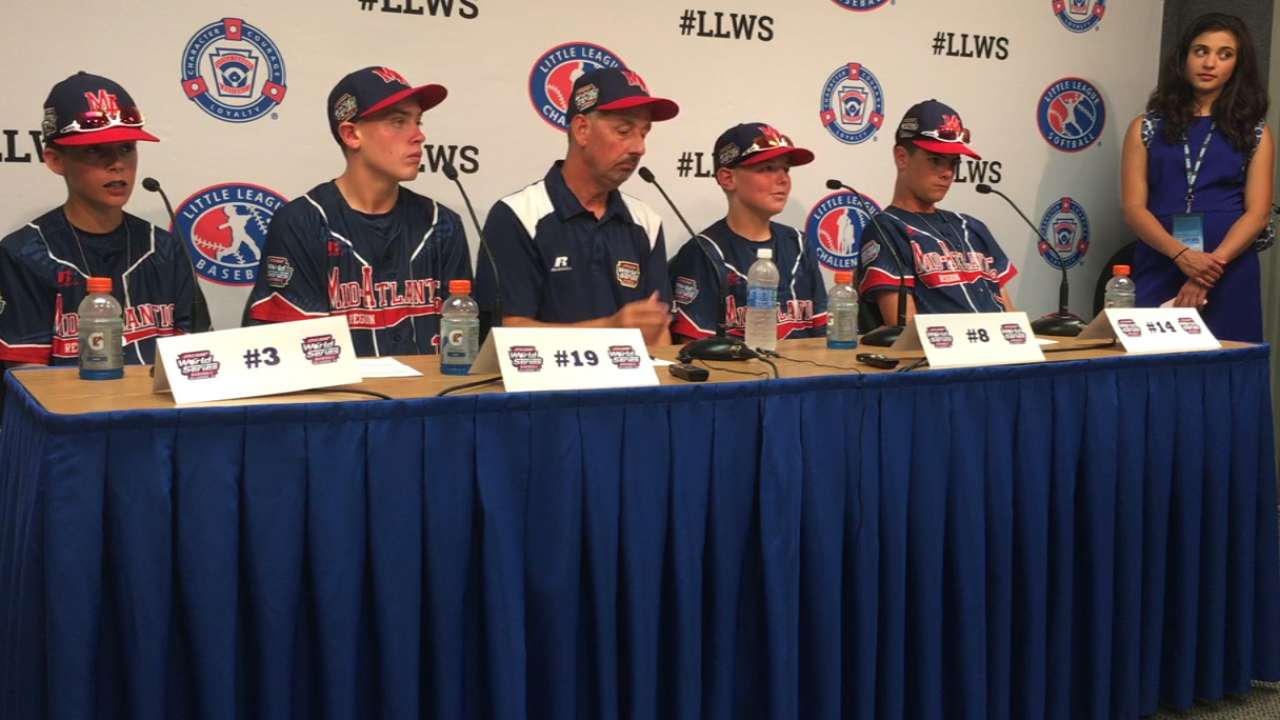 WILLIAMSPORT, Pa. -- Sixteen teams from around the world played weeks' worth of tournaments, and by Sunday, it all came down to one game. In a contest dominated by pitching and defense, Maine-Endwell, N.Y., defeated Seoul, South Korea, 2-1, in the 2016 Little League World Series title game on Sunday, finishing the tournament undefeated and becoming the first U.S. team to win in five years.
Maine-Endwell broke open a scoreless game in the bottom of the fourth inning against South Korea starting pitcher Junho Jeong, who struck out nine batters in four innings and didn't give up a hit to the potent New York lineup until there was one out in the fourth.
• Watch highlights of the championship game
In that fourth inning, though, the U.S. champs strung together three singles, highlighted by an RBI by Conner Rush. They also scored on a wild pitch to take a 2-0 lead.
Mid-Atlantic scores the first of its two runs, taking a 2-0 lead into the top of the 5th of the #LLWS Championship. pic.twitter.com/VyLYUnZMmV

— Little League (@LittleLeague) August 28, 2016
Rush's run-scoring bloop single was historic, as it marked the first time in LLWS history that a team from South Korea had trailed in the title game. South Korea had won all three of their previous final appearances (1984-85, 2014) and never trailed in any of those three contests.
• Photo gallery
New York starter Ryan Harlost, meanwhile, held South Korea in check, not allowing a run until a homer to pinch-hitter Yoomin Lee in the fifth. The International champs put the tying and winning runs on base in the top of the sixth, but Harlost struck out Seoul's Minho Choi to end the game and clinch the 11- and 12-year-old Little League World Series title.
• Watch this Maine-Endwell right fielder make a homer-robbing catch
"It feels great that we got as far as we could with a Little League team, and we finished a perfect season," Harlost said.
Very proud of @M_ELLBaseball. Your hard work and determination brought the @LittleLeague World Series trophy back to New York! #LLWS

— Andrew Cuomo (@NYGovCuomo) August 28, 2016
Maine-Endwell's victory marked the 34th overall by a United States team in the 70 tournaments that have been played since the event's inception in 1947. International teams have won the event 36 times. The last U.S. team to win the Little League World Series had been Huntington Beach, Calif., in 2011. The international champion had won the last four tournaments, including another team from Seoul in 2014. The last time a team from New York had won the Little League World Series was in 1964, when Staten Island won the championship.
Congrats New York(Maine Endwell). https://t.co/MPBMEoWhzP

— andrew mccutchen (@TheCUTCH22) August 28, 2016
Sunday's victory capped a 24-0 summer for the boys from New York's Southern Tier that captured the attention of many Americans -- including President Barack Obama.
New York's @M_ELLBaseball brought home the Little League World Championship!

Way to bring it home! #LLWS https://t.co/P9zTLsWzOb

— New York Mets (@Mets) August 28, 2016
Said New York's Jude Abbadessa: "Getting calls from famous people feels good, but to get a call from the president of the country [last night during dinner] feels amazing."
• Cut4: Maine-Endwell made it to title game thanks to #DrakePuns
Notable performer
Harlost kept the big boys from South Korea off balance all afternoon, scattering just five hits across his six-inning, complete-game outing.
Mike McCormick is an editorial director for MLB.com. This story was not subject to the approval of Major League Baseball or its clubs.