Chatwood expects to make rehab start
Rockies right-hander went on DL with back spasms on Aug. 16
WASHINGTON -- Rockies right-hander Tyler Chatwood will start Monday for Double-A Hartford on a five-inning/75-pitch Minor League rehab assignment as he completes his recovery from his second bout with back spasms. He expects to make the following start for Colorado.
Chatwood (10-8, 3.75 ERA in 22 starts) first went to the 15-day disabled list after a June 18 start, and he returned for 12 starts before going back to the DL on Aug. 16. He believes he is fully recovered this time.
"This is the first time I haven't really had back pain in a while, so I've just got to keep that going," Chatwood said Sunday.
Chatwood was 4-5 with a 4.81 ERA in the dozen starts between injuries, but when the pain was at its worst, he was limited to arm-side fastballs -- inside to right-handed batters, outside to lefties -- because he couldn't achieve the necessary extension to throw a credible changeup or breaking balls to the other side.
"Breaking balls, you have to get out there and get extended," Chatwood said. "I've been able to do that in my two sides, so I feel good going out there, confident I'm going to be able to do that."
Chatwood is 6-1 with a 1.82 ERA in 10 road starts, but the injury has pushed Chatwood below the threshold of innings to be listed among the qualifying leaders. According to STATS Inc., the Rangers' Cole Hamels leads the Majors with a 1.91 road ERA.
Multiplicity: Charlie Blackmon's two-homer game Saturday was his fifth with multiple jacks, and Nolan Arenado had already accomplished the feat. The last team to have two players with five multi-homer games was the 2010 Nationals -- Adam Dunn and Ryan Zimmerman.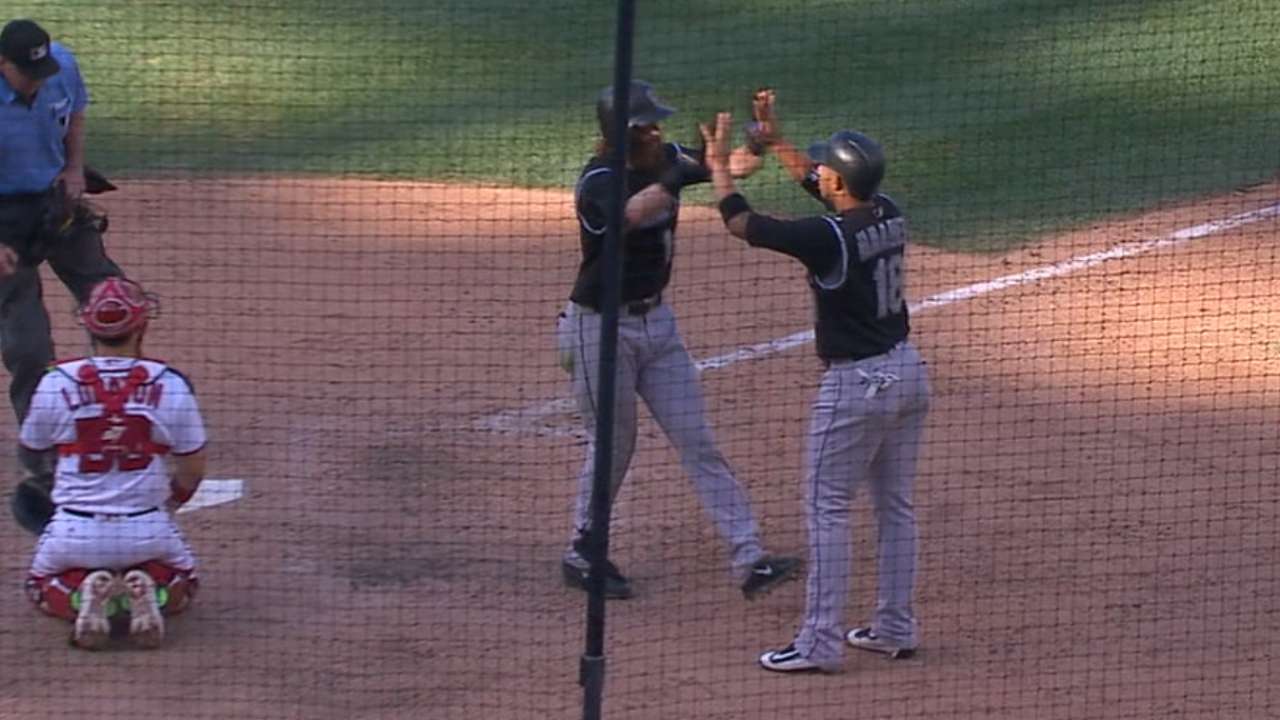 That's a long run: Rockies relief pitcher Adam Ottavino's 37-game streak without a run -- which ended in the ninth inning of Colorado's 9-4, 11-inning victory over Washington -- was tied for the fourth-longest streak in the Majors since earned runs became an official National League stat in 1912. The American League adopted it in '13.
The record was Orioles left-hander Zach Britton's 43-game stretch this season from May 5-Aug. 22. Next were 38-game streaks from the Blue Jays' Brett Cecil (June 24, 2015-April 4, 2016) and Craig Kimbrel when he was with the Braves (June 14-Sept. 8, 2011).
Ottavino is tied with left-hander Mike Myers, who went 37 scoreless from Sept. 21, 1999, with the Brewers, to June 29, 2000 with the Rockies. Myers' streak included a May 24, 2000, game with Colorado when he didn't face a batter.
Thomas Harding has covered the Rockies since 2000, and for MLB.com since 2002. Follow him on Twitter @harding_at_mlb, listen to podcasts and like his Facebook page. This story was not subject to the approval of Major League Baseball or its clubs.