Wisler K's career-high 10 as Braves beat Padres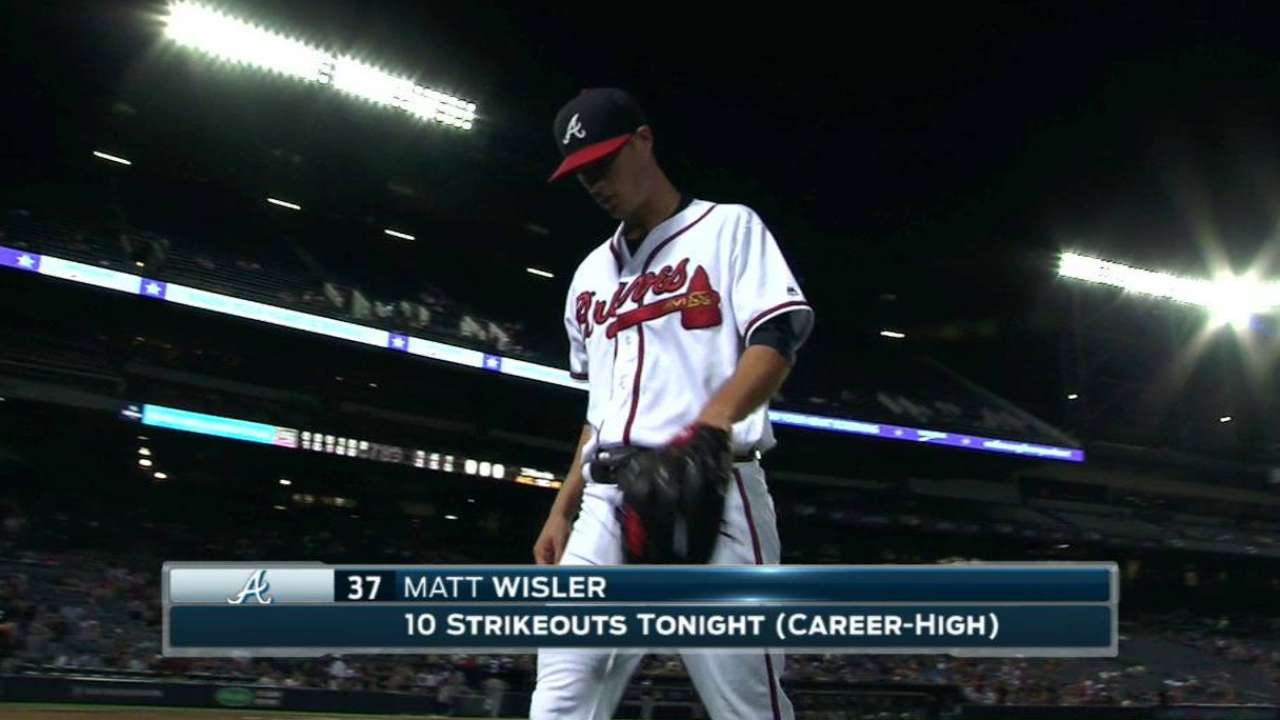 ATLANTA -- For much of the season, Braves manager Brian Snitker has reiterated the phrase that it often takes a step back to take a step forward. And after flirting with a no-hitter in his first start back from Triple-A, Matt Wisler stayed true to that progression as he struck out a career-high 10 batters in Wednesday's 8-1 win over the Padres at Turner Field.
Oswaldo Arcia was the only San Diego batter to break through against Wisler, cutting Atlanta's lead to 2-1 with a solo homer in the fourth inning. The blast marked Arcia's second of the series, but Wisler bounced back from his lone hiccup to strike out six of the next 10 batters he faced and pass his previous career-high of nine, which he set vs. the Indians on June 28.
"It was good," said Snitker about seeing Wisler maintaining his momentum. "He wasn't as sharp, I feel, as he was the other night [against the D-backs], but he had to battle through some adversity a little bit every now and then. He did a great job of staying in there, not giving in and making pitches. It was a solid outing again."
The Braves' offense, meanwhile, struggled to capitalize on its scoring chances in the early going, stranding eight runners through the first five innings. But after loading the bases with one out in the sixth, Gordon Beckham helped provide some much-needed breathing room when he sparked a four-run frame with his pinch-hit two-run double.
"It definitely felt good," Beckham said. "Getting down 0-2, and obviously I've kind of got to scratch and claw from that point. So it's definitely good to get anything, but we'll take a hard-hit ball for sure."
Padres starter Paul Clemens labored through three innings, before coming unglued in the fourth when he loaded the bases with nobody out. Asked whether he had enough gas left in the tank to remain in the game, Clemens said bluntly, "No, I think [Padres Manager Andy Green] made the right decision for sure.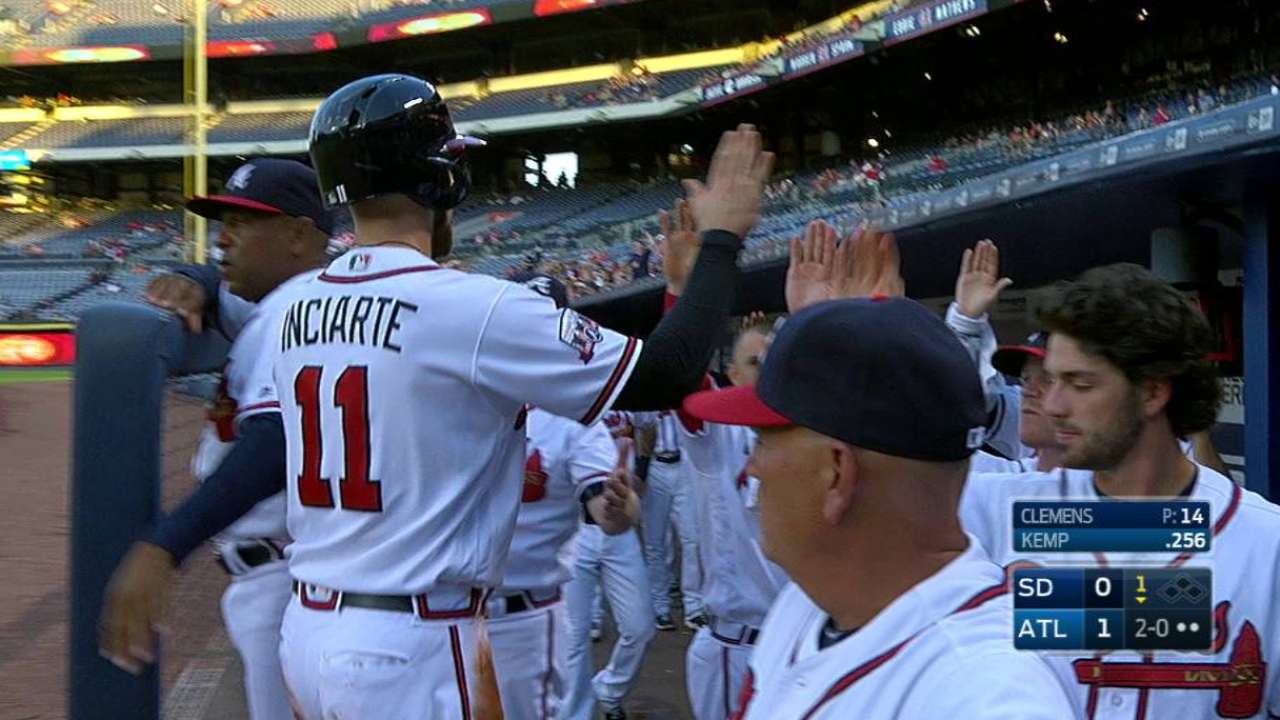 "The most frustrating thing was how good I felt and feel like I'm finally turning a corner and ready to work deep into a ballgame," Clemens said. "And then it kind of fell apart, got away from me there in the fourth inning. It's going to be a tough one to swallow the next couple days."
With its win, Atlanta clinched a series vs. the Padres for just the second time since the 2012 campaign.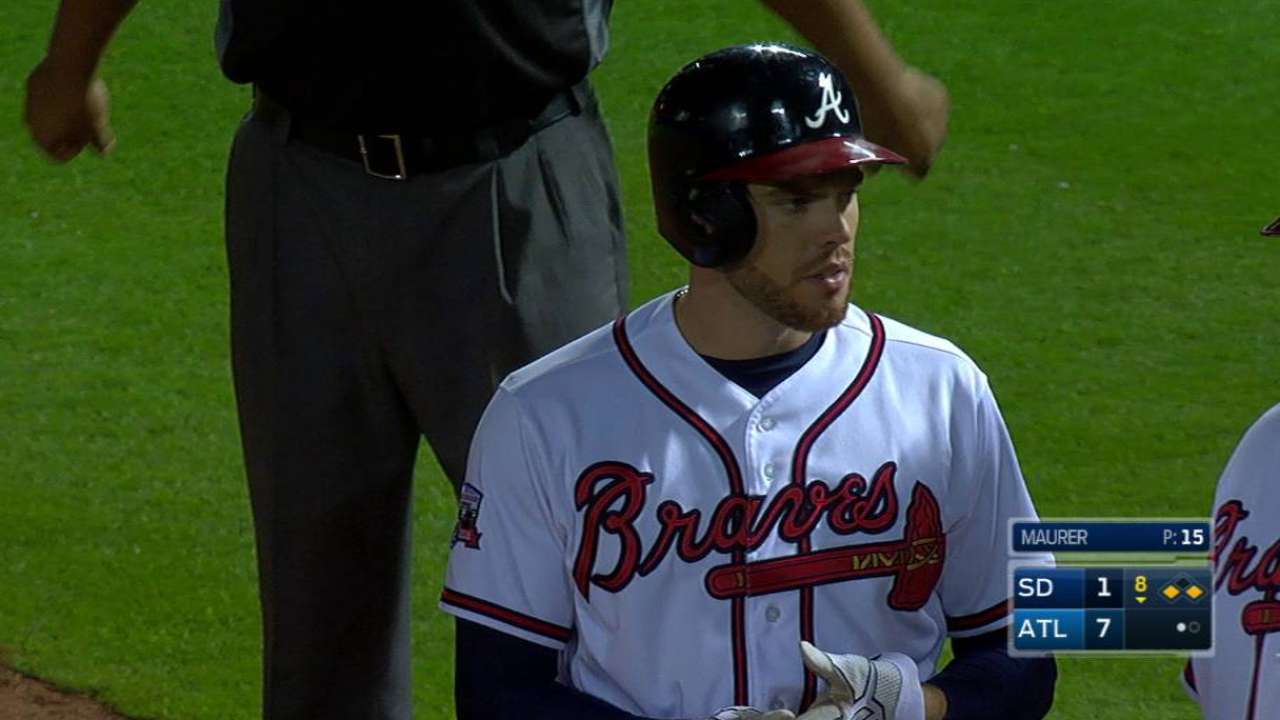 MOMENTS THAT MATTERED
On the attack: When the Braves optioned Wisler to Gwinnett in July, they hoped the right-hander would be able to regain the aggression he showed in the first two months of the season, when he posted a 3.16 ERA in 11 games (10 starts). Against the Padres, Wisler came after opposing hitters, throwing first-pitch strikes to 15 of the 25 batters he faced and confidently throwing his slider. Eight of the 23-year-old's 10 strikeouts came on the pitch.
"The slider felt pretty good," Wisler said. "In July, it was getting hit a lot. I was hanging it a lot. My body was out in front of my arm. Since I've stayed back a lot better, I feel I'm on top of [the ball] more than I was. I'm getting good downward angle and it's not just moving east and west. It's more north and south now." More >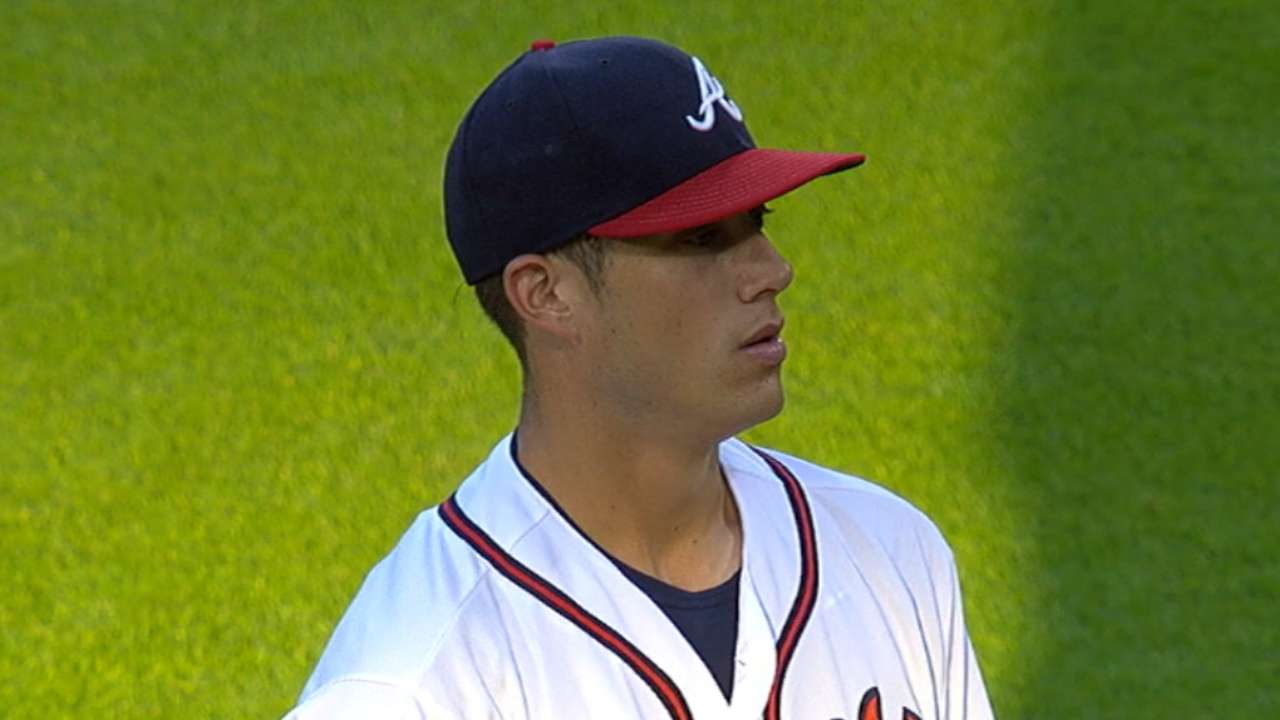 Double trouble: Once again, the Padres used the double play to their advantage Wednesday night, racking up one in the third, fourth and sixth innings. They also recorded three on Tuesday -- after notching a team-record six twin killings on Sunday. It's only the second time in franchise history -- and the first since 2008 -- that the Padres induced at least three double-play grounders in three straight games.
"It gave us an opportunity to stay in the game for a while," said Green. "We weren't able to do it."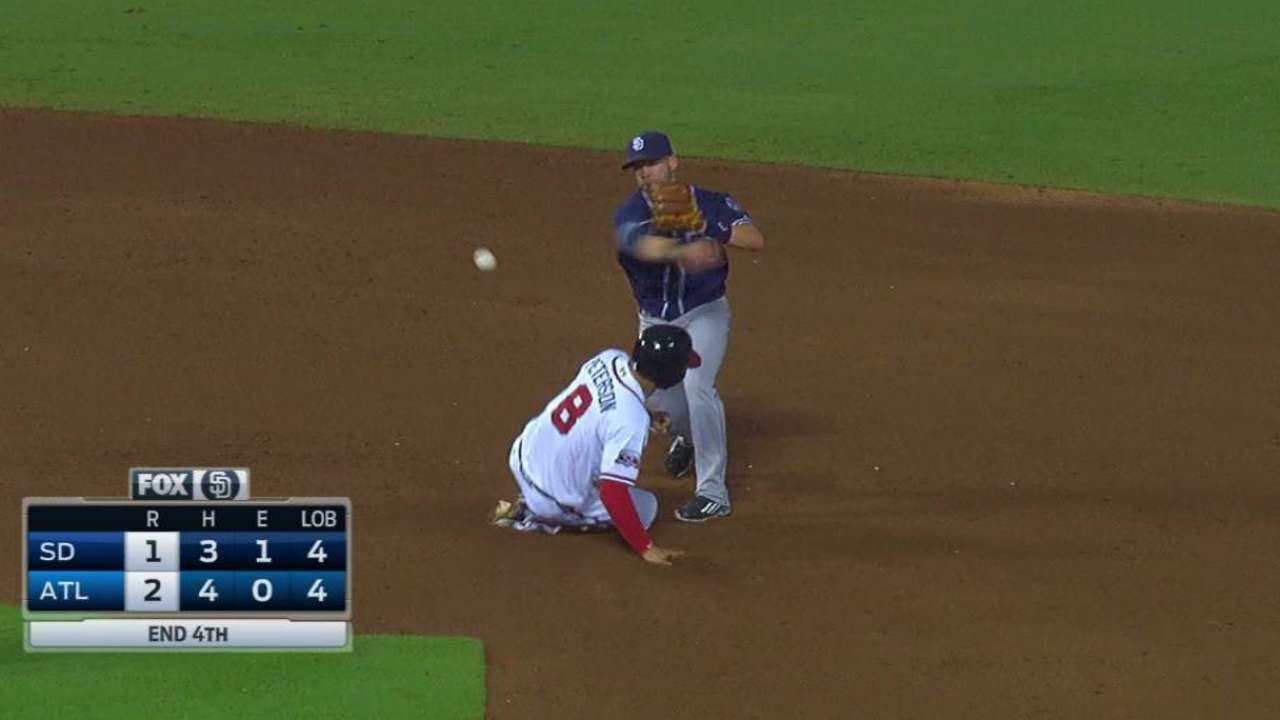 Bases-loaded blues: In both the third and fourth innings, the Braves failed to score with the bases loaded, as Matt Kemp grounded into a double play in the third before Wisler followed his lead in the following inning. But with the bases loaded once again in the sixth, Beckham entered the game as a pinch-hitter and improved to 3-for-6 on the season in such situations with his two-run double. Atlanta ultimately finished the game 1-for-4 with the bases loaded after Dansby Swanson popped up to first base to end the seventh. The team is now hitting .202 (21-for-104) with the bases loaded this season.
No doubt about it: Arcia hit his first homer as a Padre on Tuesday night, but said afterward that he wasn't sure he got all of it. The newest Friar left no doubt on Wednesday, as he crushed a 408-foot, 107-mph blast into the right-field seats with one out in the fourth. Since being claimed off waivers on Saturday, Arcia is now 4-for-11 with a walk -- and all four of the Padres RBIs this series.
QUOTABLE
"There's a lot of guys, obviously, in their head. They need to fight for the game that's in front of them that day, but they're thinking about their future and what this means and what their opportunity going forward is. We'll be a lot more successful if we're able to focus on today." -- Green
SOUND SMART WITH YOUR FRIENDS
If the Padres can turn three double plays Thursday, they'd join the 2012 Minnesota Twins as the only teams in MLB history to record at least three twin killings in four straight games.
WHAT'S NEXT
Padres: The Padres wrap up their three-game set in Atlanta on Thursday when Jarred Cosart takes the hill with first pitch slated for 9:10 a.m. PT. In five starts for the Padres, Cosart owns a 2.88 ERA -- less than half his mark in his four prior starts this season with Miami.
Braves: Atlanta will counter with Mike Foltynewicz, who is coming off perhaps his best start of the second half vs. the Giants on Saturday. The 24-year-old kept his emotions in check after giving up a second-inning homer to Brandon Crawford and retired 18 of the next 21 batters he faced before exiting the game after 7 2/3 solid innings. First pitch is set for 12:10 p.m. ET.
Watch every out-of-market regular-season game live on MLB.TV.
Pat James is a reporter for MLB.com based in Atlanta.

AJ Cassavell covers the Padres for MLB.com. Follow him on Twitter @ajcassavell.

This story was not subject to the approval of Major League Baseball or its clubs.