Weird hop emblematic of CC's day, season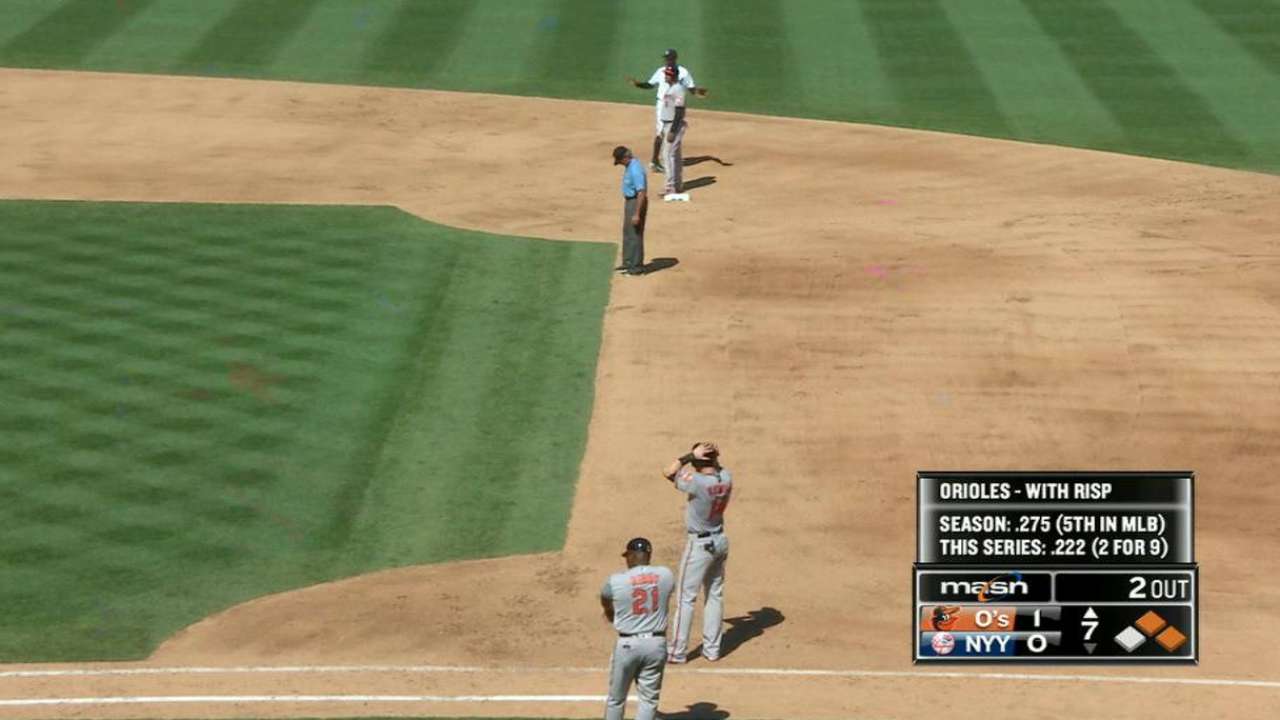 NEW YORK -- In what turned out to be one of the most pivotal moments of the Yankees' 5-0 loss to the Orioles on Sunday afternoon, the Yanks might've been better off had Starlin Castro thought less like a second baseman and more like a linebacker.
With the Yankees trailing, 1-0, in the top of the seventh inning, starter CC Sabathia stared down Orioles outfielder Nolan Reimold with one out and Jonathan Schoop standing on first base. With the count 2-2, Sabathia threw Reimold a fastball high and inside and Reimold fought it off, slowly chopping a grounder toward Castro.
Castro charged the ball, and Schoop cut between Castro and the ball on his way to second base. Castro chose to go around Schoop instead of through him, causing him to be a little late to the ball. When he got there, the ball took a weird hop off the dirt. Both Schoop and Reimold were safe.
"For Castro, he's probably better off if he runs into [Schoop] on purpose, in a sense," Yankees manager Joe Girardi said. "But you can't predict that you're going to get a spin like that. That's what you can't predict."
The 26-year-old said after the game that he'd not dealt with a play quite like that one since transitioning to second base upon joining the Yankees this season. He said that if the runner wasn't in his way, he has no doubt he would've made the play. But there was a runner. And that changed everything.
"I think the only chance that I've got is to attack the ball," Castro said. "The runner is out there, and the way the ball [spun], I thought he hit it in front of me, and then it hit the dirt and it goes away. When I see the ball, the first thing I think in my mind is, 'Just go get it.' Because if I stay back, maybe that guy can be safe first."
For Castro, the play was bizarre. For Sabathia, it was oddly normal. Over the last two months, Sabathia has frequently been a victim of softly hit balls turning into major headaches. Sabathia's average exit-velocity-against of 85.5 mph for the season is the lowest in baseball, yet he still holds an 8-11 record and a 4.31 ERA.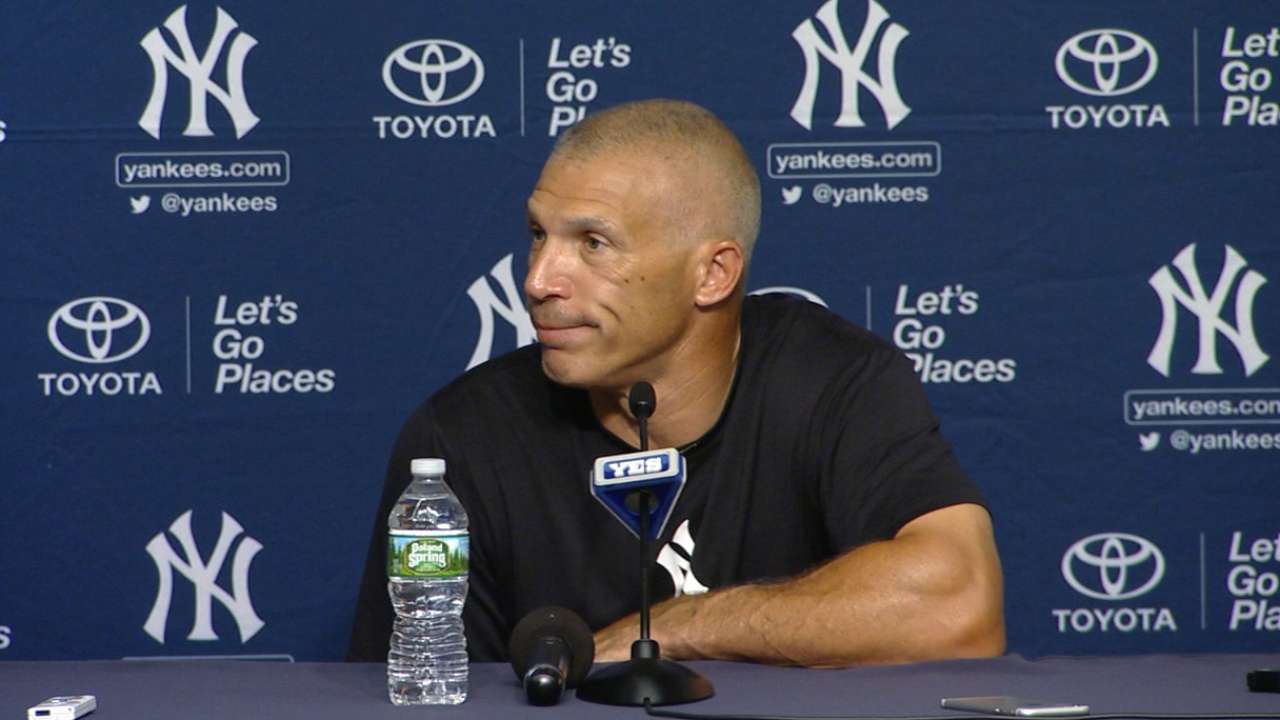 Sabathia hinted that situations like that are mostly unavoidable, shrugging it off with the line, "It's baseball." That said, he does seem to be aware of the trend.
"It's just how it's been going. Soft contact," Sabathia said. "I made the pitch, but I just didn't get the results."
For some, consistently getting beat when you make the right pitch could be devastating to the psyche. But in Girardi's mind, his 16-year veteran won't let this faze him.
"I think CC's very strong-minded when it comes to that," Girardi said. "He doesn't let things bother him. He's been through a lot in his career and understands that you've got to turn the page, and he's really good at that."
Nick Suss is a reporter for MLB.com based in New York. This story was not subject to the approval of Major League Baseball or its clubs.