Former Gators baseball players rooting for Tebow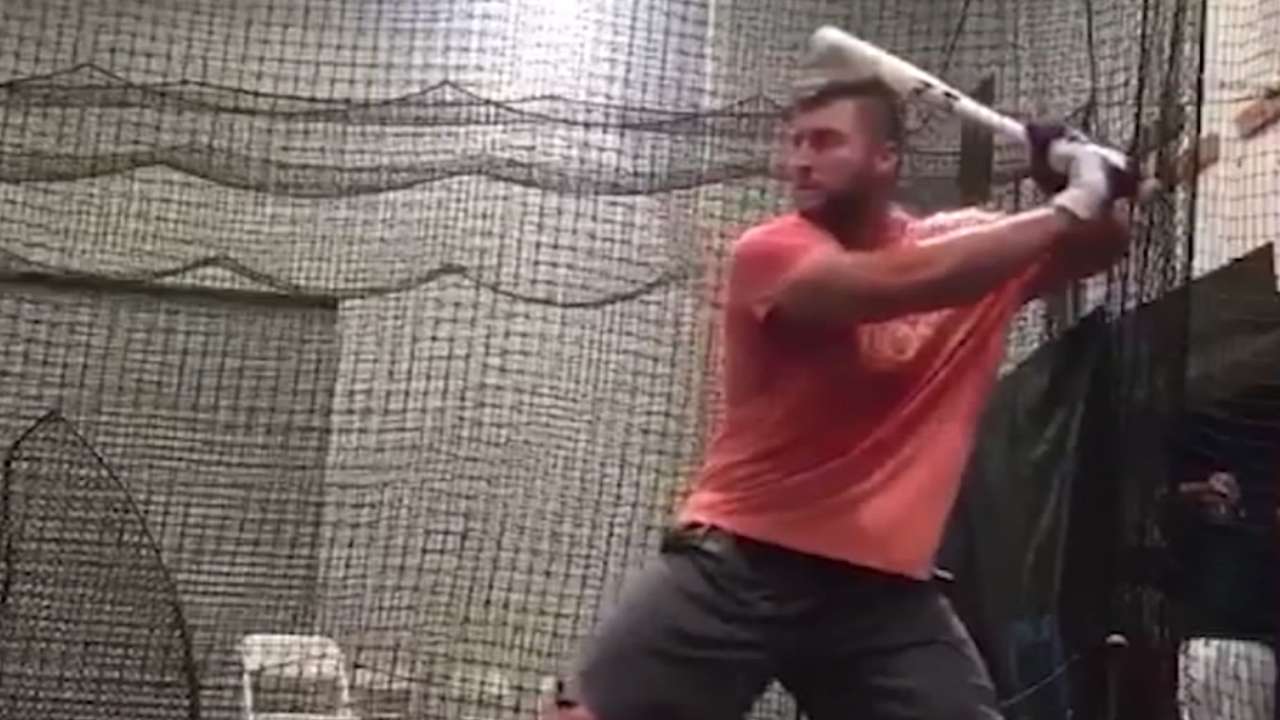 They watched and rooted him on as he made history on the college gridiron. They watched and rooted him on as he made his mark in the NFL. They watch and root him on as he works in the community to better the lives of those around him.
And now they get to see what happens as he tries to make it in their sport, baseball.
On Tuesday in Los Angeles, former Heisman Trophy winner, two-time national-champion Florida Gators and former Denver Broncos quarterback Tim Tebow will hold a showcase for Major League teams as he attempts to land a contract to begin a new career in professional baseball.
As usual with Tebow, who has been working as a broadcaster on ESPN, there are many supporters and probably just as many doubters. Ever since his agent, Brodie Van Wagenen of CAA Sports, announced Tebow's intent to try to play pro baseball, the social media universe and skeptics have swarmed on this story. Many called it a publicity stunt.
But a handful of current and former Major Leaguers who have observed Tebow closely and from afar over the years seem to agree on three main points: that Tebow's sincerity shouldn't be questioned, that he faces a long, tough road to the Major Leagues, and that even despite the odds, an athlete of his caliber with a work ethic as solid as his deserves to at least be taken seriously.
Former big league shortstop David Eckstein, who won two World Series rings with the Angels in 2002 and with the Cardinals in '06, grew up in Sanford, Fla., and played at the University of Florida. He considers himself a "diehard Gator" and was a huge Tebow fan during the quarterback's storied college days.
Eckstein is aware that Tebow was an all-state baseball player in high school in 2005, the last time he played baseball, and he's seen some video of his latest workouts.
"To play the position of quarterback, you have to be able to do just about everything athletically," Eckstein said. "And I would love to see him playing baseball. The one thing you know about Tim Tebow is he's going to give you every ounce of whatever he's got, and that type of person, with the right skill set would become a superstar in our game.
"If he had gone right to baseball out of high school, who knows what we would have?"
Reds pitcher Anthony DeSclafani was a member of the Gators' pitching staff from 2009-11, so he was a freshman when Tebow led the university's football team to a national title.
"It was great watching him," DeSclafani said. "He's a legend at that school, obviously. I heard he was really good at baseball before playing football at school. There are so many people that are against him and a lot who are for him. Personally, I'm for him. … I think he's a genuine guy that just wants to play sports.
"I definitely think he has the mental toughness to play baseball. I don't know if he's going to realize how much of a grind the Minor Leagues are if he ever gets there."
That's a common sentiment among the big leaguers who were asked about Tebow.
Take Mariners catcher Mike Zunino, another Gator. Zunino was the third overall pick in the 2012 Draft and has big league time, but he still knows nothing is guaranteed. He spent much of this season in Triple-A before making it back to Seattle. Zunino admires Tebow as an athlete, but he says pro baseball is like nothing he's experienced.
"Guys that have been doing it for their whole lives and have dedicated the major part of their young development into playing baseball … there are a lot of them," Zunino said. "So it's going to be tough."
And while reports have been that Tebow has natural power and a decent-looking swing, Zunino said success in the batter's box at the pro level is about so much more than that.
"It's the hand-eye coordination and it's the swing, but it's also the pitch recognition," Zunino said. "It's all that small stuff that you only get with repetition.
"Obviously athletically and physically, he's through the roof and probably in much better shape than a lot of guys playing now, but it's the small stuff -- the timing, the vision, things like that -- that will be the biggest adjustment."
Former big leaguer David Aardsma, who appeared in 14 games this year for Toronto's Triple-A affiliate in Buffalo, has been facing Tebow to help prepare him for the showcase. Aardsma said what he's seen firsthand is impressive.
"He works his tail off, and you know the intangibles are there," Aardsma said. "For me, it's about baseball IQ. Where does he stand with the baseball part of it? The athleticism, the work ethic, the clubhouse demeanor, that all plays. And you see the passion. Honestly, he's losing money by doing this, so you know it's not a publicity stunt. If he wanted that, I mean, he's already on TV. What more do you need?"
Aardsma added that Tebow is in incredible shape and that his power is "no joke" and neither is this latest pursuit.
"I don't think it's a crazy notion, because I know the athleticism that it takes to play baseball and I know he's got that athleticism," Aardsma said. "Plus I love the idea that somebody's still passionate about this game, no matter who you are. We need to be passionate about this game."
Former Florida Gators and current Cubs catcher David Ross has seen a lot in his 14 years in the Majors. He also admires Tebow's passion and said he would never criticize someone for giving a heartfelt effort.
"It's easy to hate on him if you think that none of this is thought out and he's just like, 'I'm going to play baseball. I can do that,'" Ross said. "But remember that this is a guy who talks to kids all the time about chasing your dreams, about how you can do whatever you want to do if you put your mind to it and work hard at it.
"We need more people with that kind of attitude, frankly, so I applaud a person like that. Go for your dreams."
Doug Miller is a reporter for MLB.com. Follow him on Twitter @DougMillerMLB. This story was not subject to the approval of Major League Baseball or its clubs.