Gimenez steps up in relief to save bullpen
Indians catcher retires side on 10 pitches in 8th inning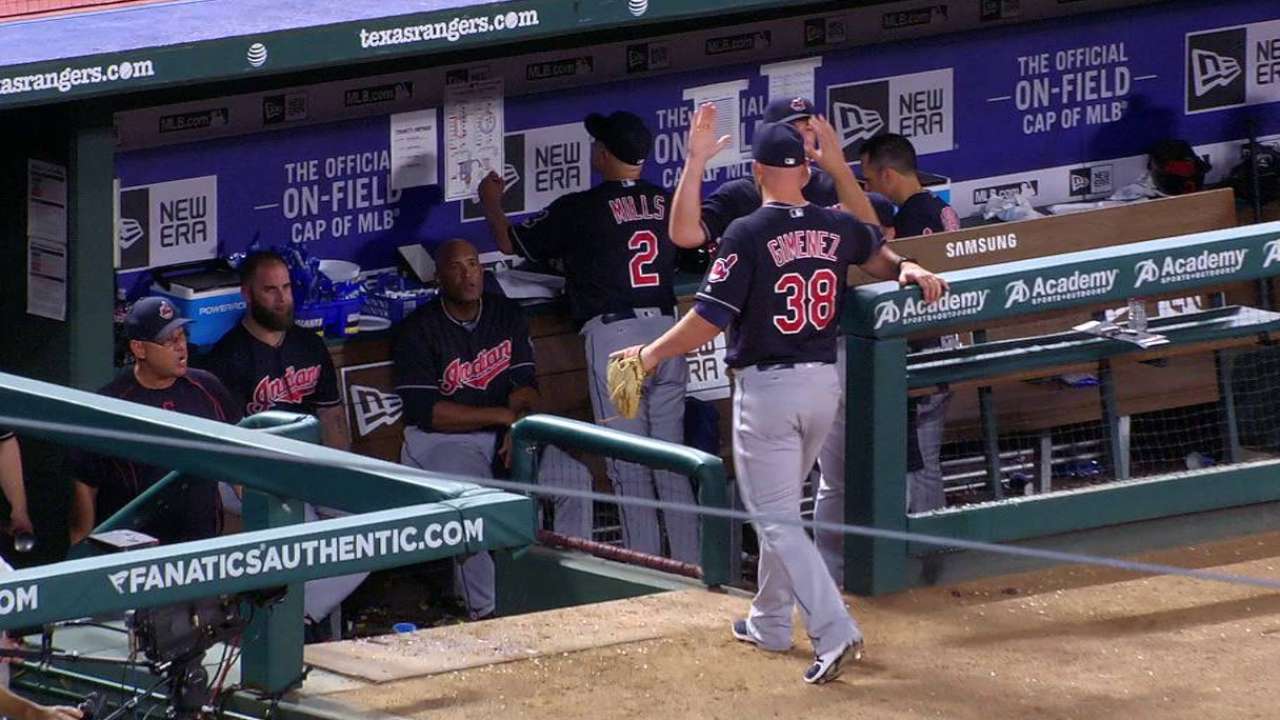 ARLINGTON -- At first glance, it may have seemed unnecessary when catcher Chris Gimenez took the mound for the Indians on Saturday night. The way manager Terry Francona saw it, though, Gimenez's eighth-inning appearance eliminated a tough postgame conversation with another player.
"If we wouldn't have [used Gimenez], we were going to have to make a roster move," Francona said after the Indians' 7-0 loss to the Rangers. "And, I don't think anybody deserved to lose their job."
The Indians have endured a handful of short starts recently, with the latest being a four-inning outing by Carlos Carrasco on Saturday night at Globe Life Park. After the right-hander's exit, Francona burned through relievers Jeff Manship, Dan Otero and Andrew Miller. Under the circumstances, it was unclear who would get the call for the eighth inning.
Gimenez, who now has three career pitching appearances, has informed Francona in the past that he is willing to pitch if it helps the team. The manager took the catcher up on it on July 3, when Gimenez worked the final two innings in a 17-1 loss to Toronto. In the seventh inning Saturday, Francona once again asked Gimenez to get loose.
The catcher had no problem taking one inning for his team.
"Absolutely," Gimenez said. "Ultimately, that's really what it's all about, is saving those guys down there. We still have a game [Sunday] that's just as important as the one tonight. I told Tito early on, 'Listen, if it comes to it, I'll gladly do it.' I don't care what my ERA is, you know what I mean? I couldn't care less. It's about saving the guys down there for the bigger innings, when we need them."
As it happens, Gimenez's only other career pitching appearance came when he was with the Rangers in 2014. On July 10 of that season, he worked one shutout inning with one strikeout against the Angels.
Against his former team, Gimenez worked a quick eighth inning, retiring Elvis Andrus (lineout to short), Robinson Chirinos (groundout to short) and Nomar Mazara (popout to the catcher) on 10 pitches. Gimenez laughed when told Miller needed to use 12 pitches to get through the seventh inning.
"He struck three guys out, though," Gimenez said. "And threw about three times harder than I did."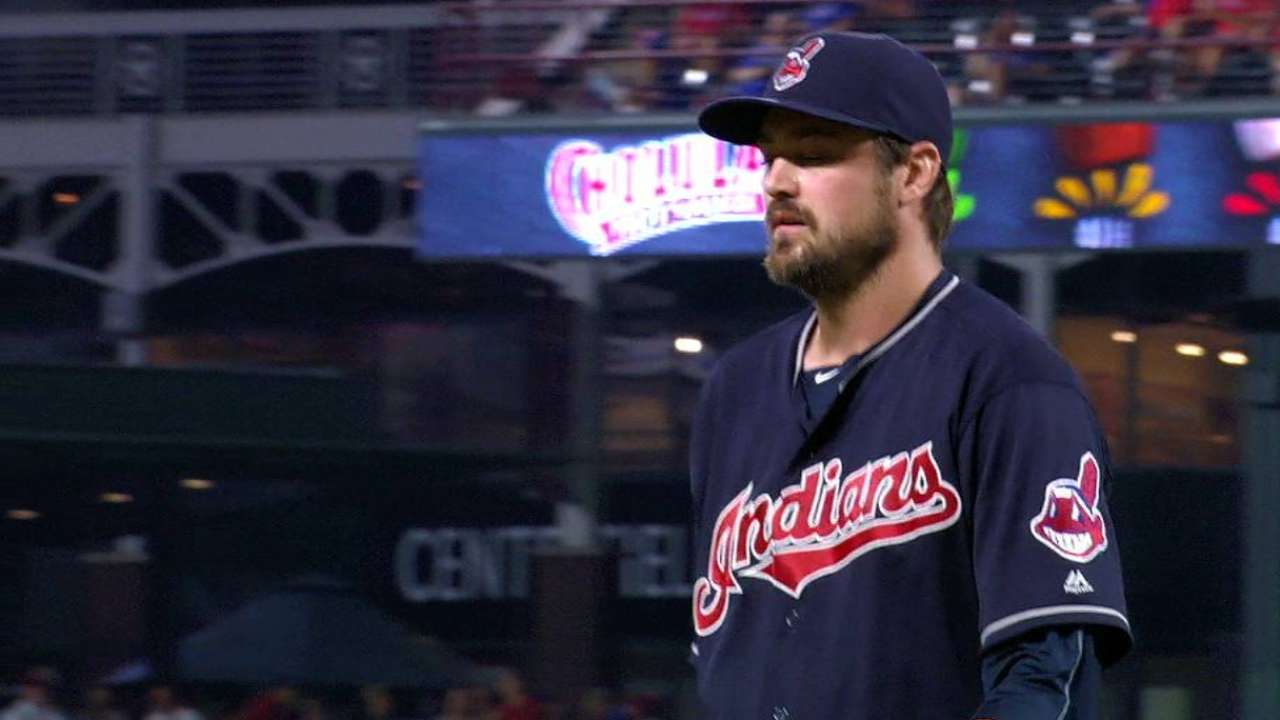 Nine of Gimenez's pitches were changeups that averaged 70.3 mph, explaining why they register as "knuckleballs" by PITCHf/x. He also threw an 83-mph fastball. Gimenez said his only goal -- beyond helping the bullpen -- is to get off the field as quickly as possible.
"Your arm doesn't really hurt the next day when you throw 65," he quipped. "I try to be as smart about it as I can. Obviously, no, I'm not a pitcher. But, I've ben around long enough and, unfortunately, that's not the first time I've had to do that, either. I just try to be extremely smart about it and take it really easy.
"I'm not trying to strike anybody out. I'm literally trying to get out of there in the least amount of pitches as possible."
Jordan Bastian has covered the Indians for MLB.com since 2011, and previously covered the Blue Jays from 2006-10. Read his blog, Major League Bastian, follow him on Twitter @MLBastian and listen to his podcast. This story was not subject to the approval of Major League Baseball or its clubs.