Kemp giving Braves lineup a big boost
Veteran's presence adds power, provides protection for Freeman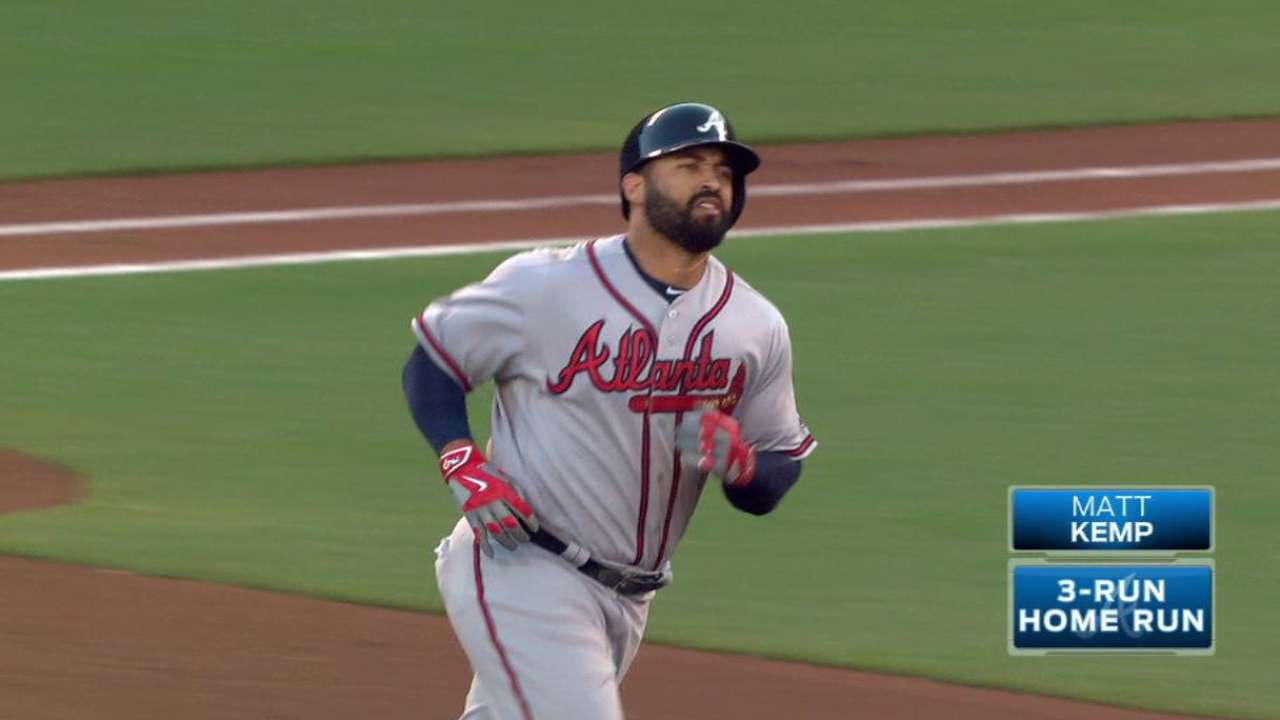 SAN FRANCISCO -- After hitting a three-run home run in Saturday night's 3-1 win over the Giants at AT&T Park, a jovial Matt Kemp saw Freddie Freeman approaching his nearby locker and made sure the Braves first baseman heard him say, "Freddie doesn't need me, he's a great hitter. But I am making him a little better."
Actually, Kemp's presence has made the Braves' offense much better than it has been at any point over the course of the past two seasons. Atlanta has averaged 4.8 runs per game since Kemp arrived after being acquired from the Padres in exchange for Hector Olivera. In the 105 games before his arrival, the offense averaged 3.4 runs.
"It's just one more power bat the opposite team has to get through," Braves starting pitcher Mike Foltynewicz said. "If I was facing that lineup, it wouldn't be too much fun."
Foltynewicz might have deserved most of the spotlight as he once again displayed his capability to evolve into an ace, limiting the Giants to one run over 7 2/3 innings Saturday. But his composed effort could have gone for naught had Kemp not damaged Albert Suarez with a three-run home run in the fourth inning that traveled 425 feet to straightaway center field, according to Statcast™.
"[Kemp] is having a really, really good year," Braves manager Brian Snitker said. "That was huge right there. It was good timing."
Though analysts have continued to be critical of his remaining value and the Padres were willing to give him away for nothing more than cost savings, Kemp has continued to produce impressive offensive statistics and move closer toward what would be the second 30-homer season of his career.
Kemp is batting .260 with 26 home runs and a .771 OPS. Critics point out his 101 Weighted Runs Created Plus stat, which indicates he is just a slightly above-average offensive performer. But as Kemp produced a .446 slugging percentage and a 115 wRC+ over his past 14 games entering Saturday, he has shown the Braves might have been wise to take a chance on his capability to prove his doubters wrong.
Though Kemp's statistics since joining the Braves might not be eye-popping, he has lengthened the lineup and served as an imposing buffer between the left-handed duo of Freeman and Nick Markakis.
Markakis has produced a .812 OPS since Kemp's arrival. Provided the protection he needed, Freeman has compiled a 1.170 OPS in that span.
"Markakis has been killing it just as much as Freddie has been killing it," Kemp said. "They've got to pitch to me because if I get on base, Markakis is capable of driving me in. We're trying to protect each other."
Mark Bowman has covered the Braves for MLB.com since 2001. This story was not subject to the approval of Major League Baseball or its clubs.