Carrasco unable to clean up messy first
Indians righty surrenders 7 runs, 4 unearned, in loss to Rangers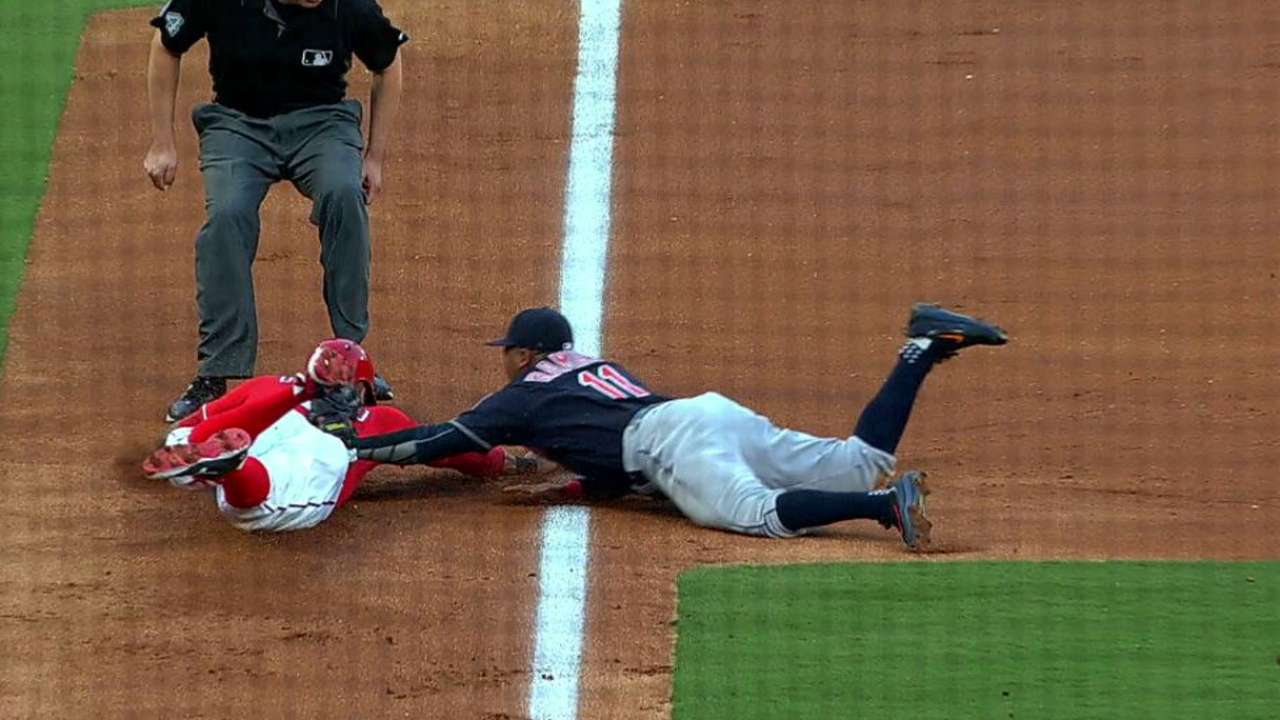 ARLINGTON -- A mess of things created a dicey first-inning situation for Carlos Carrasco. There were a couple of hits, an error and a mental mistake behind him. He also balked at an unfortunate time. It was an opportunity for Carrasco, one of baseball's best arms, to pull off an escape act.
"It was a bad inning," Indians manager Terry Francona said after a 7-0 loss to the Rangers on Saturday night. "And then, he gets a strikeout and throws a terrible pitch."
A bad first inning escalated into an ugly one -- punctuated by a grand slam by Mitch Moreland -- and that was all she wrote for Cleveland in Texas.
As has been a concerning trend for the Tribe, a starting pitcher made an early exit with a crooked number on the scoreboard. Carrasco was not entirely at fault in this one, but the Rangers' five-run lead after one, and seven-run cushion after three, was more than enough to send the Indians to a second blowout loss in three games.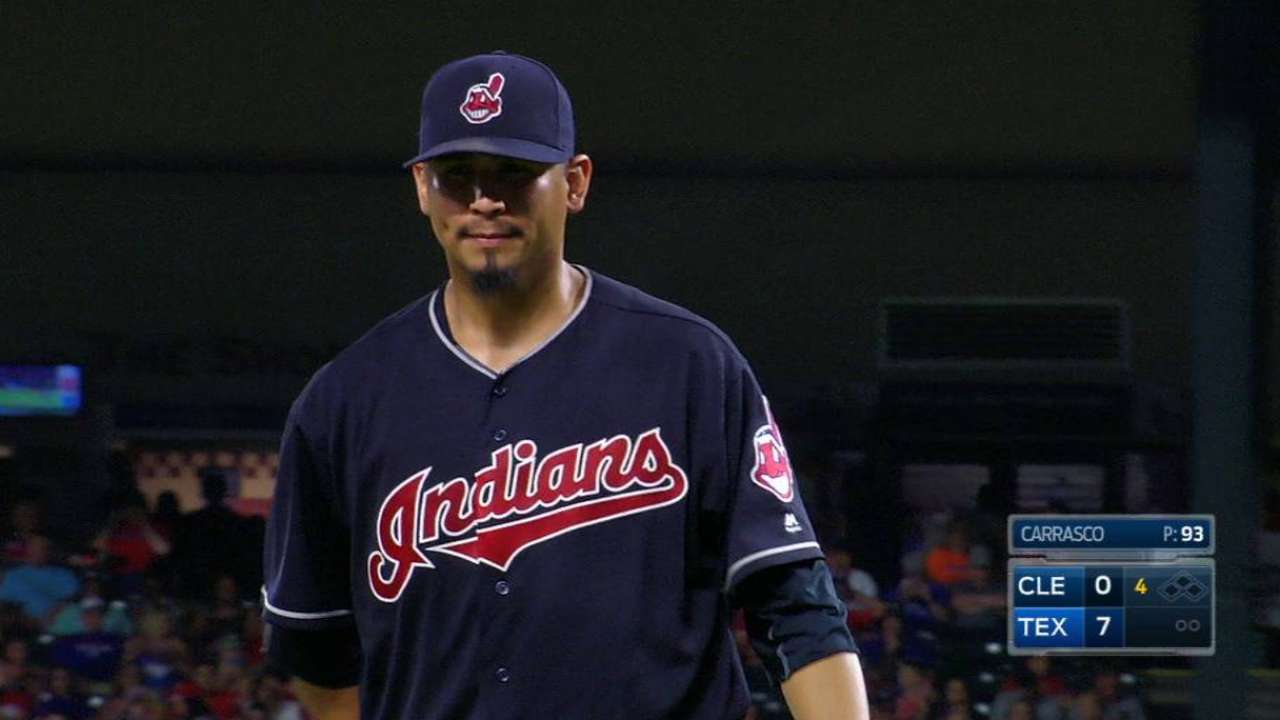 Starters Josh Tomlin and Danny Salazar have been going through their own struggles of late, but now Carrasco had a statistical setback of his own. The big right-hander hit the showers after four innings in which he allowed seven runs (three earned) on eight hits. It marked the ninth time this month that an Indians starter has been charged with at least six runs in fewer than five innings.
"That is a hard way to play," Francona said.
Texas' first-inning push began with a one-out single from Ian Desmond, who dropped a pitch into shallow center field to get things rolling. Carlos Beltran followed by chopping a pitch to the left side with Cleveland's defense in a pull shift. Third baseman Jose Ramirez chased down the grounder, but had no play at first by the time he got to the ball.
With Adrian Beltre at the plate, Carrasco then spun on the mound for a pickoff attempt in an 0-1 count. The problem was that first baseman Carlos Santana was playing off the bag, resulting in no throw by the pitcher and a balk call that moved both runners up 90 feet.
"Carlos thought there was a pick on, and there wasn't," Francona said. "I think that inning, a lot was going on for him. I think it was speeding up a little bit."
"I missed the sign," Carrasco confirmed.
With two runners in scoring position, Beltre pulled a grounder to Ramirez, who made a slick grab and quickly looked Desmond back to third. Desmond hesitated briefly, convincing Ramirez to abandon the throw to first base in favor of scrambling to third in an effort to tag the runner. Desmond dived back in safely, loading the bases.
"He looked him back like he's supposed to," Francona said. "And then I think he felt like he had a chance to get him. If he makes the out, it's a really good play. And, it's going fast. It's easy to sit back and go, 'Well, he should've done this.' The game's going pretty quick."
Rougned Odor then hit a sharp two-hopper to Santana, who could not make the catch for a run-scoring error. Even with all the miscues, though, Carrasco was still a pitch or two away from an escape, and he was trying to maintain that mindset.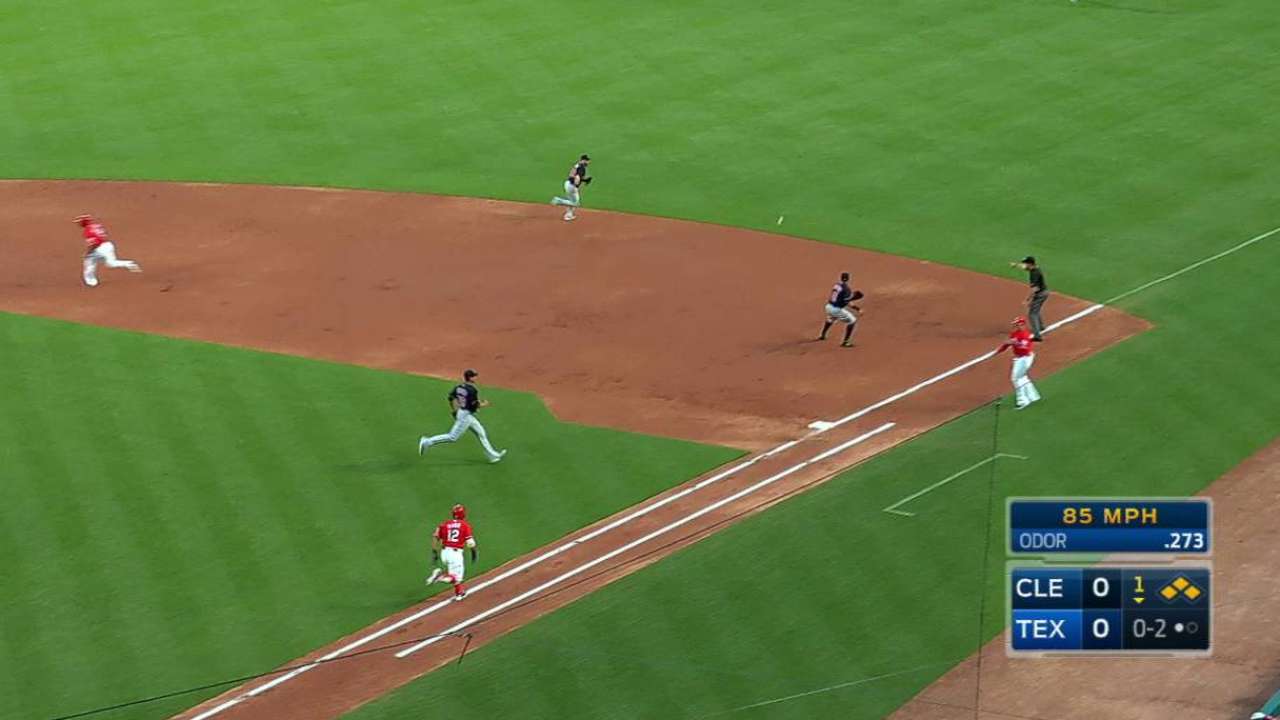 "It's going to happen," Carrasco said of the mistakes. "What's more important is you have to stay there, be strong and try to get some people out. What happened in the first inning, it happens."
What happened next was on Carrasco.
Following a strikeout of Carlos Gomez, Carrasco spun a first-pitch slider that hung over the middle of the plate for Moreland, who drilled the ball down the right-field line and into the seats.
"That was a crushing [blow]," Francona said. "A lot of things led up to it, but that really hurt."
Jordan Bastian has covered the Indians for MLB.com since 2011, and previously covered the Blue Jays from 2006-10. Read his blog, Major League Bastian, follow him on Twitter @MLBastian and listen to his podcast. This story was not subject to the approval of Major League Baseball or its clubs.