Rangers clinch season series from Indians
Moreland's first-inning slam sets tone in battle of AL's top two clubs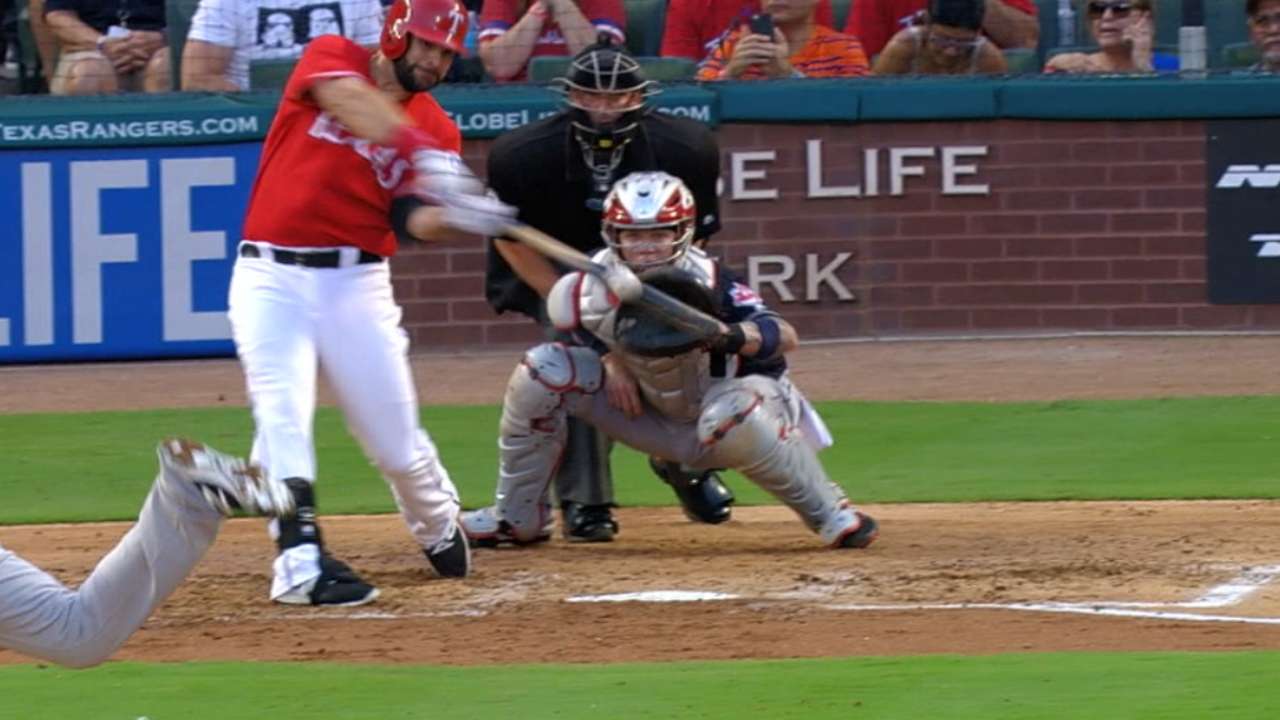 ARLINGTON -- With their 7-0 win Saturday night, the Rangers took the season series over the Indians, 4-2, heading into the finale of a four-game set on Sunday.
The next time these two teams meet could be in the postseason, as they own the top two records in the American League.
"I think it's always significant any time you can win a season series against any club, especially when it's a club with playoff implications also," Rangers manager Jeff Banister said. "They're playing for the same thing we're playing for -- to be able to win their division and go and grind it out. So, yes, there is some significance."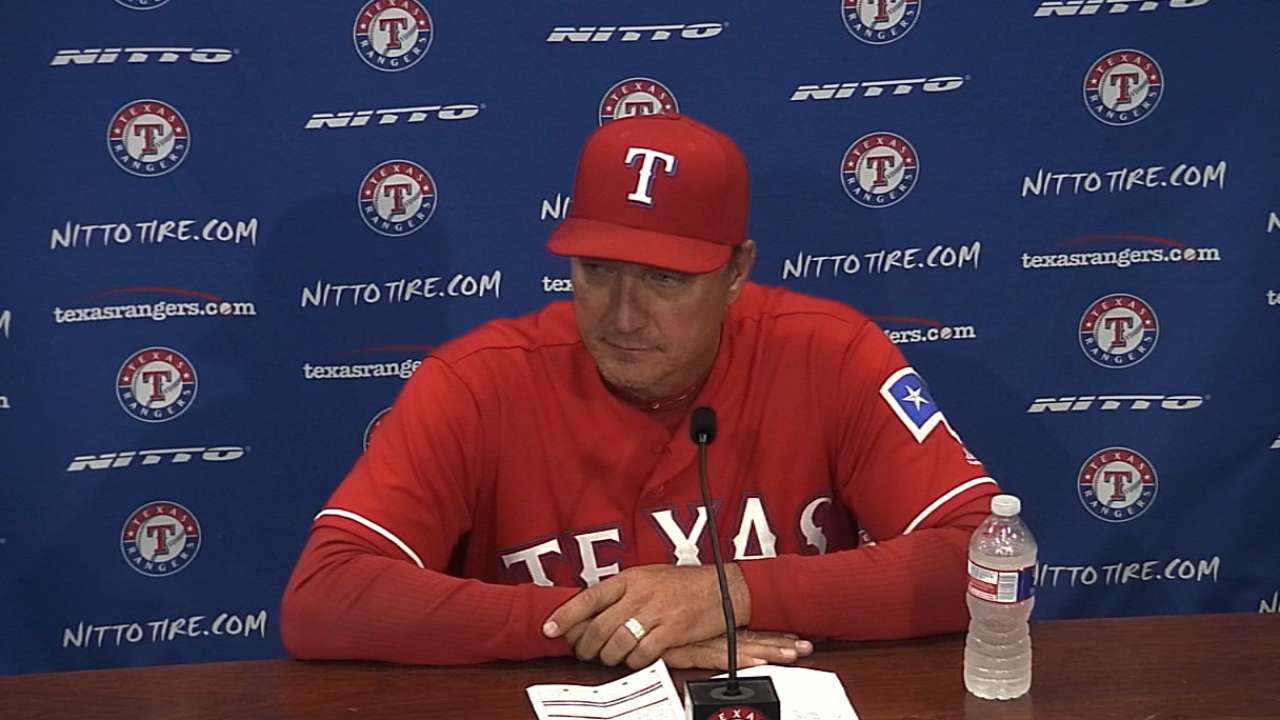 A.J. Griffin kept the Indians off-balance through six innings thanks to what he said were some of his best changeups all year. He delivered his first quality start since May 2 in front of a nearly filled Globe Life Park.
"A little bit of a playoff atmosphere, I suppose, tonight," Griffin said. "It was pretty packed out there, and the fans were into it. At this time of year, you just got to go out there and play ball every night as best as you can. When everyone's doing that, things click, good things happen, and the team wins."
First baseman Mitch Moreland sent the Rangers on their way to victory with a first-inning grand slam that was projected to travel 443 feet into the right-field seats, per Statcast™. He wasn't aware that the Rangers had taken the season series from the Indians (Texas took two of three in Cleveland back on May 30-June 1).
• Grand slams mean 40% off pizza
"We're really just trying to stay with what we got tonight," Moreland said. "That was a good one for us, and we got another one with them [Sunday], so we're going to try and just do the same."
Moreland's grand slam staked Griffin to a 5-0 lead, which were three more runs of support than Griffin had in his last two starts combined.
"To scratch some runs early is always nice," Moreland said. "It let A.J. get in his groove, and he threw a great game and controlled it until the end."
Elvis Andrus tacked on two more runs with a double in the third. Griffin credited the early runs to helping him navigate through an Indians lineup that scored 12 runs on Friday.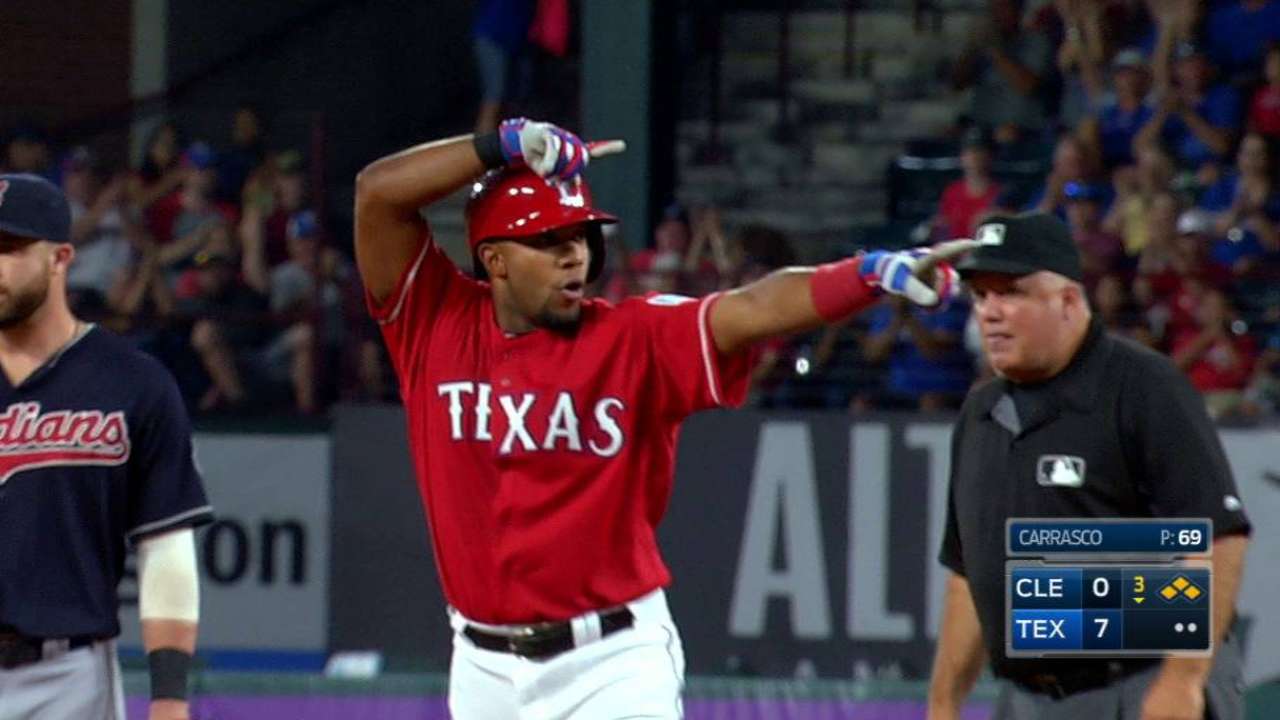 "I kind of tried to put my blinders on a little bit and execute my game plan with my pitches and keep them off-balance in between speeds," Griffin said. "[The early lead] is huge, though. That was a big grand slam that Mitch hit in the first inning, for sure."
Ryan Posner is a reporter for MLB.com based in Texas. This story was not subject to the approval of Major League Baseball or its clubs.