MLB.com Columnist
Mike Bauman
Pirates step up amid news about Cole missing start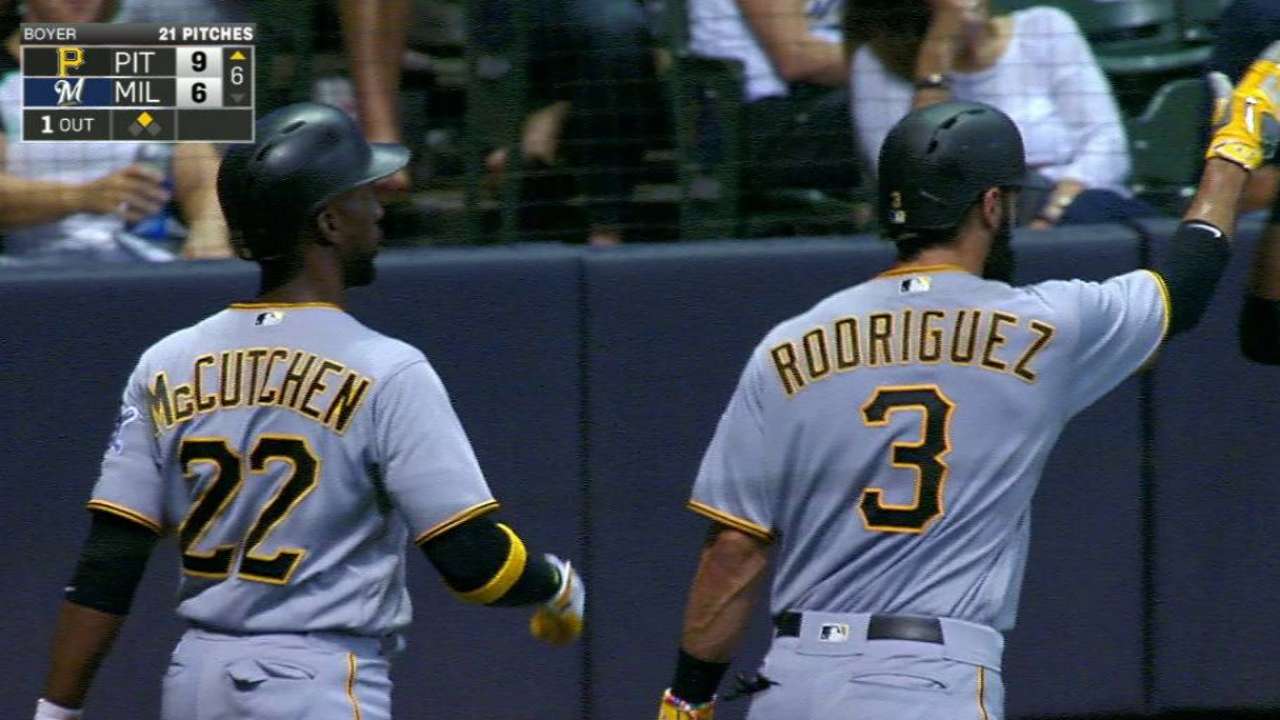 MILWAUKEE -- Ordinarily, a three-game winning streak for the Pittsburgh Pirates at Miller Park would be cause for unrestrained rejoicing.
The Pirates on Saturday night won their third straight in Milwaukee; a 9-6 victory over the Brewers that included a comeback from a four-run deficit. But another development made this a less than ecstatic evening for the Bucs.
After the game, Pirates executive vice president and general manager Neal Huntington said that No. 1 starter Gerrit Cole will miss at least one start, as he gets further tests on his right elbow.
Cole's next turn in the rotation would have come Monday against the Cubs in Chicago. Huntington said he expected that start would be taken by left-hander Steven Brault, who will be called up from Triple-A Indianapolis.
Cole, who was on the disabled list for more than a month earlier this season with a triceps injury, has been roughed up in his past four starts, all of which became defeats for the Pirates.
"Cole made us aware after his last start that he had a little bit of discomfort on the outside of his elbow," Huntington said. "We've been working through the evaluation process. We're going to get him a second opinion sometime in this upcoming week. He will miss at least his next start."
For the moment at least, the Bucs will be contending for a National League Wild Card berth with three rookies, Ryan Vogelsong and Ivan Nova in the rotation. But everybody in that group has pitched well enough this season.
Apart from the concern about Cole, Saturday night was a celebration for the Pirates. They had lost nine straight at Miller Park before this series and are 20-64 over the past 10 seasons in Milwaukee. They're near the other end of the spectrum now. With the Saturday night victory, the Bucs won seven in a row on the road for the second time this season.
On the plus side, the Pirates' offense had a reawakening and the bullpen was close to superb. In winning the first two games of this series, they had not exactly pounded the Brewers. Andrew McCutchen carried the offense Thursday night, driving in all three runs. Friday night the Bucs won on the strength of a five-run inning in which shortstop Jordy Mercer hit his first career grand slam and Milwaukee committed two errors.
"We had one swing of the bat here that produced four runs, and there were two errors," Pirates manager Clint Hurdle said. "So let's call it what it is. It's not like we got eight hits in the inning and scored four runs."
Could the Pirates get well offensively in a place that had primarily meant defeat for them?
"This place has been crazy in a lot of different ways," Hurdle said. "No. 1, look at the compilations of lifetime batting averages here in Milwaukee. I mean, it'll get your attention.
"[Right fielder Gregory] Polanco is hitting .160 coming in here. It's only 50 at-bats, but it's eight hits. He's been 0-for-5 the past two nights, and this is a park that you think is hitter-friendly. It doesn't always play out that way."
Polanco, who was not in the starting lineup Saturday night, had dropped to .138 at Miller Park. But pinch-hitting in the sixth with the bases loaded in a 6-6 tie, he doubled, driving in all three runners.
"That was one of the best swings I've seen him put on any pitch in this park," Hurdle said.
As a mainstay of Pittsburgh's lineup, Polanco doesn't get much pinch-hitting experience, but that didn't faze him.
"I just go up there and try to swing the bat," he said.
Solid plan. Elsewhere, Francisco Cervelli was hitting .179 at Miller Park. Josh Harrison was hitting .200, but he contributed three hits Saturday night, scoring two runs, driving in two and lifting his Miller Park average to .225.
The underlying issue was that the Pirates were too good to keep losing to the Brewers, who are currently in rebuilding mode. Saturday night, the Bucs overcame a rare bad start by Jameson Taillon, who has been very good, coming back from a four-run deficit with a five-run fourth inning.
Were the Pirates simply due to do damage and win some games at Miller Park?
"I said before we left, 'We're due, we haven't played well [at Miller Park]' " Hurdle said. "Now, you've got to go play. One thing we've been very resilient with is 'What's next?'
"There are no guarantees at this level. Teams are going to play all year long. You've got to play to win games at the Major League level. It's very refreshing for us to come here and win tonight on top of the way we did in the other games, 3-2 and 5-3. We have a tough team. We have a gritty team."
That remained as the good news for the Bucs on Saturday night.
Mike Bauman is a national columnist for MLB.com. This story was not subject to the approval of Major League Baseball or its clubs.