Price turning it on for crunch time
Southpaw wins 4th straight while bringing ERA below 4.00 for 1st time since April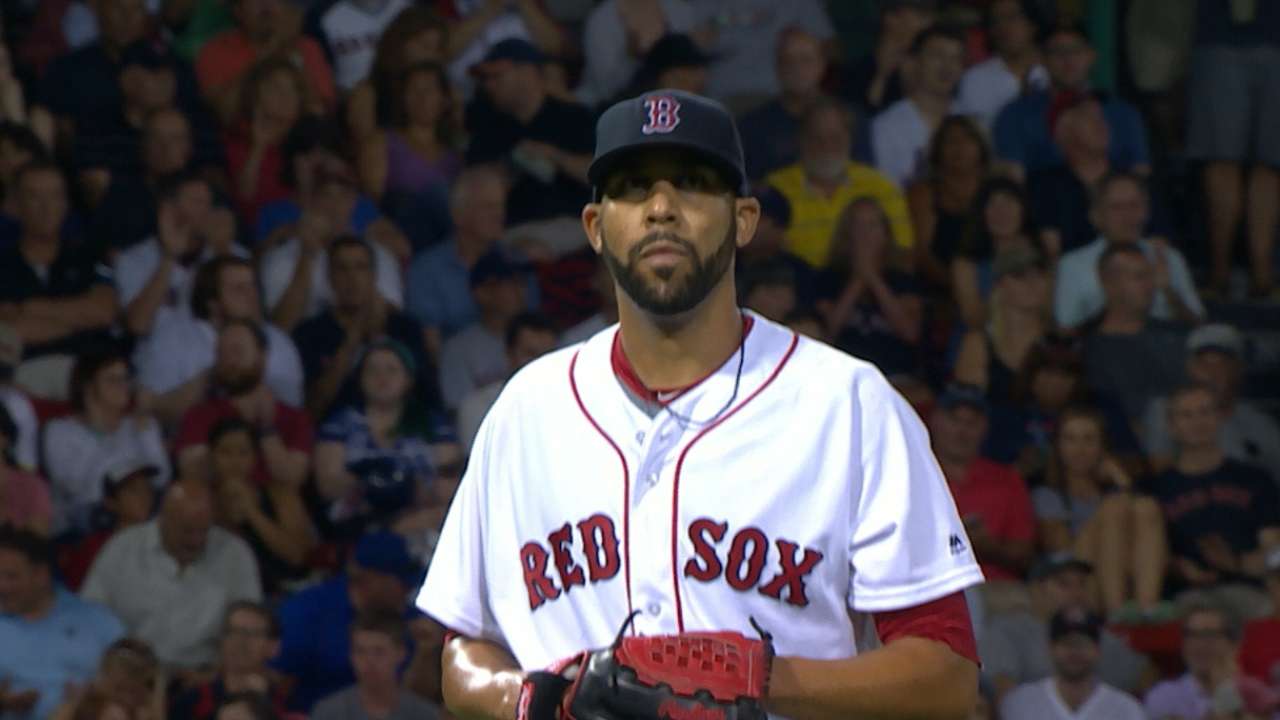 BOSTON -- For just a moment, David Price interrupted Kansas City's hot streak. The left-hander plowed through the Royals' lineup for his fourth straight win and an 8-3 Red Sox victory on Saturday night at Fenway Park.
Price limited the Royals to five hits and two walks while fanning seven, inducing a rubber match Sunday night's finale. After Saturday's win, the southpaw lowered his ERA below 4.00 for the first time since April 5 -- his debut for the Red Sox.
But none of that matters to Price. He's just looking for the one thing every team loves on any day of the week -- a win.
"I haven't thought about my ERA in a long time," Price said. "That ship has sailed. I want to go out and pitch as deep into the ballgame as I can and give up the least amount of runs. I don't worry about my ERA. I don't worry about my wins and losses. I want the Red Sox to win every day and especially the days that I'm out there."
Xander Bogaerts hit a two-run homer in the first, and the Red Sox's bats didn't stop there as they proved again why the best offense in Major League Baseball lives in Boston, posting double-digit hits for the second straight game and making it easier for Price to stay in control.
Price was forced to grind through the second inning after allowing a solo shot to Salvador Perez followed by back-to-back doubles. But that was as close to a rally as the Royals could get, not crossing the plate again until the ninth.
"Just move forward," Price said of the second inning. "That's a good team; it's a very hot team right now. You forget about it. Offense got me a lot of runs; that always makes my job a lot easier."
Although he looked far from perfect in the first half of the year, Boston's ace turned it on at the most important point of the season. The Red Sox are one game behind first place in the American League East with a three-game advantage in the AL Wild Card race. Price has a 1.93 ERA with 27 strikeouts and just five walks in his past four outings, all quality starts.
"I thought tonight he was more powerful than the last time over in Tampa," Red Sox manager John Farrell said. "They put up some good at-bats against him. A lot of foul balls, ran the pitch count up. Six innings was his night tonight. But still, it's the offspeed stuff that's really making a difference for him."
Deesha Thosar is a reporter for MLB.com based in Boston. This story was not subject to the approval of Major League Baseball or its clubs.