Duffy's dominant streak hits bump in road
After run of 10 straight winning decisions ends, lefty looks ahead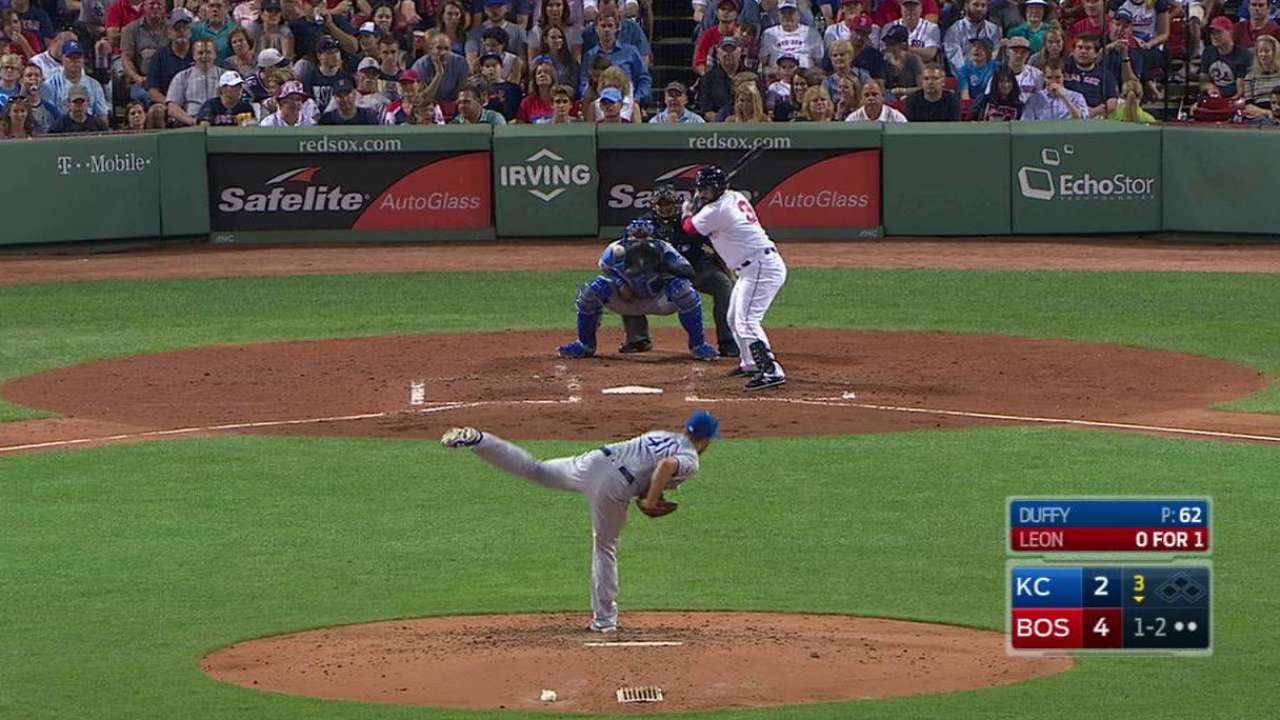 BOSTON -- It was bound to happen. Royals left-hander Danny Duffy, so brilliant for so long, was bound to throw a clunker.
And that clunker came Saturday night at Fenway Park as Duffy and the Royals fell, 8-3, snapping Duffy's 10-game winning streak.
Duffy gave up seven runs on nine hits through five innings. It was the most runs he has surrendered since Aug. 16, 2011, when he gave up eight runs at Yankee Stadium.
"I don't ever expect to go out there and really have it handed to me like I did tonight," Duffy said. "I expect to keep my team in the game every time I go out.
"I didn't make pitches when I needed to. They were selling out on everything, and I just didn't keep the ball down. I expect better than that. I expect better than that every time out."
Duffy had posted a 2.14 ERA in his last 11 starts before Saturday, lowering his ERA to 2.66 and forcing his name into American League Cy Young Award conversations.
Duffy's ERA jumped to 3.01 after Saturday's game.
"This isn't going to defeat me or hurt my feelings," Duffy said, "because I'm going to go out there and get the ball in five days or six days with the day off [Thursday] and go out there and battle again.
"I know this feeling, so I know how to react to it. I know how to adjust to [a bad loss]. I'm excited to go out and watch [Yordano Ventura] tomorrow go out and win the series for us."
One issue early on for Duffy was a peculiar strike zone from home-plate umpire Adrian Johnson. Pitches that appeared low in the strike zone were called balls.
"Strike zone -- wasn't much of a low zone tonight," Royals manager Ned Yost said. "Strike zone was a little high."
Duffy could sense it, too, and a couple of times, he seemed puzzled by calls.
"I threw a couple good pitches that were down that I thought nicked the bottom [of the zone]," Duffy said. "But lo and behold, I threw a couple pitches that were up that I didn't even realize were strikes and he called them. All in all, I didn't make good pitches down, and when I did go down, they must have been just missing."
Duffy started to elevate his pitches, and then the homers came --- three off of him.
"I don't really adjust the zone," Duffy said. "I'm a knee-to-knee pitcher. I have to trust that. I will continue to."
Jeffrey Flanagan has covered the Royals since 1991, and for MLB.com since 2015. Follow him on Twitter @FlannyMLB. This story was not subject to the approval of Major League Baseball or its clubs.