Altavilla unleashes 'electric stuff' in MLB debut
'It was an unbelievable feeling,' reliever says of retiring side in 8th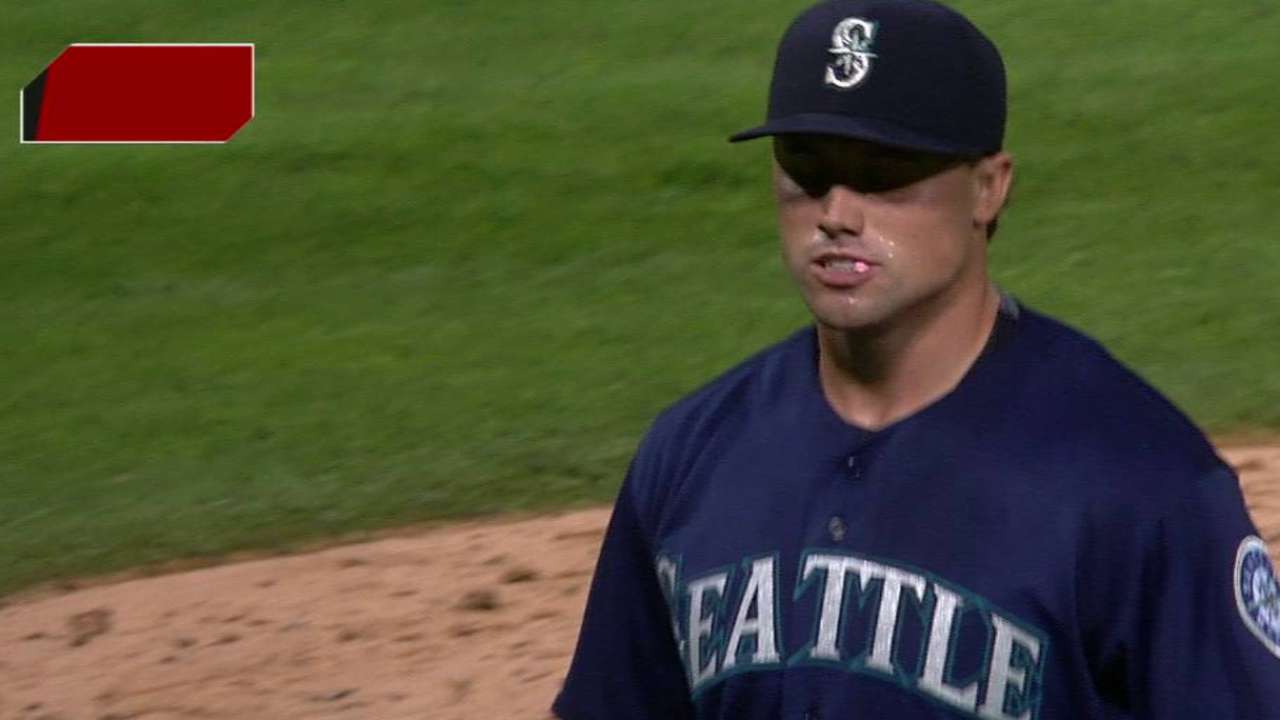 CHICAGO -- Mariners manager Scott Servais said before Dan Altavilla's Major League debut that it wasn't fair to draw any comparisons to rookie closer Edwin Diaz in spite of their similar path to the big leagues this season, but it was hard not to see the same kind of sizzle in the rookie right-hander's impressive opening act in Saturday's 9-3 loss to the White Sox.
The hard-throwing 24-year-old touched 100 mph on the radar gun and unleashed a couple of nasty sliders in a 1-2-3 eighth inning in which he zipped through the heart of the White Sox order, getting easy grounders from Melky Cabrera and Jose Abreu and then striking out Todd Frazier.
"The bright spot obviously was the young kid, Altavilla," Servais said after an otherwise tough night at U.S. Cellular Field. "That was a very positive outing. Electric stuff. I don't know what they're drinking at Tennessee, but they throw pretty hard down there. I'm glad to get that one out of the way for him. We'll see where he fits in our bullpen going forward."
Altavilla arrived earlier in the day from Jackson, Tenn., where he'd been putting up outstanding numbers as the closer for Seattle's Double-A club in his first season as a reliever.
It's hard not to draw parallels between Altavilla and Diaz, who took the same route from converted starter to a quick promotion to Seattle. Though Altavilla is a muscular 5-foot-11, 200-pounder compared to the whippet-thin Diaz, both throw extremely hard and have developing sliders to counter that heat.
Altavilla says he's modeled his efforts after Diaz's success, but Servais still wants to apply the brakes to any further comparisons.
"I don't want to put that on anybody," Servais said. "We certainly didn't expect Edwin Diaz to do what he's done. But he's a young guy we'll give an opportunity. The one thing I've focused on is trying to get these guys as comfortable as quick as we can. It's not fair to anybody to throw comparisons out. We need to let Dan be who Dan is."
Initial impressions are that Altavilla is a bundle of muscle who throws hard, flashes a big smile and is thrilled to be in the big leagues.
"You never want to smile when your team loses, but a debut like that, it was tough to hold back with my family in the stands just going crazy," Altavilla said. "I just had chills throughout my whole body. Just on Cloud Nine. Getting out there and throwing strikes and getting right after those guys, it was an unbelievable feeling."
Altavilla said he'd hit 99 mph in Jackson, but wasn't surprised to see triple digits in his MLB debut in front of 27,318 fans that included his dad, grandfather, two uncles and a couple college roommates who flew in to be part of the moment.
"I think the adrenaline here and with all the fans in the stadium, I think it'll play up," he said of his fastball. "And those were probably the three best sliders I've thrown all season."
Greg Johns has covered the Mariners since 1997, and for MLB.com since 2011. Follow him on Twitter @GregJohnsMLB and listen to his podcast. This story was not subject to the approval of Major League Baseball or its clubs.