Bullpen blemish a rare hiccup for Cards' pen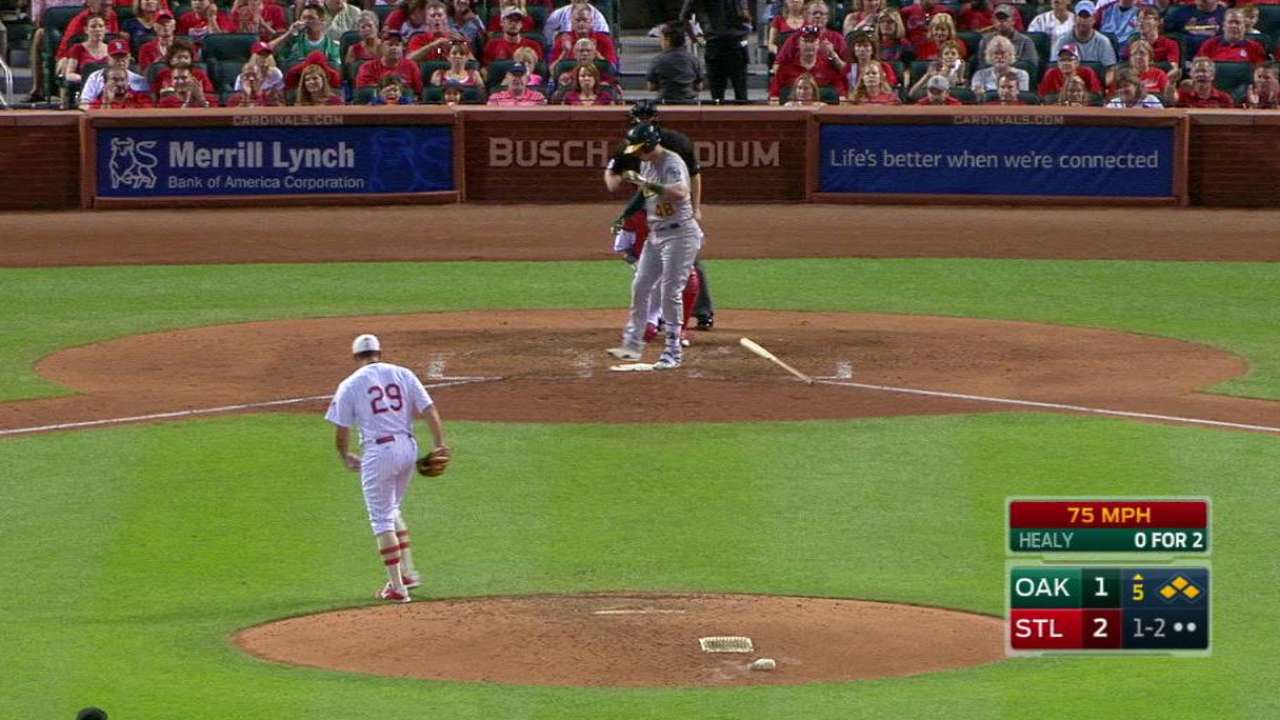 ST. LOUIS --The Cardinals bullpen seemed lost through the first half of July after Trevor Rosenthal was taken out of the closer role. The additions of Zach Duke and Alex Reyes provided a calming effect. For the first time in awhile Saturday, the relievers played a significant role in a loss, a 3-2 setback to the A's.
Duke relieved Reyes in the fifth inning and inherited runners at first and second with one out. He hit his first batter Yonder Alonso to load the bases and then walked Khris Davis to allow the A's first run. He eventually worked out of a bases-loaded jam to end the inning.
"It's tough, Cardinals manager Mike Matheny said. "We like Duke in that situation. It would have been nice if a check swing goes our way at that particular time, but I think that could have gone either way. And that one ended up costing a base, which ended up costing a runner."
The walk ended Reyes' 14-inning scoreless streak to begin his career.
"I'm upset I ended his scoreless innings streak but he's got a very bright future," Duke said. "It hurts. You know he's throwing the ball so well, you don't want that to end."
Duke recorded a 1-2-3 inning in the sixth and Matt Bowman did the same in the seventh before running into trouble and allowing a single and a double with one out in the eighth.
Seung Hwan Oh relieved him and allowed the tying run to score on a ground ball, which Brandon Moss decided to throw home instead of tagging first to get the second out. The mistake allowed Ryon Healy to advance to third and become the winning run after Brett Eibner hit a sacrifice fly.
"A huge, huge mistake right there on my part, especially because I went completely against everything our defense was set up to do," Moss said. "It doesn't matter if you think you have a chance to get him or not. The defense is set up a certain way and everything is set up a certain way. And if we're conceding that run, we're conceding that run to get the out at first. That's 100 percent on me."
In spite of the mistakes, the bullpen has still executed its job when called upon recently. The Cardinals are 10-2 in their last 12 one-run games. Though the inherited runners scored is a blemish, Duke extended his scoreless appearance streak to six outings and Oh hasn't given up a run in 10 straight outings. The runs Oh allowed to score ended Bowman's scoreless appearance streak at five games.
With Reyes no longer a consistent presence in the bullpen and Tyler Lyons expected to miss the rest of the regular season with stress reactions in his right knee, it won't get any easier for the Cardinals. Kevin Siegrist also wasn't available Saturday due to high pitch counts.
"These guys are accustomed to figuring out ways to get us out of a jam," Matheny said. "That's what they've done well and will continue to do well. Just a tough spot today."
Nick Krueger is a reporter for MLB.com based in St. Louis. This story was not subject to the approval of Major League Baseball or its clubs.