Neal delivers as a starter in A's win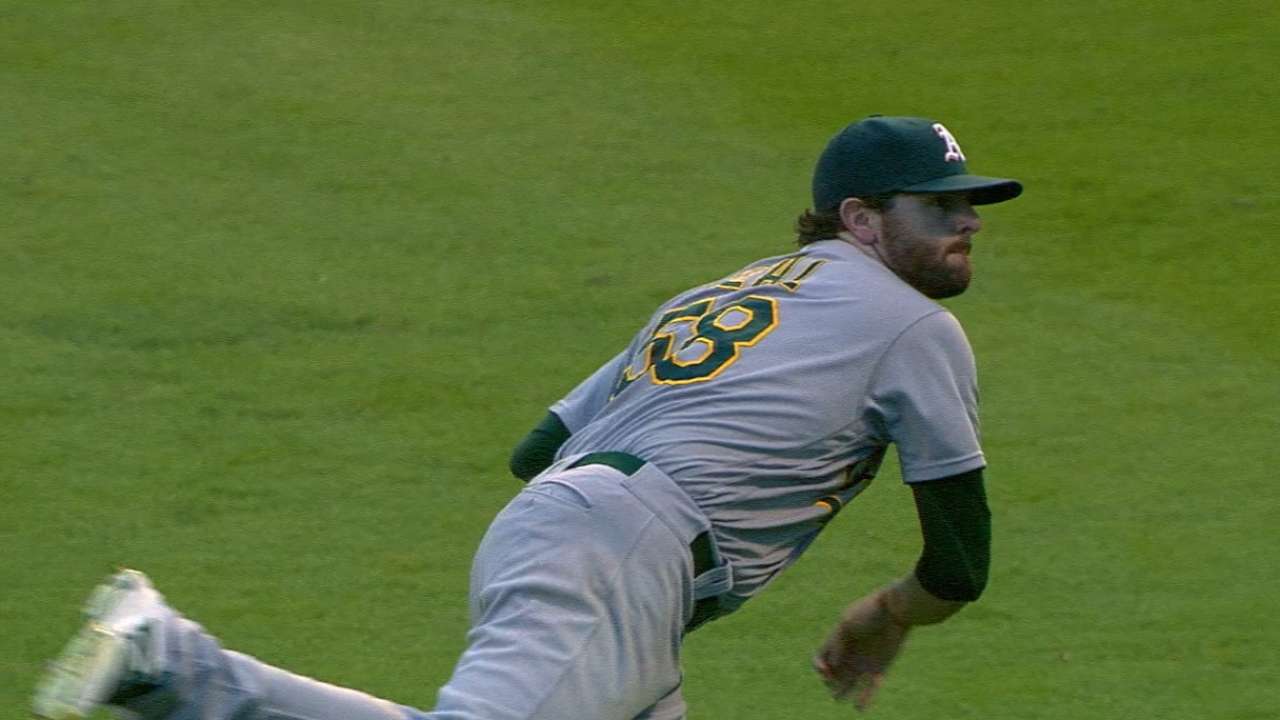 ST. LOUIS -- Though rather uninspiring on paper, the A's lineup pieced together a 3-2 victory over the Cardinals on Saturday evening, mostly thanks to their No. 9 hitter.
Zach Neal's night at the plate was nothing to write home about, but his gritty performance on the mound proved vital to the club's win.
The right-handed Neal, whose numbers this season have far and away been better as a reliever than as a starter, was terrific this go-around, providing a career-high six innings with only one earned run (two total) allowed.
In two of his previous three starts, he fell two outs shy of that six-inning mark.
"I've been real close the past couple times, and to finally do it is huge," said Neal, who entered the game with a 7.91 ERA in four starts, compared to a 3.15 mark in 10 relief appearances. "As a starting pitcher, that's your goal, to get as deep in the game as you can and keep your team within reach, and to be able to do that is to kind of check off my goal for the night there."
Neal allowed six hits, including a solo home run to Greg Garcia. But he didn't walk a batter and struck out four, totaling 91 pitches -- 17 more than his previous career high -- in an efficient outing that brought about 11 ground-ball outs, compared to just two in the air.
Another ground-ball induced by Neal was booted by third baseman Ryon Healy in the second, bringing in an unearned run. But Neal didn't allow the Cardinals to score again, utilizing a key double-play ball to get him through the fourth and setting down his final nine batters in a row.
"He pitched really well," A's manager Bob Melvin said. "Defensively, we didn't do him any favors early, and he seemed to be able to pitch through it, and the next thing you know he was out there deep in the game and threw more pitches today than he has all year for us. He was a big part of the win."
"To get out of those tough situations was a big, big thing for tonight," Neal said. "I caught a second wind after that third inning and my mechanics started flowing a little bit, the ball was coming out better than it was early on, the slider had a little more depth, and I tried to mix in the changeup the third time around to those guys. I felt better later than I did early probably and got into a nice rhythm there."
Neal's work continued a string of effective outings from a makeshift rotation that's consistently keeping the A's in games. Despite just one member of the Opening Day five (Kendall Graveman) remaining on the starting staff because of injuries and other happenings, the A's rotation has posted a 3.67 ERA over the club's last 20 contests.
"There's been some tough stretches and there's been some good stretches, but for the most part I don't think we get fazed by much," Neal said. "I know I take a lot of pride in moving on from the start before to the next and being able to flush that last one, and I think a lot of the guys here do the same. We have a lot of good arms and a good group of guys that work real hard, and it's been good lately for sure."
Jane Lee is a reporter for MLB.com. Follow her on Twitter @JaneMLB. This story was not subject to the approval of Major League Baseball or its clubs.