Cravy crushes homer for first big league hit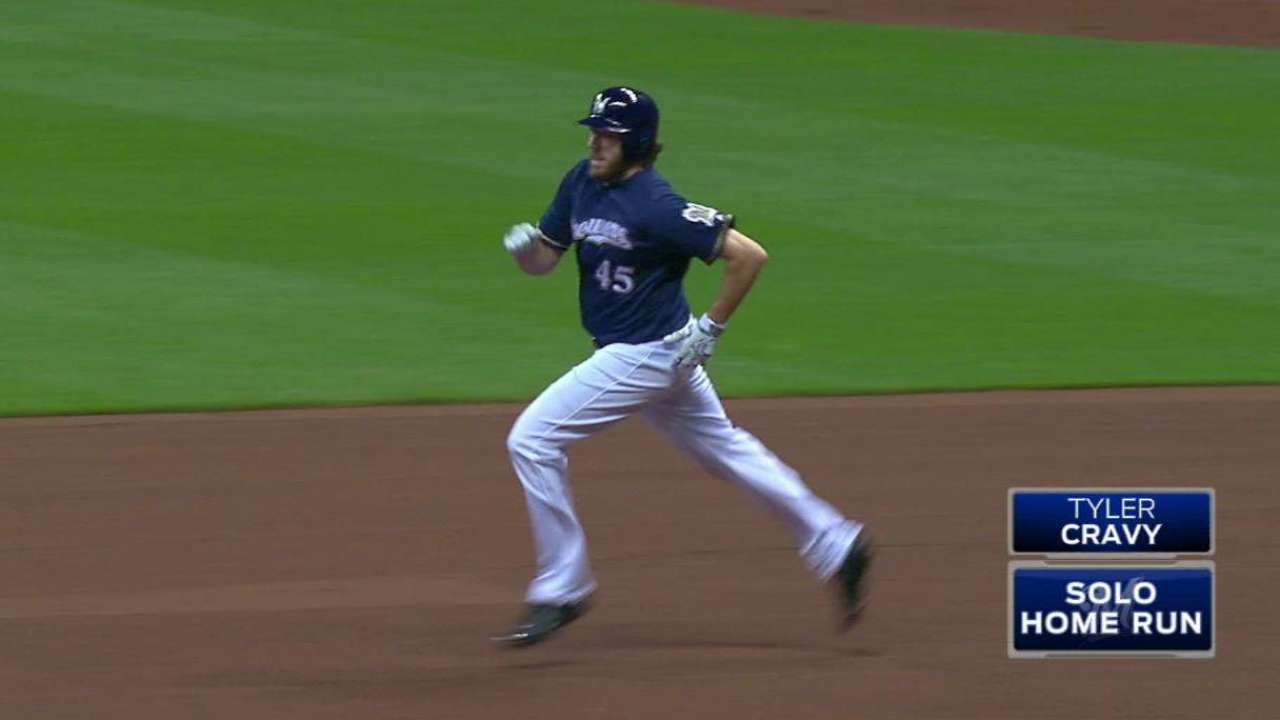 MILWAUKEE -- When Brooks Kieschnick stepped to the plate for the Brewers in 2003, you could see it coming. He was a first-round Draft pick who played nine professional seasons as a power-hitting outfielder before converting to pitching and making it to Milwaukee as a two-way threat.
So when Kieschnick hit a trio of home runs as a relief pitcher in '03, it made sense. As Tyler Cravy stepped to the plate on Saturday, it was not so obvious that a baseball was about to clear the fence.
"It was really cool," Cravy said. "I was a little surprised by it."
Cravy's first Major League hit was a 409-foot home run, a solo shot off Pirates left-hander Jeff Locke that tied a wild ballgame in the fourth inning of what would become a 9-6 loss to the Pirates at Miller Park. The baseball left Cravy's bat at 100.4 mph, according to Statcast™, and when it found the seats he became the first Brewers reliever to hit a home run since Kieschnick at San Francisco on Sept. 12, 2003.
This fan caught @TylerJayCravy's first @mlb hit/HR ⚾️, so Tyler gave him a bat & ball! #Brewers pic.twitter.com/0U4yhmZ1cd

— Milwaukee Brewers (@Brewers) August 28, 2016
There have been just six home runs in Brewers history off the bat of a relief pitcher: Cravy's on Saturday, Kieschnick's trio in 2003, Bronswell Patrick's in 1998 and Bill Parsons' in 1971. No Brewers pitchers regularly batted from 1973-96 because the team played in the American League in the designated hitter era, pre-Interleague Play.
Cravy was the second reliever to hit a homer this season. The other was the Reds' Michael Lorenzen, who did so in dramatic fashion last week in his first appearance following the death of his father.
Cravy joined Jeff D'Amico (July 30, 2000) as the only pitchers in Brewers history to homer for his first Major League hit. "I was definitely surprised I hit it that well," Cravy said. "I think I already had my mind made up that I was going to swing first pitch, so I was pretty lucky that it was a fastball in that location."
Cravy entered the night with one home run in 60 professional plate appearances. It came in 2015 for Triple-A Colorado Springs at Memphis. In the Majors, he was hitless in 13 plate appearances.
His celebration was short-lived on Saturday. Cravy's home run tied the back-and-forth game at 6-6, and moments later, he was back on the mound to pitch.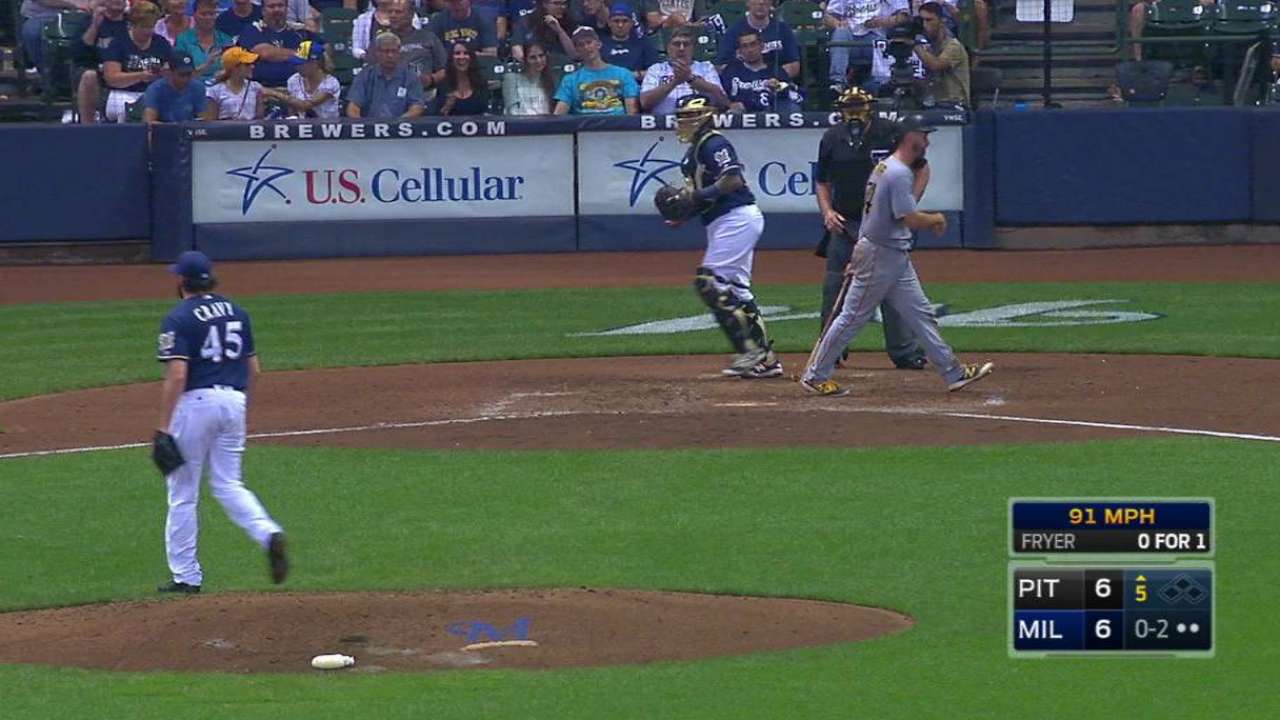 "I had to sit down and try and forget that it happened," Cravy said. "I told myself I still had to go out and pitch."
The Pirates pushed back ahead in the sixth on Gregory Polanco's three-run double. It provided the decisive margin in the Brewers' third consecutive loss.
"Maybe tomorrow I can enjoy it," Cravy said.
Adam McCalvy has covered the Brewers for MLB.com since 2001. Follow him on Twitter @AdamMcCalvy, like him on Facebook and listen to his podcast. This story was not subject to the approval of Major League Baseball or its clubs.