Polanco's pinch-hit 2B snaps skid at Miller Park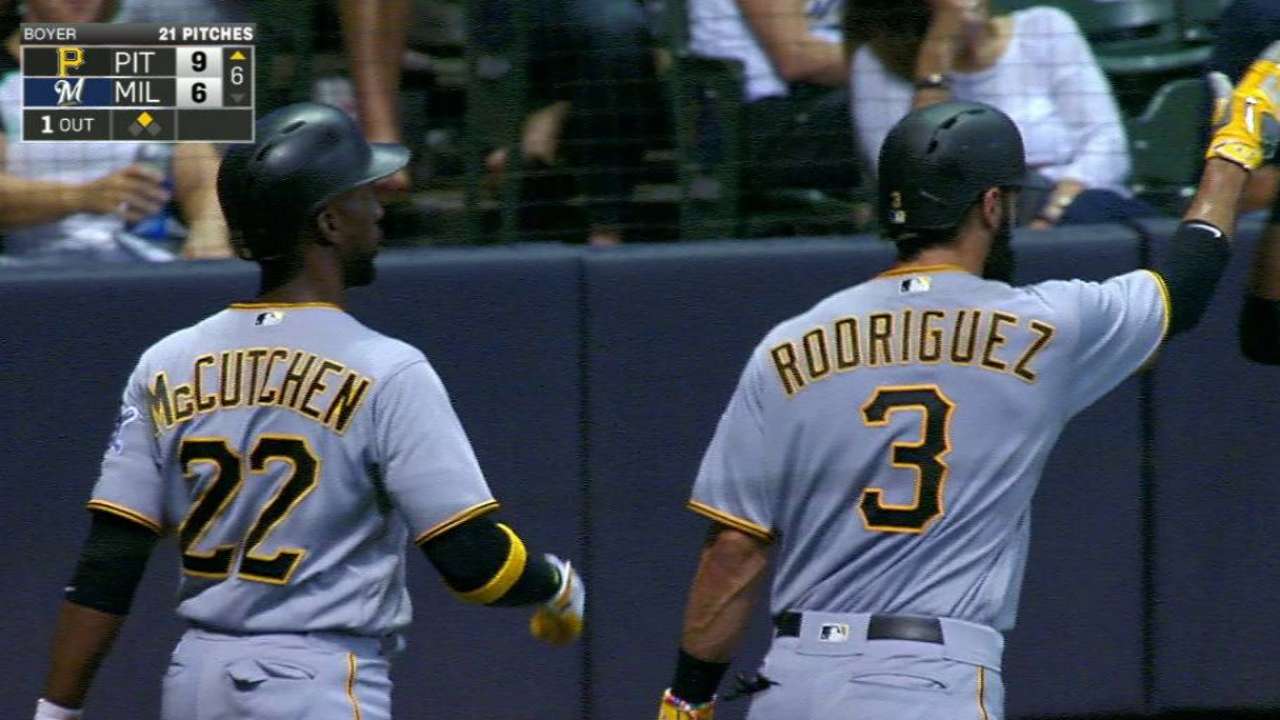 MILWAUKEE -- Miller Park has been a house of horrors for many of Pittsburgh's top hitters, including Gregory Polanco.
Given a blow from the starting lineup Saturday after consecutive 0-for-5 games dropped his career batting average to .138 (8-for-58) in Milwaukee, Polanco delivered a pinch-hit, bases-clearing double in the sixth inning to lift the Pirates to a 9-6 win.
"That was one of the best swings I've seen him put on anything in this park," Pirates manager Clint Hurdle said. "He picked up three quick runs."
Having started 104 of Pittsburgh's 127 games, Polanco was making just his fifth pinch-hit appearance of the season. It was Polanco's first hit off the bench in 2016 and the first pinch-hit extra-base hit of his career.
With the game tied at 6, Sean Rodriguez led off the sixth with a single to center and moved to third on a double down the left-field line by Josh Bell. The Brewers opted to intentionally walk Andrew McCutchen to get to the spot in the Pirates lineup held by reliever Jeff Locke.
Hurdle called on Polanco, who roped a 2-1 fastball from Brewers reliever Blaine Boyer to the right-center-field gap to score three runs.
"I just go up there trying to swing the bat," Polanco said of his approach in pinch-hit situations. "They know you are coming from the bench and you aren't ready. I just tried to swing the bat as soon as possible."
Thinking Boyer was going to challenge him down in the count with the bases loaded, Polanco was able to sit on a fastball.
"When you come off the bench, they throw you a lot of fastballs because you are not on time," Polanco said. "You try to be on time for the fastball."
Hours earlier, Hurdle marveled over the lack of success the Pirates' top offensive weapons have had in Milwaukee.
With Polanco coming through in the clutch and Pittsburgh having won three straight in Milwaukee for the first time since 2013, maybe the Pirates' luck at Miller Park is beginning to change.
"I said before we left [for Milwaukee] that we were due," Hurdle said. "We haven't played well here.
"It's very refreshing to come here and do it the way that we did it tonight, on top of the other games [in the series]. Both of them were push and shove, back and forth, and this one was another one where we battled and came back. We have a tough team. We have a gritty team."
Andrew Gruman is a contributor to MLB.com based in Milwaukee. This story was not subject to the approval of Major League Baseball or its clubs.