Lightning the load: Thor, Mets turning corner
Syndergaard posts second straight two-hit outing in win vs. Phillies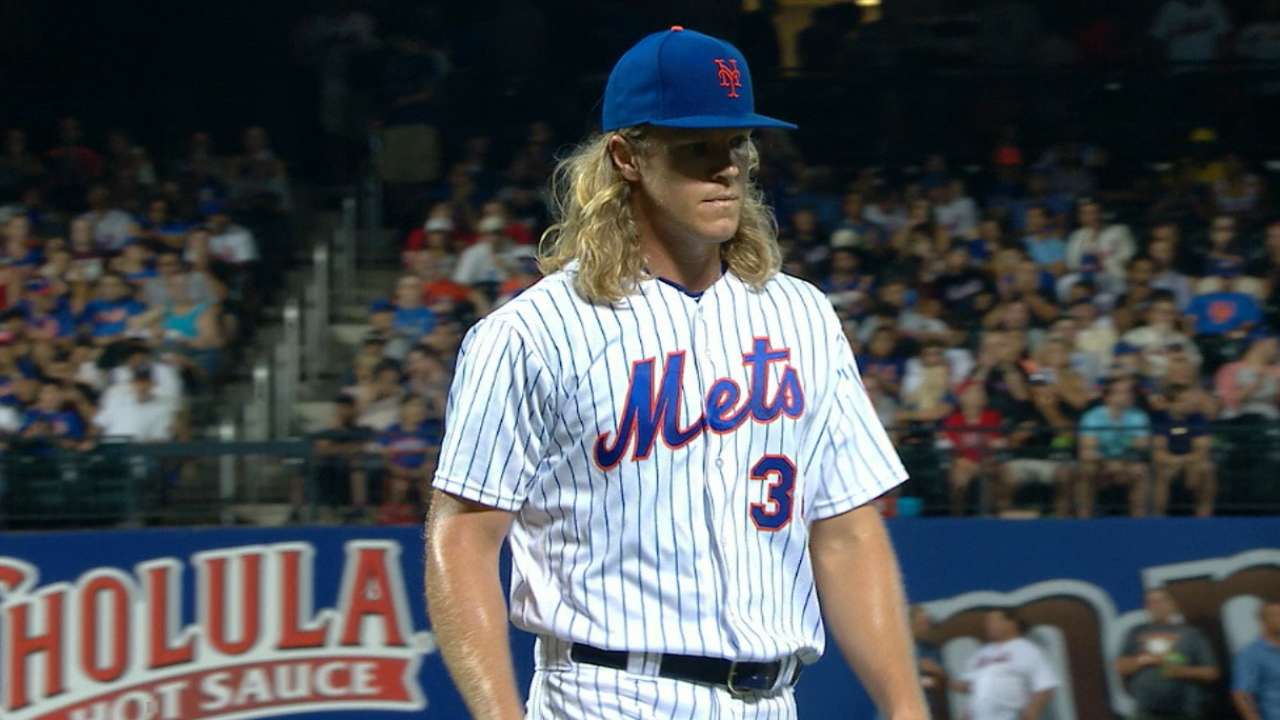 NEW YORK -- Noah Syndergaard didn't have much time to react. After doubling earlier in the fourth inning, he took a lead off third base and watched as Yoenis Cespedes smoked a 104.2-mph line drive foul down the left-field line. Disaster wasn't as close as it seemed, but all Syndergaard could think of was self-preservation as his 6-foot-6, 240-pound frame staggered a bit before dropping to the grass.
"That was just all reflex," Syndergaard said. "I don't think it was really anywhere near me, but it was coming in fast. I don't know how unathletic I looked there, but I was just trying to hit the deck."
The fall wasn't graceful, but it was one of the few moments in Saturday's 12-1 Mets win when Syndergaard didn't look like the most dominant force on the field. From start to finish, the right-hander stifled the Phillies' lineup, allowing just one run on two hits while striking out seven over seven innings en route to his 12th win of the season.
It wasn't long ago that starts like Saturday's were few and far between for Syndergaard. Over a five-start stretch from July 26-Aug. 16, the right-hander wasn't as sharp and struggled with pitch count efficiency issues. He didn't pitch into the seventh inning in any of those starts, while posting a 4.08 ERA over that span.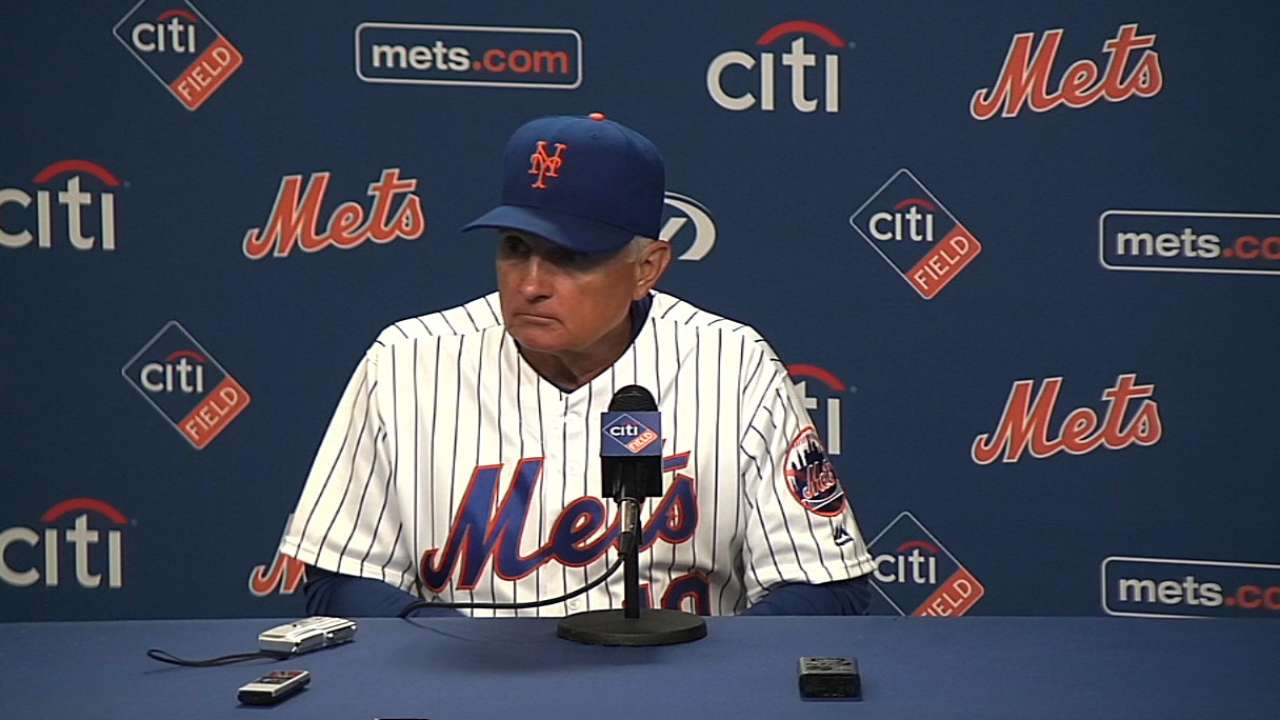 "It was really just more of a mental blockage," Syndergaard said. "I was trying to think too far in advance during the game as opposed to just trying to go out there and win one pitch at a time."
Since then, though, the 23-year-old has bounced back. On Sunday, he limited the Giants to just two hits over eight shutout innings. He allowed a solo home run to Freddy Galvis in the third inning on Saturday, but proceeded to allow just two more baserunners and retire 13 of the last 14 batters he faced.
"It's just better command," Mets manager Terry Collins said. "They are making more contact because he's not deep in counts. He's getting them early in counts, and I think that's why he's getting deeper in games. I think he hit a wall that he hadn't early -- he was the one guy who didn't show any effects of last year over the first couple of months -- and I think he ran into a streak where he did.
"We've tried to back off a little bit of the workload, even though he is a workaholic, but I think his sinker is better and he's getting ground balls as opposed to line drives."
The Mets have seemingly rebounded from the worst tailspin of their season, winning six of their last seven games to put them within 2 1/2 games of the Cardinals for the final National League Wild Card spot. Syndergaard has turned the tide with them, and he's ready to help make a playoff push.
"I feel like there is a great atmosphere in the clubhouse," Syndergaard said. "We have a lot of energetic, veteran guys who are helping the young guys grasp and buy into the program, and we're all pushing for one another."
Troy Provost-Heron is a reporter for MLB.com based in New York. This story was not subject to the approval of Major League Baseball or its clubs.