Braves debating September callup for Albies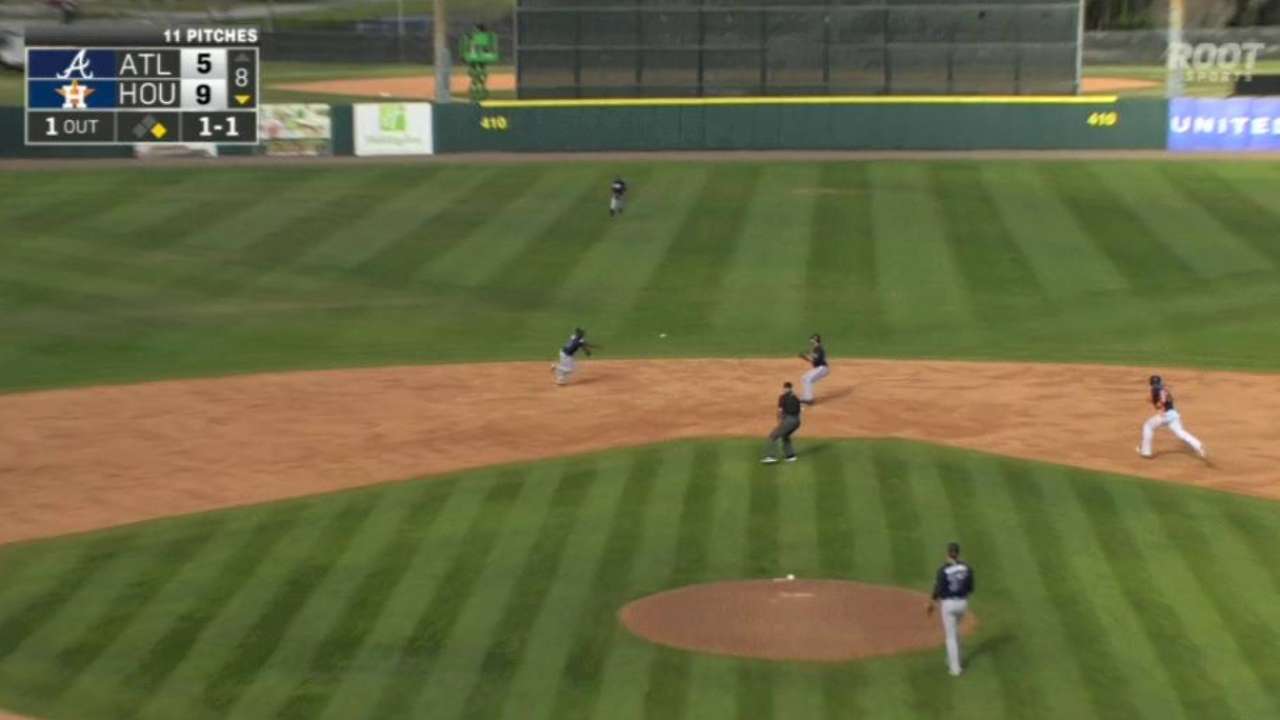 SAN FRANCISCO -- Braves executives will meet with the coaching staff within the next few days to discuss which players will be added when the active roster can expand beyond 25 players in September. Ozzie Albies stands as the most intriguing candidate, but there is no guarantee the highly regarded prospect will end this season at the big league level.
Dating back to the start of Spring Training, there has been an assumption the Braves would spend at least a portion of this season allowing Albies and Dansby Swanson to get a taste of the big leagues together and prepare to open the 2017 season as Atlanta's double-play tandem.
But before exercising that option, the Braves will continue to discuss how to best handle the development of Albies, a 19-year-old second baseman who has batted .289 and compiled a .759 OPS over 577 plate appearances combined for Double-A Mississippi and Triple-A Gwinnett.
MLBPipeline.com ranks Albies No. 15 among its Top 100 prospects and the second-best prospect in the Braves' system, ranking only behind Swanson.
Swanson received his call to the big league level last week. But at 22 years old, he is more developed from both a physical and maturity standpoint than Albies, who will not turn 20 until January.
The Braves made it clear service time was not an issue with Swanson, and the same would seemingly apply with Albies, who still could be projected to be on Atlanta's Opening Day roster next year, even if he is not among this year's September roster additions.
Rio Ruiz is another highly regarded prospect who will receive some consideration when the Braves discuss their roster options. Ruiz has batted .273 with 10 home runs and a .763 OPS while serving as Gwinnett's third baseman this season. His candidacy to gain a September roster addition will be influenced by whether the club is comfortable with providing him just a handful of starts as Adonis Garcia continues serving as Atlanta's third baseman.
The Braves are hopeful to put Chris Withrow back in their bullpen within the next week. Withrow has been sidelined over the past few weeks with a sore elbow, but he may need to make just a couple more rehab appearances before rejoining Atlanta's roster. Williams Perez is another pitcher who could be activated from the disabled list at some point in September. Perez has been sidelined since early June with a right rotator cuff strain.
At some point by the end of next week, the Braves could also add both Tyrell Jenkins and Jed Bradley, who has produced a 2.07 ERA over the past 11 starts he has combined to make with Gwinnett and Double-A Mississippi. Bradley would be the more likely option to be used as a starting pitcher if Joel De La Cruz is removed from the rotation.
Mark Bowman has covered the Braves for MLB.com since 2001. This story was not subject to the approval of Major League Baseball or its clubs.