Choo hoping to join Rangers in postseason
Outfielder on track to return from forearm fracture around time of ALCS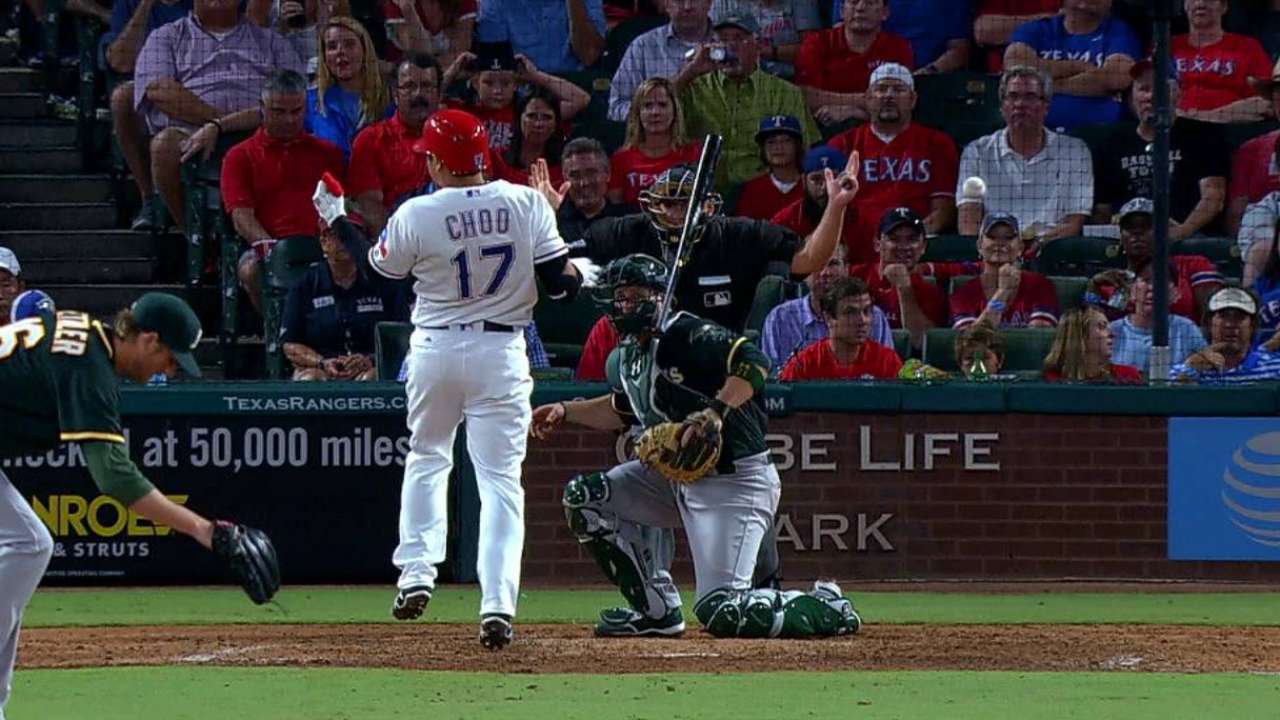 ARLINGTON -- Shin-Soo Choo's regular season came to an end when his right forearm was fractured by a pitch on Aug. 15 and he was forced to have surgery. But the Rangers outfielder, who is on the 15-day disabled list, is holding out hope that he can return for a possible postseason run.
"I want to try for the postseason," Choo said. "I have a plan, I have a goal, I have the confidence."
Choo said the Rangers physician, Dr. Keith Meister, told him his recovery would take eight weeks from the date of surgery. He had the surgery on Aug. 17, which would set him up for a possible return for the American League Championship Series -- which starts on Oct. 14 -- if the Rangers make it there. Choo acknowledged, though, that it's too early to tell if he'll be able to stay on that recovery timeline.
Choo said he's starting to feel better both physically and emotionally after the surgery cut his season short. He's been able to talk things through with Rangers catcher Robinson Chirinos, who dealt with a similar injury this season.
"There's not really pain, but just general happiness now. It was definitely frustrating," Choo said. "I tried to understand the situation, but it's hard. Now, I still have a chance. I know the [regular] season is over, but it's still not over for 2016."
Despite four trips to the disabled list this season, Choo was an effective leadoff hitter for the Rangers when healthy. He had a .360 on-base percentage and four home runs in 39 starts batting leadoff.
Beltran slump not cause for concern
Through Carlos Beltran's 19-year career, he's never experienced a hitless stretch like the 0-for-32 slump he ended with an infield single in the first inning Saturday night against the Indians. Even with the slump, Beltran entered Saturday batting .286 with an .831 OPS.
"I think a lot of guys in baseball would like to have his numbers," manager Jeff Banister said. "I don't think he woke up and his hitting ability was no longer there."
Banister said Beltran has been victim of some quality pitching and balls being hit right at defenders. Beltran agrees.
"I feel like I have hit some balls hard right at people, but at the end of the day you look for the results," Beltran said. "I just want to go up there and put good at-bats in and hopefully it changes -- it has to change. I work extremely hard in the cage, trying to work on my swing day-in and day-out. At some point, good results have to come for me."
The hitless stretch is not only the longest in Beltran's career, but it also matches the longest by a Rangers hitter since Dean Palmer in 1991. Banister said you wouldn't know Beltran was in a slump, though, based on his temperament.
"True pro, you wouldn't know any different," Banister said. "He's not throwing stuff around, breaking bats. And when he was getting hits, he wasn't walking around like he was the best hitter on the planet."
Rangers beat
• The Rangers extended their agreement with Class A Short Season Spokane of the Northwest League through the 2018 season. The Rangers have had a team in Spokane, Wash., since 2003, matching Double-A Frisco for the longest of any of their Minor League affiliates.
• Right-hander Colby Lewis will make his second rehab start on Monday with Double-A Frisco and is expected to throw 65 pitches. Lewis has been on the 60-day disabled list since June 25 with a right lat strain.
• Right-hander Lucas Harrell said he's looking to get full range of motion back in his right groin before he's able to start playing catch. Harrell has been on the 15-day DL since Aug. 17.
Ryan Posner is a reporter for MLB.com based in Texas. This story was not subject to the approval of Major League Baseball or its clubs.