Finnegan turns to Straily for changeup advice
Reds starter turns to teammate to improve crucial pitch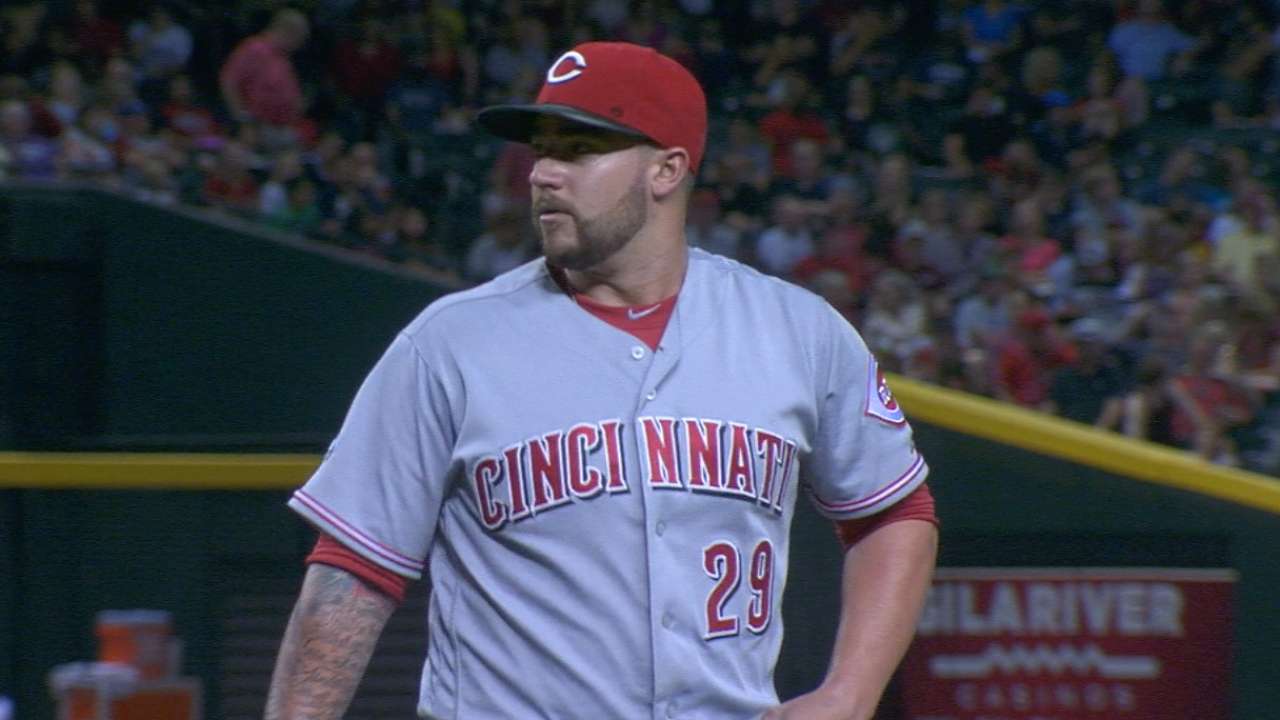 PHOENIX -- The D-backs were given a surprise of sorts by Reds starter Brandon Finnegan, as he struck them out a career-high 12 times on Friday during a 4-3 loss in 11 innings. Finnegan not only has a changeup, but he's figured out how to use it.
It's a pitch manager Bryan Price considers essential for a Major League starter to master in order to have a credible repertoire and a potentially longer career. Against Arizona, Finnegan notched nine of his strikeouts by getting Arizona hitters to swing and miss on a changeup.
"Last time I faced these guys, I didn't have a changeup," Finnegan said. "They were definitely gearing up for a fastball matchup." Of his 97 pitches in the game, he threw a changeup 23 times.
"It's very satisfying," Finnegan said. "I started off the year well with it and then I hit a spot where I couldn't stop cutting it. It was like a second slider. To get it back and working -- if it wasn't for Mr. Straily over there -- I'd still be without a changeup. I've been working hard on it. Every 'pen I work on it. Hopefully I can keep it going."
Mr. Straily is Reds teammate and fellow starter Dan Straily. The two had a conversation about a month ago when Finnegan approached him.
"It was the exact same problem I went through a couple of years ago back when I was in the Minor Leagues," Straily said. "Once he told me he was having problems cutting it, I just showed him what helped me stop cutting it and it worked for him. It's just how we hold it. We have the same grip, he was just holding it the same way I used to hold it in college.
"College balls, the seams allow it to do something different. The seams are smaller and when you throw it the way we threw it back in college, now it's like a cutter, sometimes it's down, sometimes it goes arm-side, there's no control with the movement, which is a good thing, except when nobody can catch it."
Finnegan and Straily usually throw together the day after starts and talk about the game.
"It's just one of those things that it's not something you're going to hide from your teammate," Straily said. "We all want to win. It's just trying to help him. The foundation of any team is the rotation, so the best we can be is we're going to help each other and learn from each other. If we can skip the learning curve by helping someone that's been through the same thing, it's beneficial to everybody."
Finnegan is 8-9 with a 4.26 ERA in 26 starts in his first-full year as part of a big league rotation. There is still a question about whether his future lies as a starter or reliever, partly because he hadn't mastered a third pitch.
"If yesterday was a glimpse to the future, I would say he just increased his chances of being a long-term Major League starting pitcher as opposed to a two-pitch pitcher that lends itself more to situational or some sort of bullpen piece," Price said.
Mark Sheldon has covered the Reds for MLB.com since 2006, and previously covered the Twins from 2001-05. Follow him on Twitter @m_sheldon and Facebook and listen to his podcast. This story was not subject to the approval of Major League Baseball or its clubs.