Santana gives up season-high 6 runs as gem unravels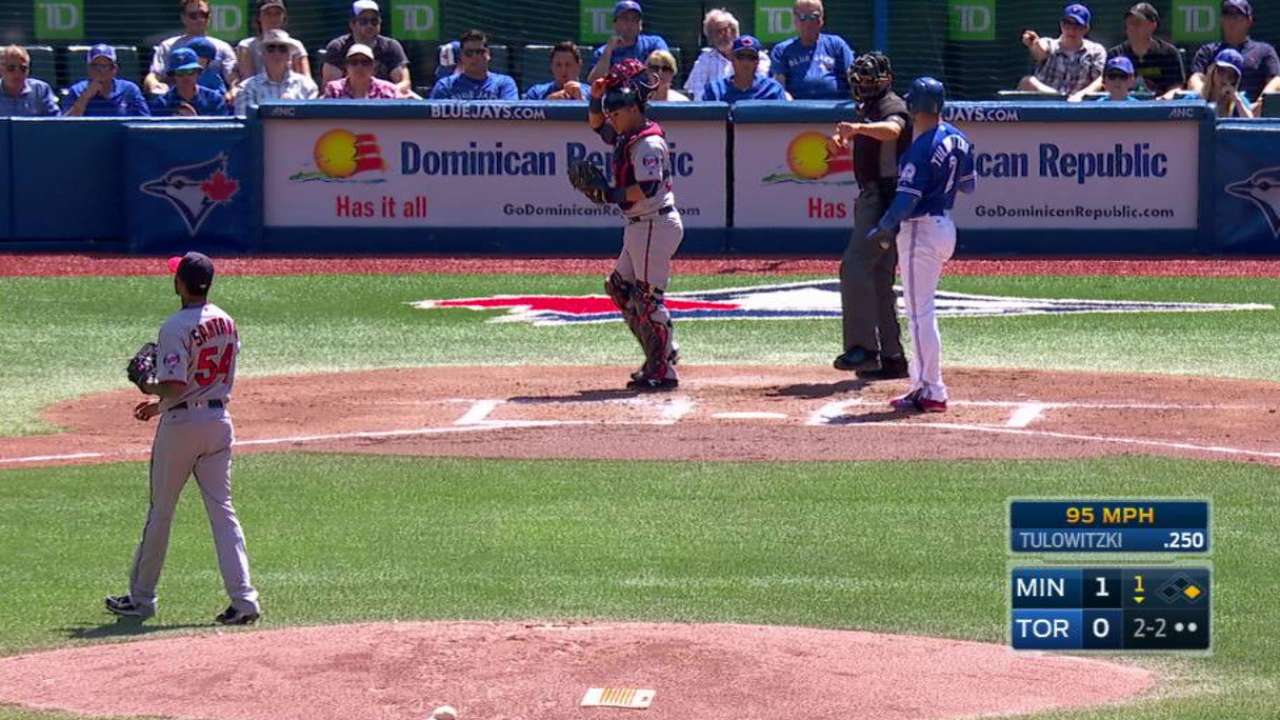 TORONTO -- Ervin Santana entered Saturday's outing against the Blue Jays as one of the hottest pitchers in the Major Leagues, and for five innings, he looked as though he would turn in another gem.
But everything turned for Santana after the fifth inning, and the veteran finished his outing allowing a season-high-tying six earned runs over 6 2/3 innings in the Twins' 8-7 loss to the Blue Jays at Rogers Centre.
Santana's biggest nemesis on this day was his own lack of command, as the right-hander walked a season-high five batters -- more than he had walked in his three previous starts combined -- and four of those five walks came around to score.
"The Blue Jays are a very aggressive team, and they don't swing at bad pitches," Santana said. "It was like I had to throw it closer to the plate to make them swing, or they were a tough out. They were close pitches, but they know when to swing and when not to swing."
After two-hitting Toronto's potent lineup through five innings, Santana walked Josh Donaldson and allowed a home run to Edwin Encarnacion in the sixth, sparking what would eventually turn into a five-run comeback.
The final straw for Santana came in the top of the seventh, when he walked Jose Bautista on four pitches to load the bases and was pulled immediately after for reliever Ryan Pressly. Clearly disappointed, Santana watched as Donaldson singled home two more runs to reduce the lead even further.
"I think with the count 3-0, the next pitch was a very good pitch," Santana said. "At the same time, it's such a tough situation. There's nothing you can do about it."
Santana's six runs allowed matched the amount the 33-year-old had allowed in his past five starts combined, and Minnesota once again found itself on the losing end after Melvin Upton Jr.'s Little League home run in the eighth gave Toronto its only lead.
That result has become all too familiar for the Twins, who lost their ninth straight game and have had at least three losing streaks of eight or more this season. Minnesota has lost 14 of its last 17 games.
"Things just snowballed," manager Paul Molitor said. "You have a team that's capable of scoring a lot of runs in a hurry that picked up a little bit of momentum after getting to Ervin. There were some plays we had a chance possibly to make that we couldn't quite come up with, and they found a way to take the lead in the end. That was a tough one to endure, especially those last few innings."
Alykhan Ravjiani is a reporter for MLB.com based in Toronto. This story was not subject to the approval of Major League Baseball or its clubs.