Arcia working on simplifying swing mechanics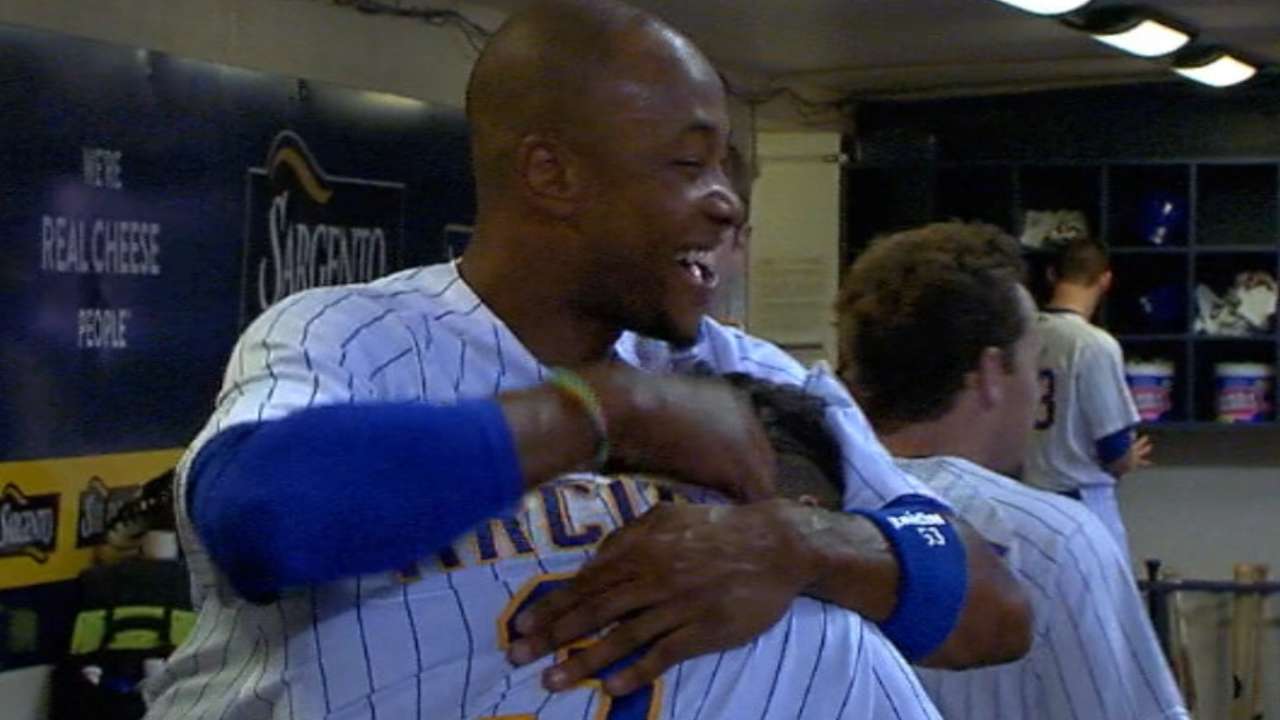 MILWAUKEE -- The swing that produced Orlando Arcia's first Major League home run on Friday was a whirr of moving hands and feet, leaving the 22-year-old shortstop leaning at a 45-degree angle to the dirt as he watched the baseball fly to left field.
The result was a milestone moment for a player who ranks 11th on MLBPipeline.com's list of the top prospects in baseball. The process, however, is a work in progress.
"That's part of what we're trying to tone down a little bit," Brewers manager Craig Counsell said. "He's got such great coordination and hand-eye coordination in general that he's gotten away with a lot of moving parts. Every hitter, as they progress, tries to be 'quiet' yet still generate the same rhythm and bat speed."
Arcia has been paying particular attention to the mechanics of his swing after entering the homestand in a 2-for-34 funk. A number of teammates pointed out to Arcia that he appeared to be "out front" in his swing, a diagnosis confirmed when Arcia viewed video with hitting coach Darnell Coles.
The two have worked in recent days at staying back on the ball. When Arcia delivered a pinch-hit double in Tuesday's win over the Rockies, he felt that work pay off.
"After the double, I went back to first and told [coach Carlos] Subero I felt it, staying back," Arcia said. "He said, 'Yeah, you did a lot better.'"
"He has a tendency to jump, but he's always kind of jumped at the baseball," Counsell said. "He's had a big move to the ball, is what we'd say. A big leg kick and a move to the ball. That's what we're in the process of working on. It's not 'eliminate,' it's just 'tone down.'"
Arcia has not enjoyed the same offensive success during a 2016 season split between Triple-A Colorado Springs and the Majors as he had at Double-A Biloxi in 2015. In 100 games with Colorado Springs, Arcia hit .267/.320/.403. He entered Saturday with a .185/.267/.285 slash line in the big leagues.
Counsell and his coaches are trying to help Arcia along with the transition.
"We can teach, that's what we can do," Counsell said. "We can pat on the back, we can kick in the butt. That's what we do. All with the right goal in mind: To make him a better baseball player. Most of it, he will do on his own. But it's also our job to set up some lanes for him to travel in."
Adam McCalvy has covered the Brewers for MLB.com since 2001. Follow him on Twitter @AdamMcCalvy, like him on Facebook and listen to his podcast. This story was not subject to the approval of Major League Baseball or its clubs.