Cole will miss Monday start
Right-hander flying to Los Angeles to have pitching elbow examined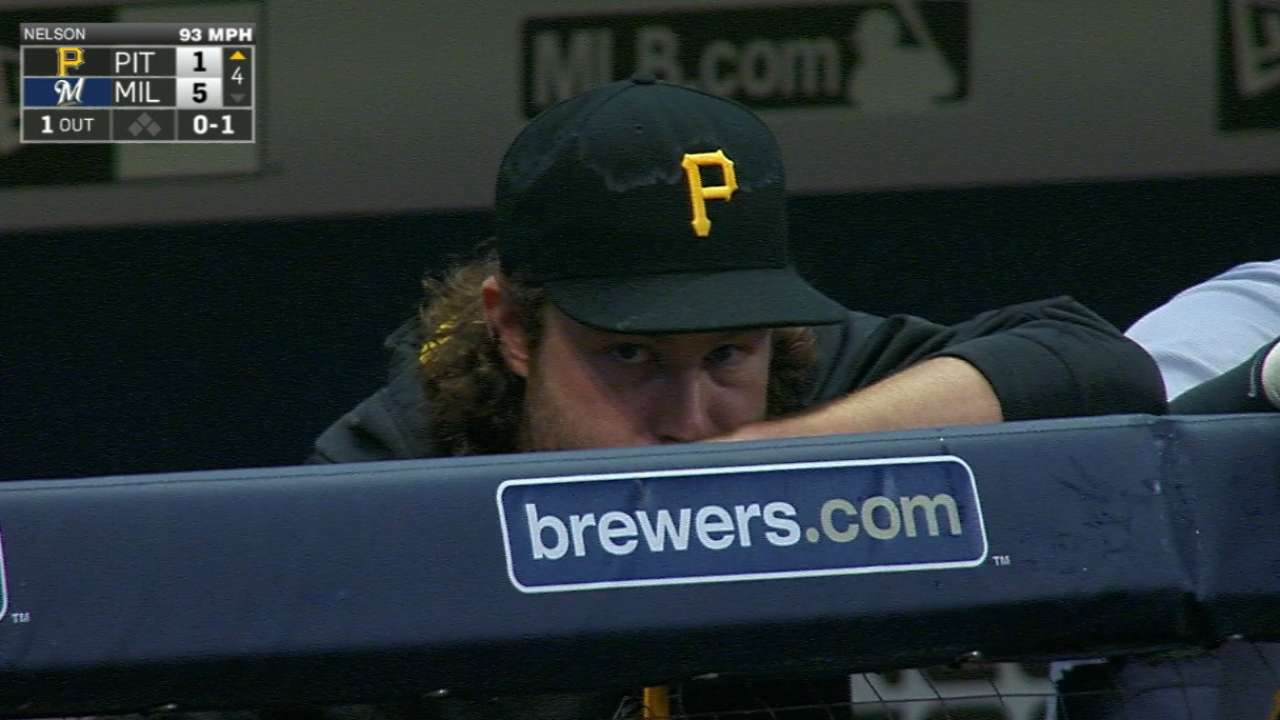 MILWAUKEE -- Gerrit Cole will not make his scheduled start Monday in Chicago in order to seek a second opinion on his right elbow, Pirates general manager Neal Huntington announced after Saturday's 9-6 win over the Brewers.
Steven Brault will be recalled from Triple-A Indianapolis to pitch Monday against the Cubs at Wrigley Field.
"Gerrit Cole made us aware after his last start that he had a little bit of discomfort on the outside of his elbow," Huntington said. "We are working through the evaluation process.
"We are going to get him a second opinion sometime this upcoming week. He will miss at least his next start."
Prior to the game, Cole told reporters he expected to pitch Monday against the Cubs. Pirates manager Clint Hurdle refused to give his rotation for the Cubs series in his pregame meeting with reporters, but he did not rule Cole out at the time.
"It makes it interesting, doesn't it?" Hurdle said pregame after stating he had no rotation news for the Chicago series.
Cole confirmed Saturday that he had yet to throw a bullpen session since his last start Wednesday.
The right-hander is 0-3 with a 7.06 ERA over his last four starts, and he allowed five runs over five innings in a 5-4 loss to Houston on Wednesday. His ERA has jumped from 2.78 to 3.55 since July 27.
"I'm always striving to get better," Cole said. "I came out of the gate hot last year and was able to hit a stride. The goal then was to get better every set. It is the same mindset I have now.
"You have to turn the page. You have to stay in that grind, man. The results that come, the questions that come are not always easy to deal with. The game is hard. You have to stay focused."
Brault is 0-1 with a 3.60 ERA in two starts for the Pirates this season. The left-hander is 2-7 with a 3.91 in 16 outings and 15 starts in Triple-A.
Andrew Gruman is a contributor to MLB.com based in Milwaukee. This story was not subject to the approval of Major League Baseball or its clubs.