Bruce gets 'mental day'; Ruggiano to DL
Slumping right fielder out of starting lineup following 4-strikeout game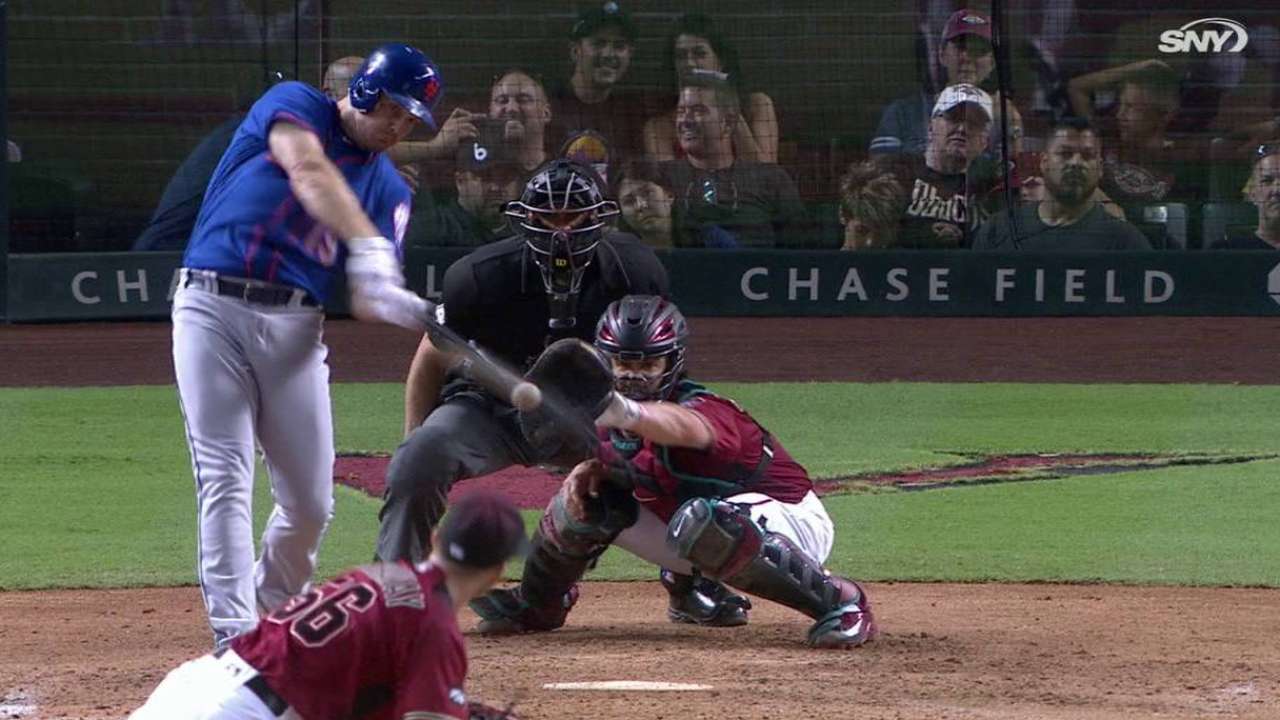 NEW YORK -- Jay Bruce felt his balky right calf flare up on Friday, but the Mets were far more concerned with where the right fielder was mentally. On a day where the club scored nine runs on 11 hits to take the first game of a three-game series against the Phillies at Citi Field, Bruce went 0-for-4 with four strikeouts.
After fanning on a 94-mph two-seam fastball from Philadelphia reliever Frank Herrmann in the seventh inning, Bruce walked toward the Mets' dugout to a chorus of boos, a song that has been orchestrated with more and more frequency over the last couple of weeks. Since being acquired from the Reds at the non-waiver Trade Deadline, the 29-year-old has hit .160/.244/.272 with two home runs and six RBIs in 22 games.
"I think it's human nature [to put pressure on yourself after being traded]," Mets manager Terry Collins said. "I don't know of one player who has ever been traded that doesn't come and want to make an impact. Here's a guy who was leading the National League in RBIs, he's a guy who was on his way to 40 homers and comes to an offense that was struggling, and he wanted to be the guy.
"He's gotten off to a slow start. He knows it, we know it, but I told him today that it is all about battling through it. Certainly you learn something when you are able to fight through something like this and get it going again."
In an effort to get Bruce's head right, the Mets opted to leave him out of the starting lineup for Saturday's game, inserting Curtis Granderson, who has dealt with his fair share of struggles over the past few weeks as well, in Bruce's stead.
"It's more of a mental day [for Bruce]," Collins said. "He wanted to hit early today, get some swings and try to figure out some things, so we took him out and let him get some extra batting practice. Hopefully we get him going."
A more productive Bruce would help solidify a Mets outfield that is currently shifting some pieces around. Justin Ruggiano was placed on the 15-day disabled list on Saturday with a shoulder injury. In a corresponding move, T.J. Rivera was recalled from Triple-A Las Vegas.
When healthy, Ruggiano has been the Mets' primary center fielder against left-handed pitching, hitting .350 in eight games with the club since being signed on July 30. New York worked out Rivera, who has hit .314 in 11 games for the Mets this season, in center field before Saturday's game in hopes to add another right-handed bat to its outfield rotation.
Troy Provost-Heron is a reporter for MLB.com based in New York. This story was not subject to the approval of Major League Baseball or its clubs.