Set for onesie trip, Arrieta has no-no flashbacks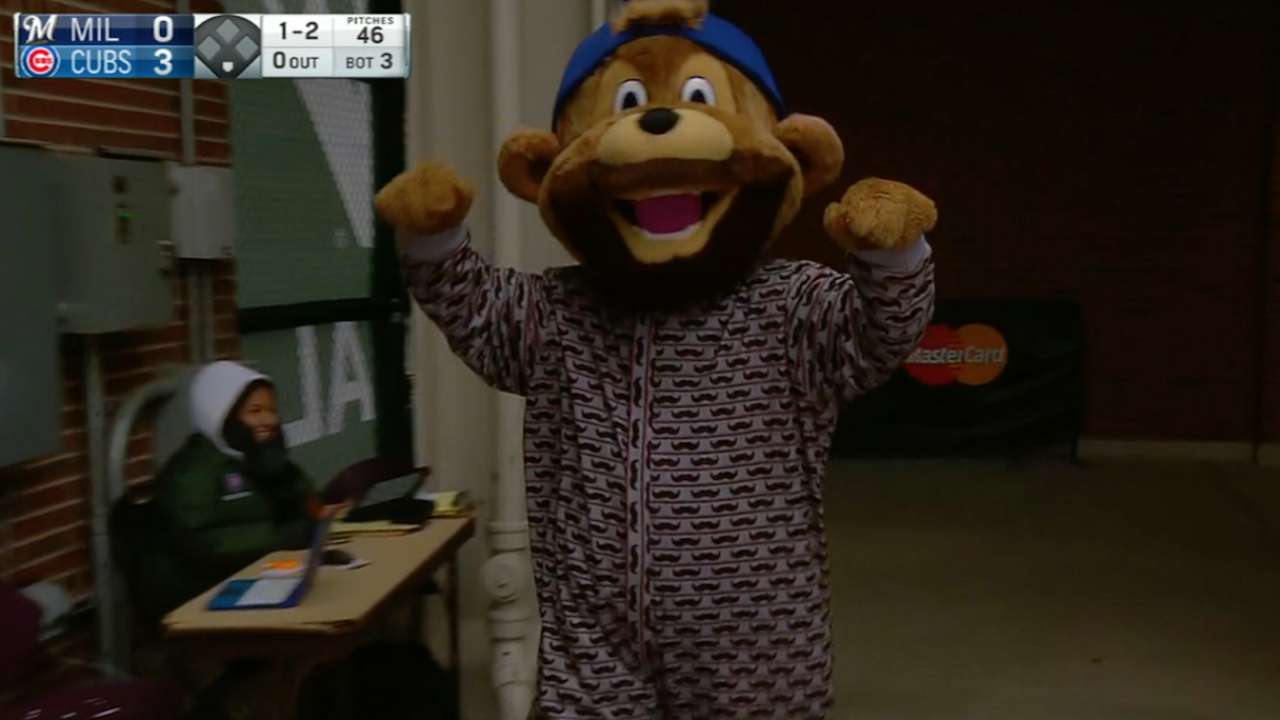 LOS ANGELES -- Sunday will be the Cubs' second "onesie" trip, in which players will be allowed to wear their pajamas on the flight from Los Angeles to Chicago. Last year's pajama party followed Jake Arrieta's first career no-hitter, but that was a night game.
"It'll be slightly warm in my onesie," Cubs manager Joe Maddon said Saturday. "It'll be a warm onesie departure."
Arrieta, who did not pitch in this series, said he's had plenty of flashbacks to that game last Aug. 30.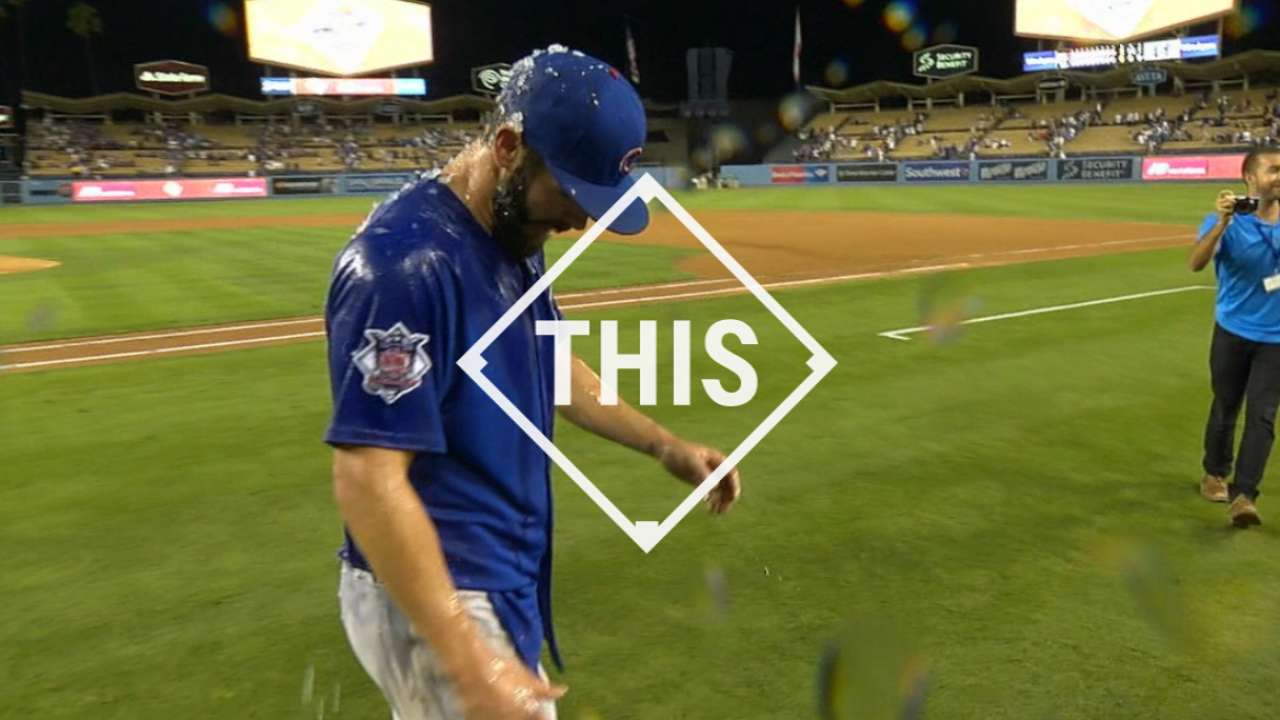 "Just standing here -- it was the same locker," he said in the visitors' clubhouse on Saturday. "I remember vividly everyone in their onesies [after the game]. Everyone was having a good time and enjoying the moment.
"It was a really good experience and everybody has a good story from it. Over time, you get to talk to everyone and get their take on it and their experience."
Arrieta has had fans tell him that was their first Cubs game, and how they're now fans for life. Did he want to pitch this weekend?
"It's a great place to pitch," he said. "Even if you don't have success -- it's the environment, the field, the mound. The conditions are perfect to pitch here. It's a really neat place. The weather is always fantastic. There's no excuses not to enjoy it."
On Thursday, Arrieta watched the end of the Dodgers-Giants game and saw Matt Moore come close to no-hitting Los Angeles. Corey Seager singled with two outs in the ninth to end Moore's bid.
"It just shows you again how difficult it is -- any little thing, a swinging bunt with the third baseman back, or a really tough play that the infielder can't make, or a blooper that Seager hit when [Moore] jammed him, and it was a good pitch and it just happened to fall in," Arrieta said. "You have to command the ball from start to finish. It's a tough accomplishment."
Arrieta brought a different onesie for this trip and is not planning on wearing the mustache-patterned one he had last year. Maddon revealed on Saturday that players can wear them at any time.
"These are always acceptable," Maddon said. "You can wear a onesie whenever you want."
Worth noting
• Kris Bryant noted on Friday how much he admired Jason Heyward's professionalism. It's been a difficult season for the veteran outfielder, who entered Saturday batting .227. Heyward, who did not start Saturday, has not pouted or complained about how things have gone. Maddon thought it was cool that Bryant noticed that.
"He's not hit to his level yet this year, but he plays a significant game on a nightly basis," Maddon said of Heyward. "He doesn't cry about things, he doesn't make excuses. That's why I say he's a winner. It's going to be there, and it's going to be there at the right time this year. He's had a tough moment and he's been digging himself out all year."
• On Friday night, Aroldis Chapman picked up his 30th save of the year. It's the fifth straight season he's reached that mark. The lefty has 10 saves since joining the Cubs.
"He's got a serious presence about him," Arrieta said of Chapman. "He starts his routine for a 7 o'clock game at 2:30. This guy is really locked in. Regardless of what happens in the game during an outing, you know he's prepared and ready to go.
"To see a human being throw a baseball over 103 mph, it's hard to put into words. I've played this game for a long time and I've seen guys throw hard, but he's kind of in a league of his own when it comes to velocity. His delivery is so clean. For a closer to throw that hard, to have such a smooth delivery is just remarkable. You've got to give him a ton of credit. He's obviously been gifted with a tremendous arm, but he gets the most out of his ability."
Carrie Muskat has covered the Cubs since 1987, and for MLB.com since 2001. She writes a blog, Muskat Ramblings. You can follow her on Twitter @CarrieMuskat and listen to her podcast. This story was not subject to the approval of Major League Baseball or its clubs.