Kershaw to test back in simulated game
Ace will face hitters on Tuesday as he continues recovery from disk herniation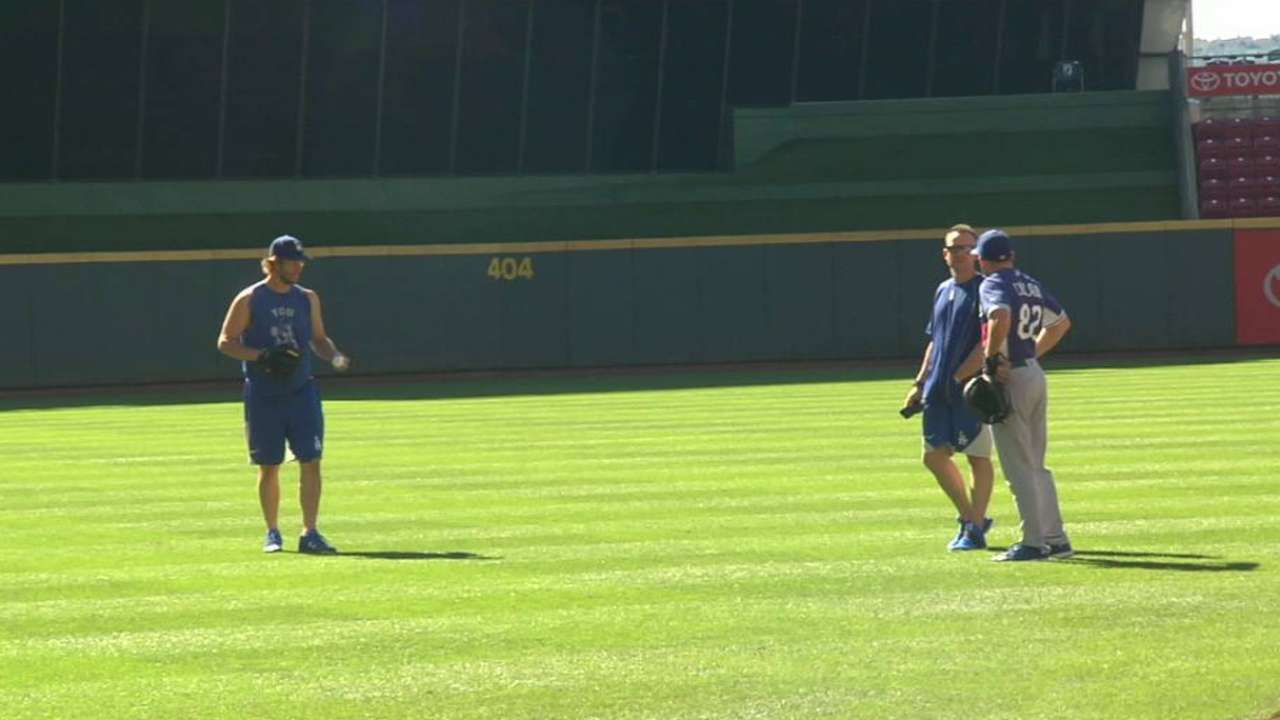 LOS ANGELES -- Dodgers ace Clayton Kershaw will take the next step in his recovery from a herniated disk in his lower back on Tuesday, facing hitters in a simulated game setting.
Kershaw reached 60 pitches in a bullpen session Friday, and he was playing catch at Dodger Stadium on Saturday with no problems. Manager Dave Roberts did not say where Kershaw would face the hitters, as the ace could go on the team's road trip to Colorado or stay in Los Angeles.
A rehab assignment could be the next progression for Kershaw, but it's understandable if the team is cautious, given that he suffered a setback at precisely this stage earlier in his recovery. After a simulated game on July 16, pain in Kershaw's back forced a temporary shutdown and pushed back his return by at least a month.
The team only has until the first week of September before its Minor League affiliates' seasons end, so a rehab assignment would have to come soon for Kershaw to make it in time. If not, he would likely throw more bullpen sessions and simulated games before deciding when he's ready to return.
Worth noting
• Andre Ethier (fractured right tibia) started in right field and went 0-for-3 with a strikeout and two groundouts for Class A Advanced Rancho Cucamonga on Saturday after getting a day off Friday. Either played four innings in the field, making two catches, before coming out before the bottom of the fifth.
The outfielder went 2-for-4 in the first game of his rehab assignment, including a hit off rehabbing Padres starter Tyson Ross.
Roberts wouldn't say what kind of role Ethier would have when he comes back, as the outfielder has been out for so long that it's impossible to project at what level he will be capable of playing. The veteran will at least get the benefit of the doubt if he says he is ready to play.
"Every player is different, but he essentially didn't have a Spring Training. He's up against a calendar," Roberts said. "I'm going to give him basically carte blanche to communicate with me on how he feels. I'm going to trust his Major League service and how he knows his swing. When he's ready, he's going to let me know and we'll act accordingly."
• Alex Wood (elbow debridement surgery) reported that he is about a week away from throwing off a mound, and a return could come quickly from there. Similar to Kershaw, Wood might not come back in time for a rehab assignment, but that is less of an issue given that he's returning to the bullpen.
"As I understand it, it's been pretty smooth and progressively getting better," Roberts said. "For him to give us an inning, get out a left-hander, I just think Woody wants to be active and help us in any way. I'm encouraged, I think that'll happen."
• Roberts said the team would carry at least 30 players when rosters expand, but whether outfielder Yasiel Puig will be among the callups is still unknown.
"Yasiel's doing great. He had a great report from [Triple-A Oklahoma City manager Bill Haselman]," Roberts said. "He's playing well, assimilating very nicely with his teammates in Oklahoma City, but as far as that decision, we haven't made it yet."
Jack Baer is a reporter for MLB.com based in Los Angeles. This story was not subject to the approval of Major League Baseball or its clubs.