V-Mart, J.D., Ausmus, Joyner ejected in 4-inning span
DETROIT -- James McCann reached to his shoe tops to take off his shin guard, believing he had drawn a second-inning walk on a full-count pitch, when home-plate umpire Mike Everitt called him out on strikes. McCann kept quiet as he walked back to the dugout. It was one of the few peaceful moments of the Tigers' 3-2 loss to the Angels Saturday night.
By game's end, Victor Martinez, J.D. Martinez, manager Brad Ausmus and hitting coach Wally Joyner all were in the clubhouse, ejected by Everitt for arguing balls and strikes. The flareups overshadowed the end of Detroit's five-game winning streak.
"It was just one of those things where it didn't matter, everybody was on the edge of getting tossed, it seemed like," said J.D. Martinez, the last -- and maybe quickest -- of the four ejections. "It's just part of the game. We've got to put it behind us and get ready for tomorrow."
Said Ausmus: "I think there was a number of players in the lineup that were frustrated with some of the pitches that were being called. It's part of the game. Umpires have off nights, too. But we felt that it affected our offense tonight."
Everitt, speaking with a pool reporter, said, "All of the players, as well as the manager and coach, were warned, and sometimes more than once or twice. I will be filing my report with the Commissioner's Office in New York."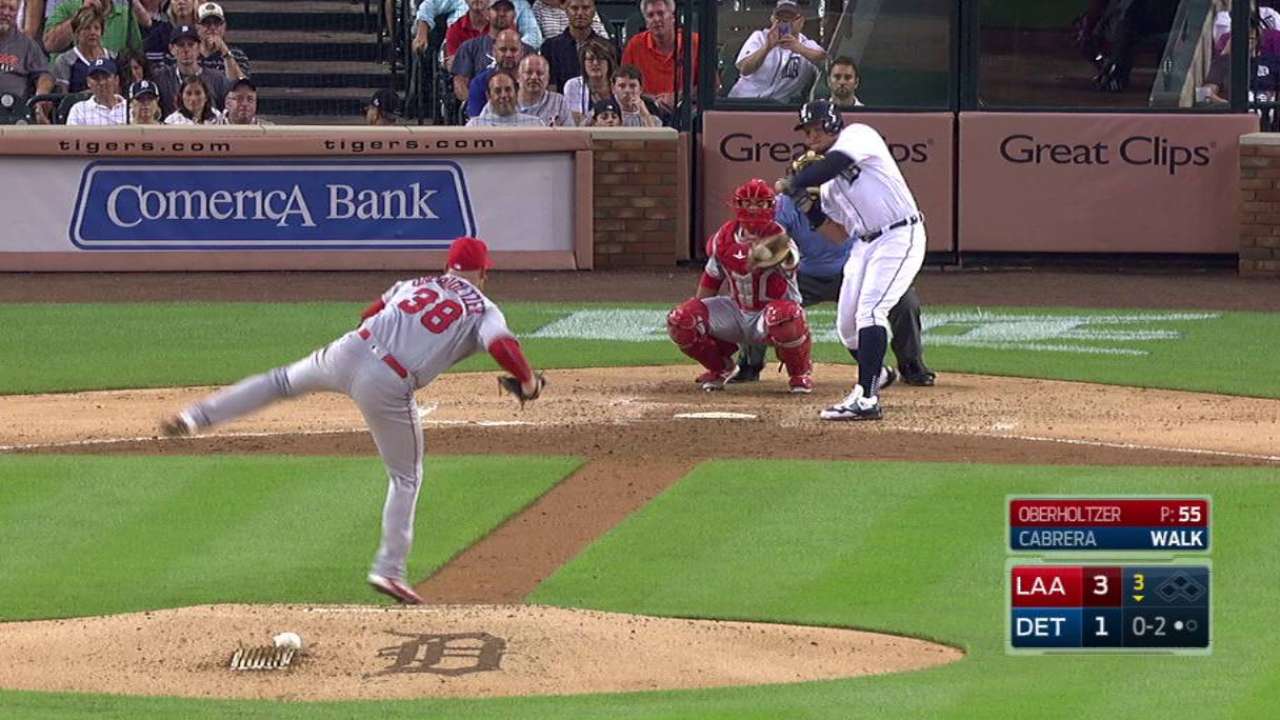 McCann was retired on a Brett Oberholtzer pitch that registered below the knees on MLB.com Gameday. McCann didn't argue, but talked with Everitt while getting back behind the plate for the third inning.
The Angels scored three runs in that inning to take a 3-1 lead. Oberholtzer fanned Cameron Maybin to begin the bottom of the inning, then drew a called third strike on the outside corner to Miguel Cabrera, who exchanged words with Everitt but walked away.
Oberholtzer's next pitch registered at the knees for strike one to Victor Martinez. That began a lengthy argument that ended with Martinez's fourth career ejection, and his first since July 11, 2015. Ausmus and J.D. Martinez, who was on deck, had to hold back the normally mild-mannered slugger, who threw his helmet back onto the field once he reached the dugout.
Tyler Collins finished the at-bat, grounding out to end the inning.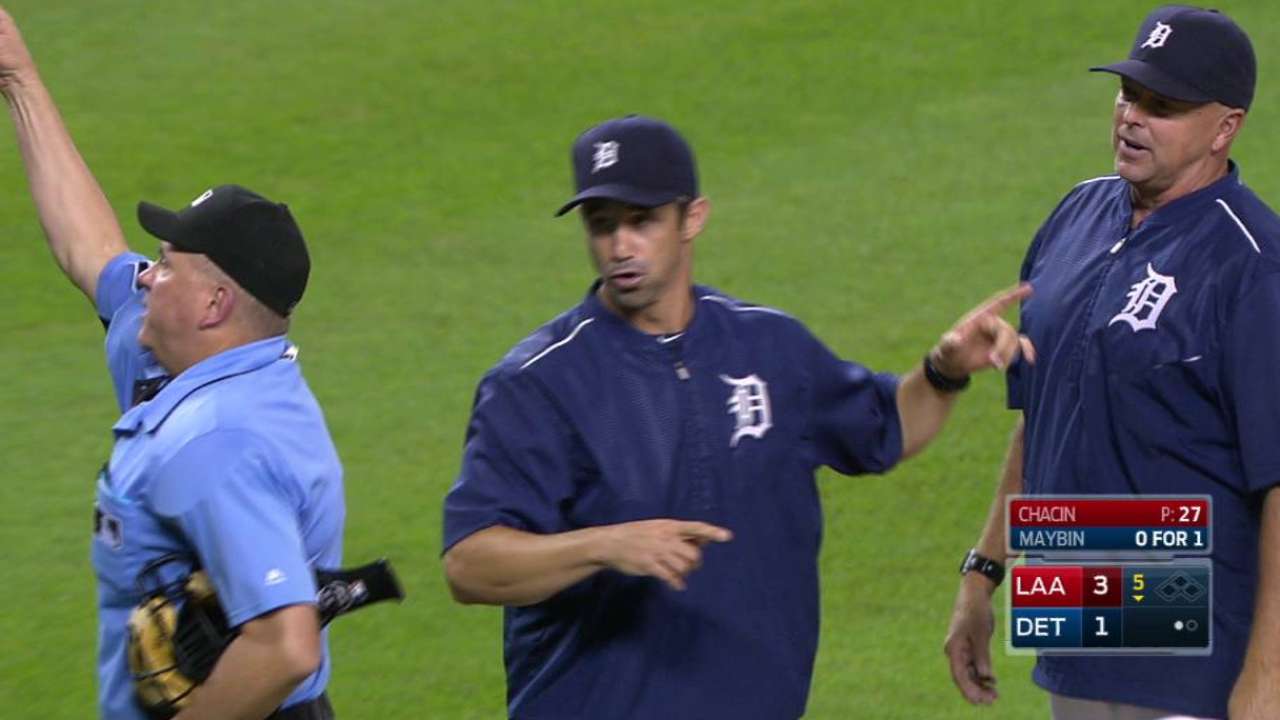 Two innings later, reliever Jhoulys Chacin drew a called third strike on Ian Kinsler on a slider around the knees. Kinsler walked away, but Joyner apparently protested enough from the dugout for Everitt to eject him. That brought Ausmus out to argue, eventually picking up his 10th career ejection and his first since he famously threw his hoodie over home plate on May 16.
"It was just simply that we didn't like some of the pitches being called strikes on us, and it felt like we weren't getting them called when our pitcher was on the mound," Ausmus said. "So it's not necessarily that we didn't think every pitch that was called a strike wasn't a strike, but we'd like the same pitches called for us."
Angels manager Mike Scioscia felt Everitt did that
"I think Mike Everitt was calling pitches at the bottom of the zone, it seemed like, for both guys," Scioscia said. "He called Mike [Trout] out on a pitch that was borderline up, so I think he was going to the edges of the zone and that's what he was calling all night."
Joyner's ejection was the second in his coaching career. Bench coach Gene Lamont took over managerial duties for the rest of the game, while assistant hitting coach David Newhan took over for Joyner.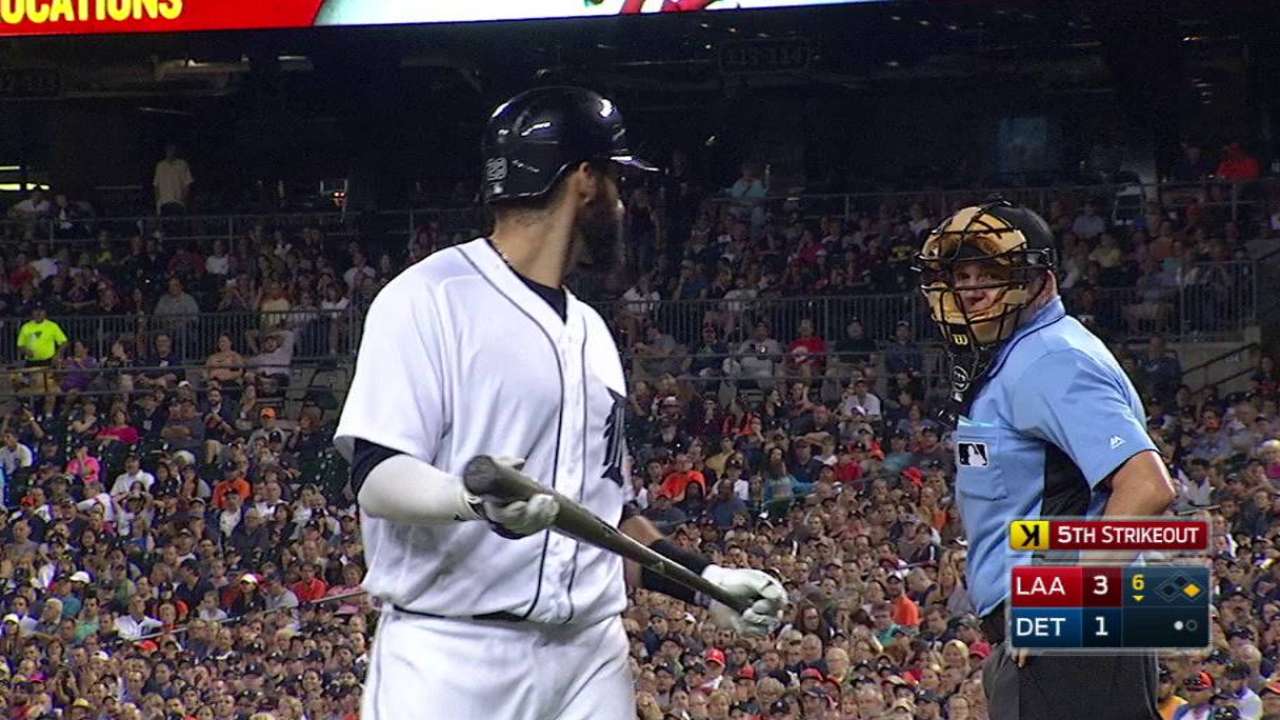 By the time J.D. Martinez took a called third strike in the sixth, the tension was inescapable. He made a comment over his shoulder on his way to the dugout.
"He had a short leash today, I guess," Martinez said. "I just told him he's having a bad day. Honestly, that's what I said: 'You're having a bad day today, huh?' And he goes, 'What'd you say?'
"I said, 'You're having a bad day today.' And he's like, 'You're gone.'
"I said, 'Why am I gone?' He said, 'Because you said it twice.' I said, 'You asked me what I said.' I was shocked."
Andrew Romine replaced him in right field.
Neither Ausmus nor J.D. Martinez expect the tensions to carry over.
"Mike Everitt's a professional. I've known him for years," Ausmus said. "I thought he had an off night tonight, but I am in no way concerned about him going forward."
Said Martinez: "He's a good umpire. I'm not saying anything bad about his skills at umpiring. Every umpire at this level, they're here for a reason, the same way we are. I treat them all with respect. Everybody has off days. I'm fair with that."
Jason Beck has covered the Tigers for MLB.com since 2002. Read Beck's Blog, follow him on Twitter @beckjason and listen to his podcast. This story was not subject to the approval of Major League Baseball or its clubs.