Angels being cautious with Escobar
Veteran infielder could resume baseball activities on Monday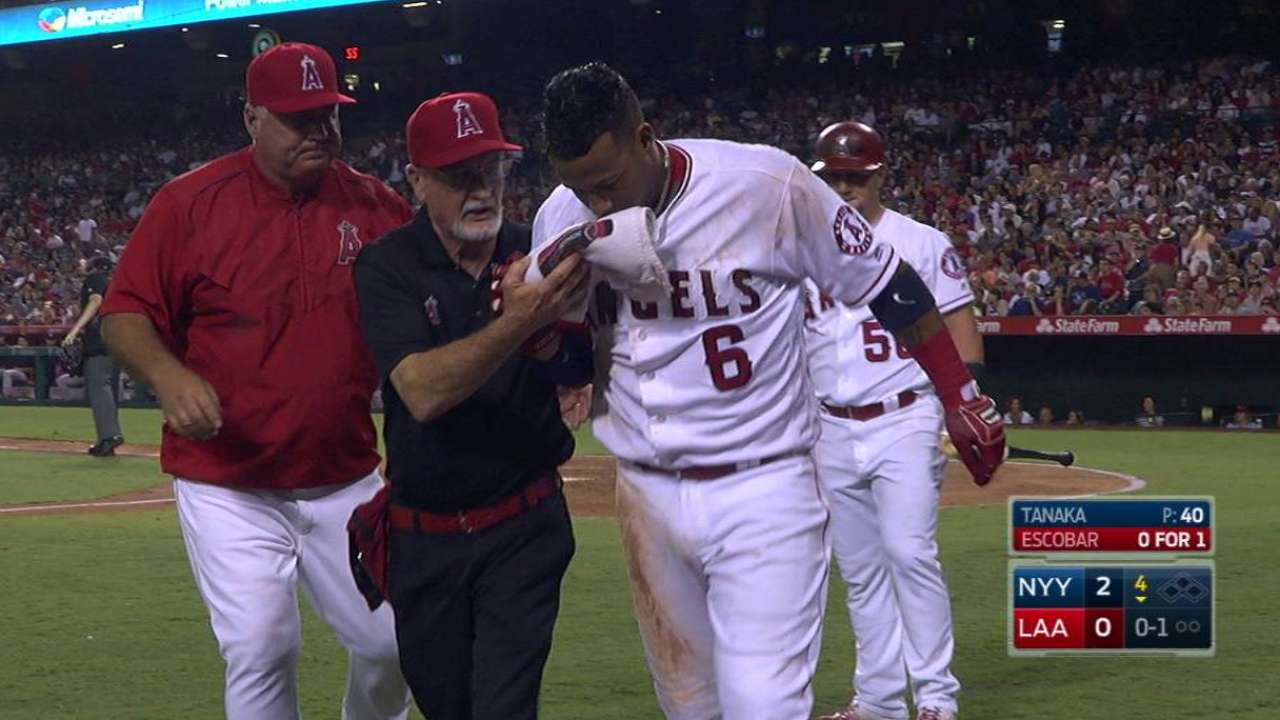 DETROIT -- Yunel Escobar could be making his way back to the Angels as early as next week, manager Mike Scioscia said Saturday. The veteran infielder has been out since suffering a concussion when he fouled a pitch off his face on Aug. 19 against the Yankees.
Scioscia said Escobar's concussion symptoms are stabilizing and he could resume baseball activities early next week after wrapping up a six-game road trip in Detroit.
The team returns to Anaheim on Monday for the start of a three-game series against the Reds before heading to Seattle. Scioscia said it is possible that Escobar could return to lineup against the Mariners.
"We're going to see," Scioscia said. "If he feels good to play before then, we'll get him in there before then, but we've got to wait and see when he can get back to baseball activities and how he works out on the field the next day."
Escobar, in his first season with the Angels, has a team-high .320 average with a .368 on-base percentage, second-best on the team.
Scioscia also said Saturday that catcher Geovany Soto is still battling right knee inflammation but has not yet progressed to participating in baseball activities.
"He's just getting physical therapy right now, just trying to get the swelling out of [the knee]," Scioscia said. "But he's not ready for baseball activities yet."
Soto has been battling knee issues all season and has only played in 26 games. He was sporting a .269 batting average with four homers before heading to the 15-day DL for the third time this season.
Soto has had injury problems, mainly to his knees, throughout his career. He has not played more than 100 games in a single season since he was with the Cubs in 2011.
Kyle Beery is a reporter for MLB.com based in Detroit. This story was not subject to the approval of Major League Baseball or its clubs.