Resurgent vets Benoit, Grilli anchoring 'pen
2016 additions to Toronto's relief corps provide steady bridge to Osuna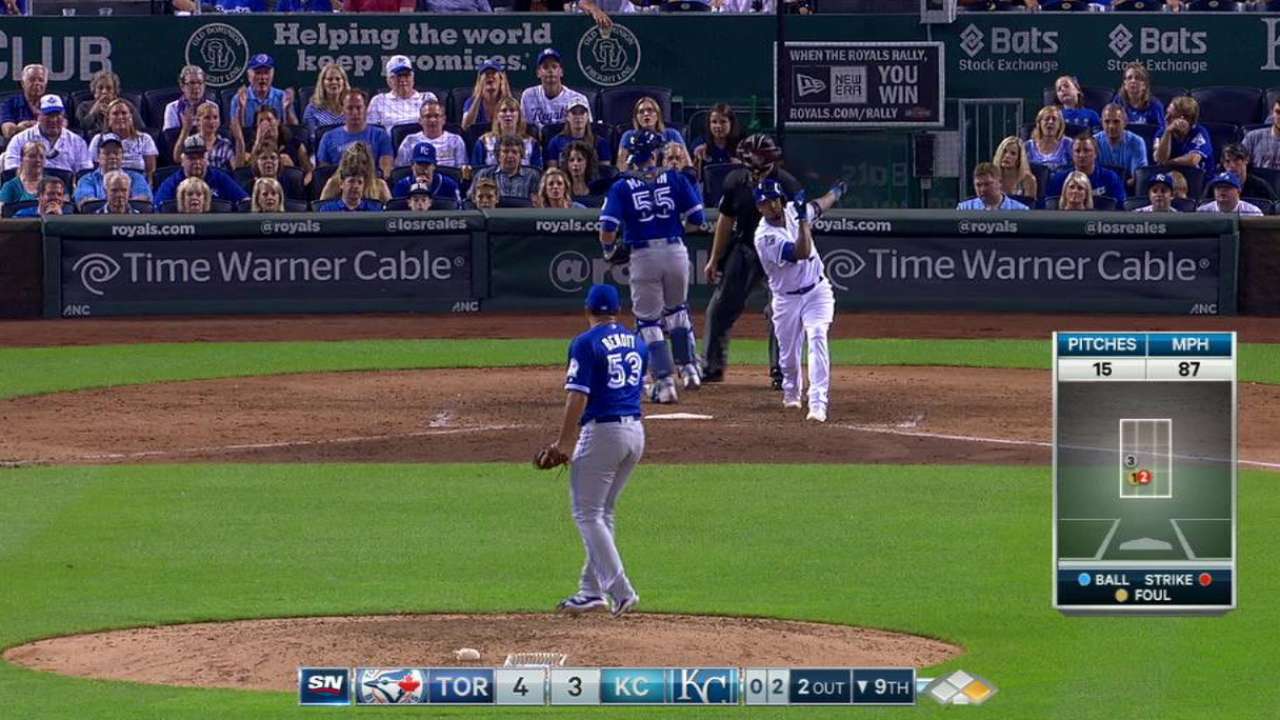 TORONTO -- Jason Grilli was the first surprise success story for the Blue Jays' bullpen. He brought a 5.29 ERA from Atlanta in a May 31 trade and quickly took over as Toronto's lockdown setup man.
Then, on July 26, Joaquin Benoit and his 5.18 ERA arrived from Seattle. He promptly settled into the seventh inning. In 13 appearances since the trade for Drew Storen, Benoit has not allowed an earned run.
"I was surprised we were able to get [Benoit], to be honest," manager John Gibbons said. "He's taken over that role, and he's been lights-out."
Both Grilli and Benoit are 39. They have a combined 29 years in the Major Leagues. Just a few months ago, an outsider might have concluded both were done. But now they are passing the baton to closer Roberto Osuna, solidifying the back end of a bullpen that started the season as the team's biggest liability.
Grilli played a key role in Saturday's 8-7 win over the Twins, working a scoreless eighth to hold the Blue Jays' deficit to one run. In the bottom half, Melvin Upton Jr. tripled home the tying run and scored on the same play on an outfield error, and Osuna locked down the win for his 29th save.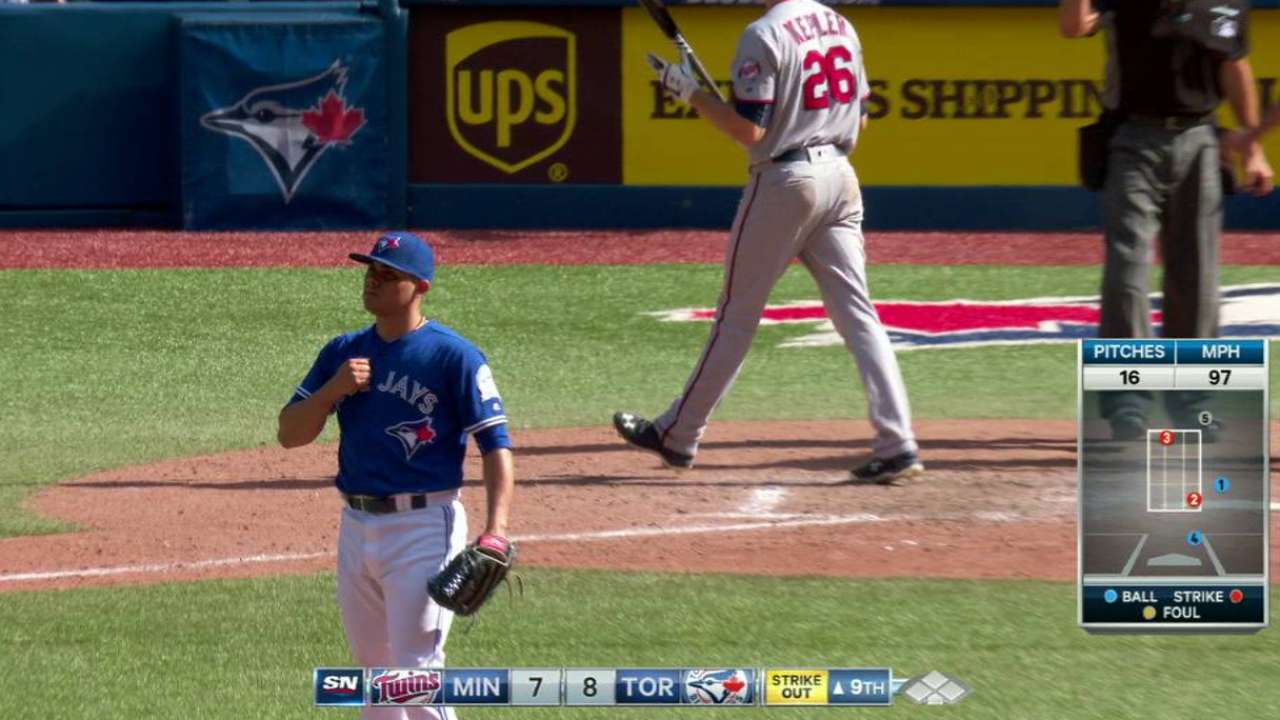 In his past 12 outings, Grilli has allowed zero runs and struck out 14 in 12 innings. And when he strikes out the final batter of an inning as he did again Saturday, his emotions tend to erupt in howling, fist-pumping passion.
"I'm fired up, and the guys always tell me they get heated seeing my emotion," Grilli said Saturday. "I'm glad that they feed off my energy, too. I'm just another guy doing a small part in this whole grand scheme of things."
In comparison to Grilli, Benoit is a portrait of tranquility, but his performance so far has been no less important.
"It's a different situation," Benoit said of his new role with the Blue Jays. "I'm getting the manager's trust, and he's putting me in situations where I can help the team and build up my confidence."
Both Grilli and Benoit have been through rocky periods. Grilli began his career as a starter, but he quickly landed in the bullpen. Benoit started when he first came up, then became a reliever. Both have enjoyed successful stints as closers.
For the Blue Jays, Benoit's arrival provided a vital link they had been lacking: a solid seventh-inning man who could let rookie Joe Biagini switch to the sixth when a starter falters.
"[Benoit] has come in and nailed that down, and then turns it over to Grilli, and then of course Osuna. That's definitely comforting," Gibbons said.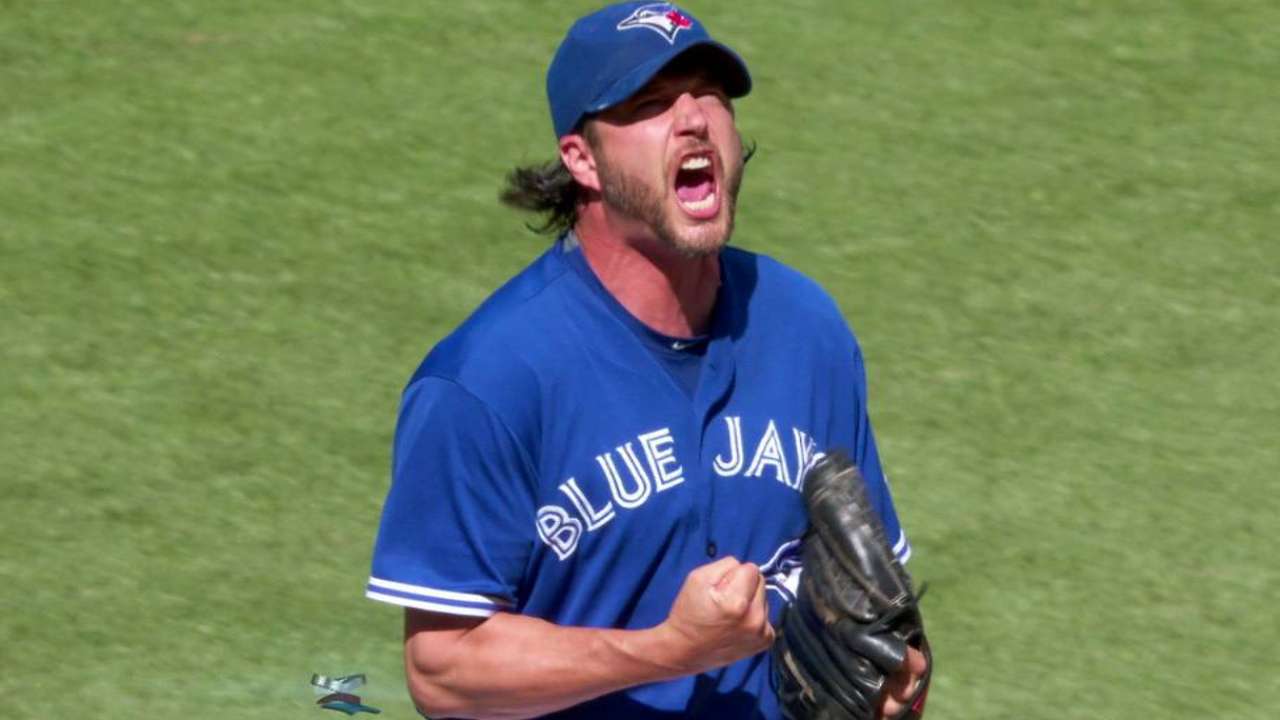 Gibbons said the Blue Jays must carefully manage the workloads of Benoit and Grilli because of their age. Benoit, for example, worked in back-to-back games on Thursday and Friday, so he wasn't available Saturday, and Gibbons would prefer to rest him on Sunday as well.
Benoit said he believes that he and Grilli benefit the bullpen in ways beyond their on-field performance.
"When you have veteran guys in the bullpen, it's always a little bit of help, because you keep the young kids in line," Benoit said.
"The veterans, most of the time, know what they're doing. We help each other. Everybody that has a history in the big leagues, like Grilli and I, we know some of the hitters and we feed each other information. It's important to feed each other. The young guys see that, and they try to relate."
Worth noting
• Before Saturday's game against Minnesota, the Blue Jays promoted reliever Bo Schultz from Triple-A Buffalo and designated Aaron Loup for assignment. Loup is expected to clear optional waivers, so the club can keep him in the organization. Schultz pitched one inning on Saturday and gave up a two-run homer to Trevor Plouffe.
• Second baseman Devon Travis was back in the lineup Saturday after missing four games with a knuckle injury in his right hand. Also back in action was outfielder Michael Saunders, who had missed two games with a hamstring strain.
• Russell Martin, who has been the Blue Jays' hottest hitter of late, is getting a rest from his catching rigors for two days. Martin is "a little beat up," having caught in 77 percent of the team's games, Gibbons said. He was not in Saturday's lineup and will serve as the designated hitter on Sunday. Josh Thole will get a rare opportunity to catch two games in a row.
John Lott is a contributor to MLB.com. This story was not subject to the approval of Major League Baseball or its clubs.