MLB.com Columnist
Tracy Ringolsby
Q&A: Monday on giving autographs to young fans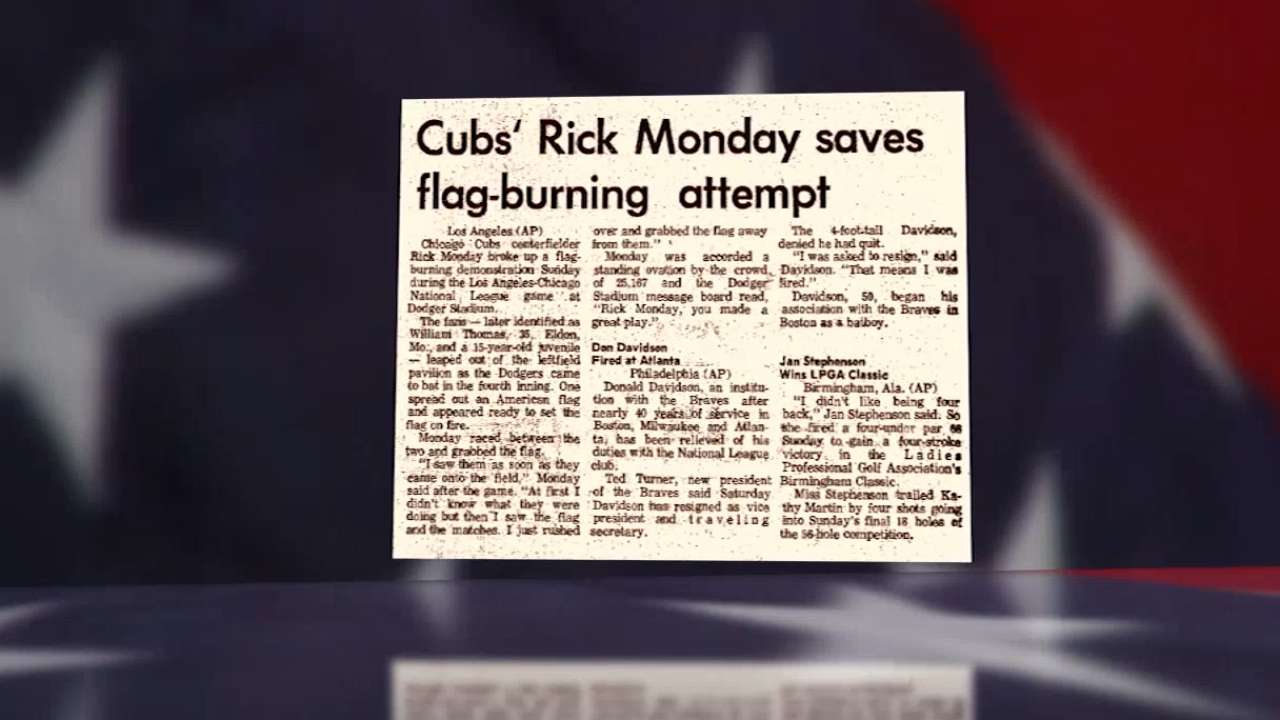 Rick Monday broke into the big leagues at the age of 20, and 50 years later, he is still making daily trips to the ballpark. After 19 seasons in the Majors, he moved into the broadcast booth.
Monday was the first pick of the first amateur Draft in baseball history, coming out of Arizona State University to sign with the Kansas City A's in 1965. By the end of the next season, he was in the big leagues.
Monday remains one of the most personable people in the game -- always taking time for fans, never forgetting the lesson he learned at a young age, when a big league player didn't have time for him.
Monday is the subject of this week's Q&A:
MLB.com: I guess your big league memories go back to the Dodgers moving to Los Angeles?
Monday: Yes. First souvenir I had in a Major League game was at the L.A. Coliseum. Cubs were in town to play the Dodgers. Ernie Banks hit a line drive -- and we were sitting down the left-field line, hit a line drive just foul. We were sitting just past the foul pole. The ball hit two rows behind me, came back, hit me right in the chest. I had a souvenir.
MLB.com: Excited?
Monday: After the game, I noticed a couple of Dodgers walk out. I recognized one of them, and asked if he would please sign my ball that Ernie Banks hit. He very graciously and very calmly and very politely said, "Son, I'm sorry, but I'm in a really big hurry. I have to get somewhere." He very gently kind of backed me up against the chain-link fence.
MLB.com: Those are things you remember over time?
Monday: In my rookie year, I'm asked to pinch-hit to open the ninth of a tie game. They bring in a reliever to start the inning. It's the guy who said to me years and years and years ago, "Son, I'm sorry but I'm in a really big hurry and I have to go somewhere," and very gently and politely, just kind of moved me out of the way, Larry Sherry. I get on base and Larry Stahl singles me to third. They make a pitching change and I'm jumping up and down and said, "That's for not signing my ball." I'm yelling it. I'm 20 years old. I'm in the big leagues. "That's for not signing my ball. That's for not signing my ball." Everybody looked at me.
MLB.com: Did he realize what you were talking about?
Monday: Years and years go by. I am retired and doing the Dodger Fantasy Camp in Vero Beach, Fla. He and his wife were sitting next to my wife and myself at a dinner. "Larry, I've got to tell you a story." "What's that?" "Years ago, at the Coliseum, Banks hit a foul ball, when I asked a Dodgers player to sign it, he tells me, 'Sorry kid, I'm in a really big hurry,' and pushed me into a chain-link fence. I was crushed."
MLB.com: Did he know what you were talking about?
Monday: He's looking at me like, "Ok Rick, that's a nice story." I said, "Then I got to face this pitcher in a Major League game." He said, "Really?" Now I'm starting to see some interest in him. And I said, "Yeah, the pitcher came in to face me." And I said, "The pitcher was being taken out of the game and I'm standing at third base, jumping up and down yelling, 'That's for not signing my ball.'" He goes, "That was me. I'm glad you told me this, because all these years, I just thought you were a nutcase, because I remember you jumping up and down and yelling, but I couldn't understand what you were yelling." He apologized.
MLB.com: Did that make you more cognizant of signing kids' autographs?
Monday: I think it did. I think there was awareness of it. I had this treasure, a baseball from a Major League game. Not a bad player hit it either, Ernie Banks. And it was the Dodgers, which I thought these guys played in this magical green carpet. I couldn't understand how they threw the ball as hard as they did, how they hit it as far as they did, how they got the balls and were able to catch them. That afternoon, when I was very gently and very politely just put on the back burner, something maybe clicked for later on. A lot of times, players don't realize what it means to a kid.
MLB.com: Did you ever face a similar situation as a player?
Monday: I remember once leaving Dodger Stadium. A lady asked me to sign. I said, "Ma'am, I'm sorry, I have to go right now." And she got very indignant, said a few things, wanted me to sign something for her daughter. And I said, "I'm sorry, but my daughter's in the hospital and I just got word." But I still feel guilty for not signing [for] her daughter, what she wanted that day. But I had just literally been told after a game, my daughter was taken the hospital. Fortunately, she was OK, but you don't know at the time. But I remembered at that moment what the chain-link fence felt like on my back.
MLB.com: That all goes back to how things in your youth shape your adult life.
Monday: There are always people in our lives. I'm like a lot of people. I look back and thank God there were some wonderful individuals in my life. From Joe Misbrenner, who was my Pony League coach. I'm 14 and he says, "Let's take a walk." He says, "So you want to play pro ball?" I said, "I'd love to." He said, "You got a chance." He said, "I want you to play in this other league." I went, "Coach, that's for like 18 years of age and up." He goes, "I know. And you're not going to have fun for the first few weeks, but that's how you're going to get better." I got to say the final goodbye to Joe Misbrenner, on Coors Field. He became an usher there.
MLB.com: Small world, isn't it?
Monday: I found out that Joe was coming to the game with his kids. I got his number and told him to come up to the booth. I had a chance to say, "Thank you." Thank you for all the things he did. What I did not know was he was on the short end of his life. His son told me, "My dad has a short period of time left." I think it was the next year that we went to Coors Field and his son came in and said, "My dad passed away." He said that afternoon when you guys clicked, and I said, "I'm glad I got a chance to say thank you to your dad." He is one of the guys. So was my high school coach, Ruben Navarro. Then I went to Arizona State with Bobby Winkles. I talked to coach Winks about two weeks ago. He is one of the best. He had a stroke. When I went into the College Baseball Hall of Fame, I invited him to attend, but he couldn't make the trip. It was in July and it was neat. Three of us off that Arizona State team are in it -- Sal Bando, coach and myself.
MLB.com: Coach Winkles really had an impact?
Monday: He wanted a good program, no question, but even more so, he wanted people who would leave his program and go back to their communities and be responsive to people. Rules applied to everybody. He was tough when he needed to be.
Tracy Ringolsby is a columnist for MLB.com. This story was not subject to the approval of Major League Baseball or its clubs.