Ruiz finds Jansen tough to handle in debut
'I don't have an excuse,' catcher says of pitches that got away in 9th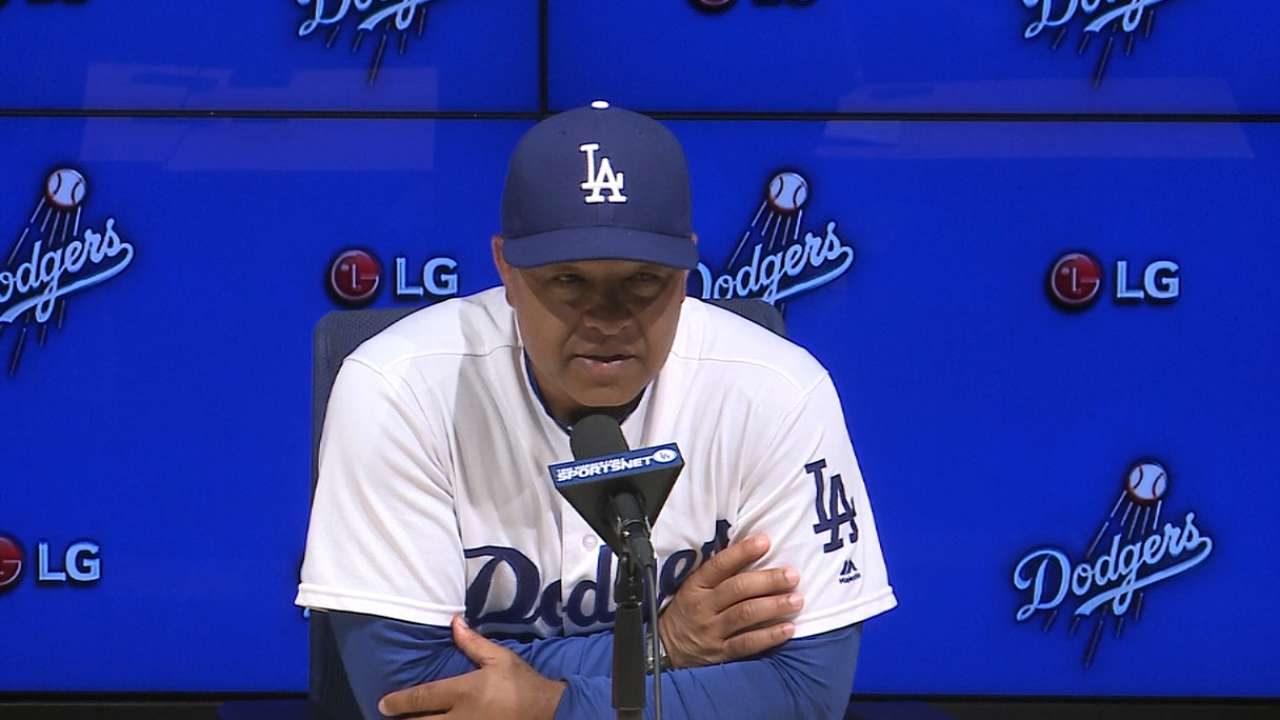 LOS ANGELES -- The game has a tendency to find you, as it found Carlos Ruiz in his Dodgers debut Friday night.
The Dodgers lost to the Cubs in the series opener between division leaders, 6-4 in 10 innings, on the second of two Kris Bryant moonshots and a two-strikeout save by Cubs closer Aroldis Chapman. But the Dodgers, and Ruiz, let this one get away.
The new catcher acquired in the A.J. Ellis trade had a nice debut ruined when he was unable to handle closer Kenley Jansen in the ninth inning. A strike-three slider in the dirt bounced off his backhand glove attempt to allow the tying run to take third, then when calling for a high cutter, he simply missed the pitch that let the tying run home. The official scorer ruled a wild pitch that could have been called a passed ball.
"I don't have an excuse, I should have caught that ball and I don't know what happened," said Ruiz, who went 1-for-3 with a walk and was hit by a pitch. "It's the first time that I caught him and his ball was moving real good. It surprised me right there. Like I said, I should have caught that one. I'll move forward, come back tomorrow, and get it done."
That took the luster off Jansen's newest franchise record, as he surpassed Jim Brewer for most career strikeouts by a Dodgers reliever with 606.
Ruiz was 0-for-5 as a hitter against Jansen but had never caught him until this game, which demonstrated the risk of changing catchers on the fly in a pennant race.
"He's probably going to catch me more often and we'll get more comfortable," Jansen said, after a leadoff double by Jason Heyward set in motion his sixth blown save. "It's tough, especially today, with late movement and sometimes it backs up. It's going to be fine. We will get used to each other. I don't know what to say. We lost, man, we lost."
Once the Cubs took the lead in the 10th on Bryant's homer off Adam Liberatore, they gave the ball to Chapman, who pitched around a leadoff single by pinch-hitter Charlie Culberson for his 30th save, with 16 of his 19 pitches hitting triple digits.
Winning two of three against the Giants earlier in the week turned into a push after this loss, as the Dodgers' lead was whittled back to one game. Now the Dodgers will try to win the series with back-to-back rookie starters, Julio Urias (4-2) and Brock Stewart (0-2).
"The first one was a tough block for anyone and it got him to third base and the other one was a misfire with the cutter," said manager Dave Roberts. "Obviously, with the lack of familiarity, Kenley is tough to catch. It happens. It was a tough loss. It's a game we wanted to win."
The Dodgers are 1-4 against the Cubs this year.
Ken Gurnick has covered the Dodgers since 1989, and for MLB.com since 2001. This story was not subject to the approval of Major League Baseball or its clubs.