Braves ready to audition youth in rotation
Blair to return for start vs. Giants; more prospects to follow in September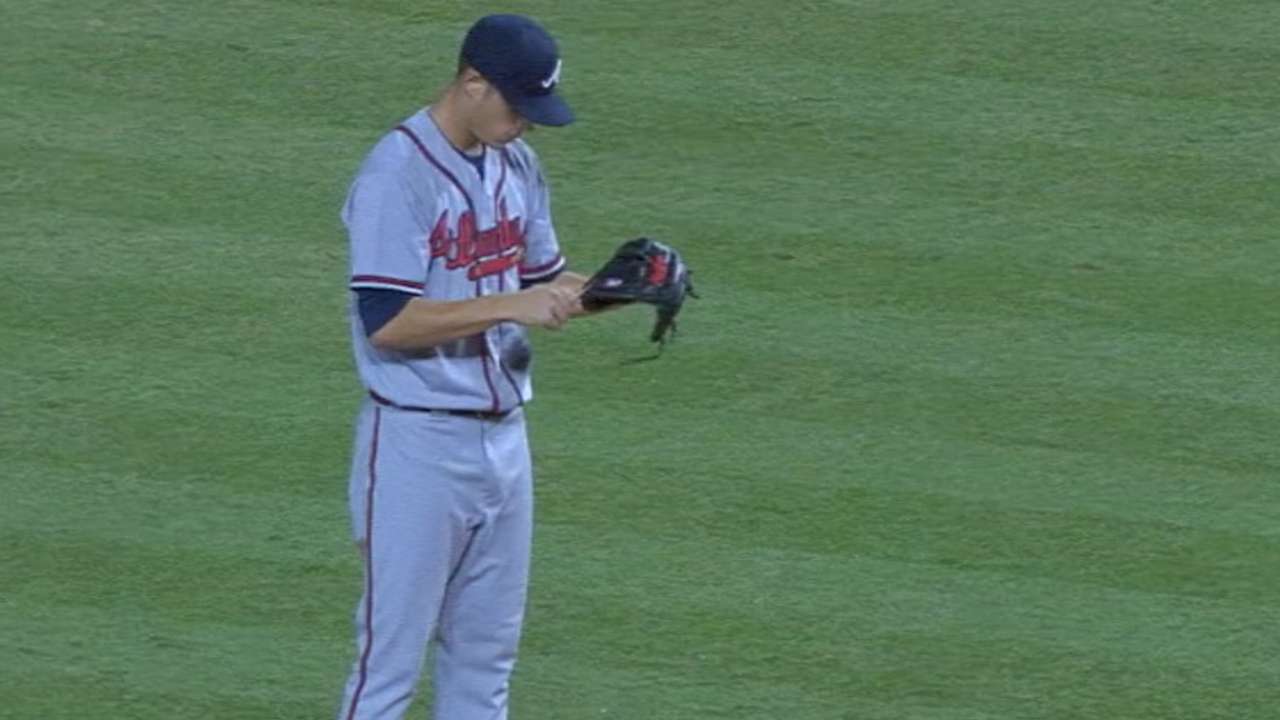 SAN FRANCISCO -- Had everything gone according to plan, the Braves would have spent a significant portion of this season filling their starting rotation with young arms who have the potential to shape the club's future. The script was altered as injuries and growing pains forced them to recently provide starts to the likes of Roberto Hernandez and Joel De La Cruz.
Hernandez's tenure with Atlanta lasted just two starts, and De La Cruz's rotation stint might have concluded as he was hit early and often during Friday night's 7-0 loss to the Giants at AT&T Park. Now the Braves appear ready to spend the month of September evaluating a rotation that will once again include Matt Wisler, Aaron Blair and at least one of their other young starters who have the capability to begin next season at the big league level.
"I think we're regrouping a little bit right now," Braves manager Brian Snitker said. "Hopefully in 10 days or so, we'll be more solidified."
Wisler returned from an unexpected three-week stint with Triple-A Gwinnett on Thursday night and showed he had made some necessary adjustments as he completed eight strong innings against the D-backs. Blair will have a chance to follow his good friend's lead when he returns from a two-month stint with Gwinnett to start Sunday's series finale against Madison Bumgarner and the Giants.
When the rosters expand upon September's arrival, the Braves could choose to fill De La Cruz's rotation spot with Tyrell Jenkins or Jed Bradley, who has produced a 2.07 ERA over the past 11 starts he has combined to make with Gwinnett and Double-A Mississippi. Snitker also indicated Williams Perez could return from the shoulder injury that has sidelined him since early June to make some starts down the stretch.
As things currently stand, the Braves feel good about the fact that they will enter September with Julio Teheran, Mike Foltynewicz and Wisler at the front of their rotation. As they evaluate their needs for the 2017 season, they'll look for Wisler to extend Thursday's success and for Blair to provide the same aggressive approach that was displayed as his sinking fastball consistently sat between 93-95 mph over the past few weeks.
By the time Spring Training arrives next year, Sean Newcomb, the recently sidelined Rob Whalen, Lucas Sims and a veteran offseason addition could find themselves in the mix for a rotation spot. But as the Braves progress through these next few weeks, they want to see how Wisler and Blair handle the chance to prove they benefited from their demotions.
"We've been about the future for two years now and they're here now," Braves first baseman Freddie Freeman said. "So hopefully we can start building for success."
Mark Bowman has covered the Braves for MLB.com since 2001. This story was not subject to the approval of Major League Baseball or its clubs.