Perez lacking put-away pitch against Indians
Rangers lefty unable to recapture stellar form at home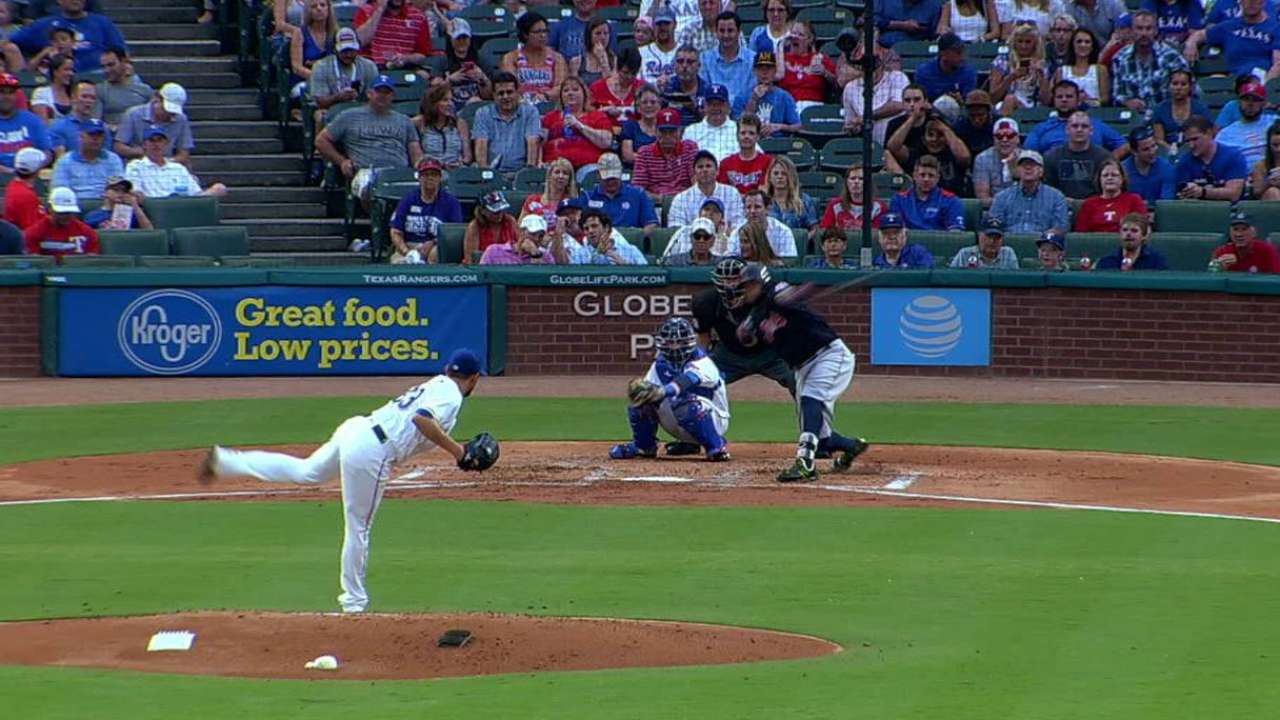 ARLINGTON -- Despite Martin Perez's struggles since the beginning of July, the Rangers left-hander has continued to be one of the best pitchers in the Majors at home. Entering his start Friday against the Indians, his 2.36 ERA through 13 starts at home was the lowest in the American League.
But the Indians were able to get to him at Globe Life Park on Friday night, scoring six runs on 10 hits off Perez as the Rangers lost, 12-1. It was the most runs Perez has allowed in a home start this year and the 10 hits matched a career high.
"More than anything, it came down to execution tonight for Martin," Rangers manager Jeff Banister said.
It continued what's been a string of rough outings for Perez. Over his last 10 starts, he has a 6.30 ERA. In six of those starts, he's allowed at least five runs. Perez had just one outing of five or more runs through his first 17 starts of the year.
"Obviously, when he goes out and continues a trend, there is some concern," Banister said. "Not concern with the stuff as much as execution, being able to get the pitch where you want to. He couldn't really get anything there in the [strike] zone tonight. We've seen some of that in the last couple of starts."
Banister cited Perez's lack of execution with his changeup and sinker as reasons why the Indians were able to score five of their six runs against him with two outs. Perez was able to get to 0-2 counts on Indians hitters throughout the night, but he was unable keep his changeup out of the dirt.
"It's something I have to work on, everything in this game is adjustments," Perez said. "When I have the ball, I always feel like I can get out of the inning, but sometimes it doesn't always happen like you want it to."
Banister is confident Perez can return to the form showed in the first half of the season, when he won five straight decisions from May 24-June 14. He and Cole Hamels are the only two pitchers in the Rangers' rotation who haven't hit the disabled list this season.
"There's some work to do," Banister said. "We've got to find a way to get him back to the good pitches, being able to stay back on the rubber and get down on the slope and make quality pitches. He's quite capable of it."
It was Perez's career-high 27th start, seven more than in any other season in his five-year career. But Perez is not using that as an excuse for his recent drop-off.
"I feel good and I feel strong," Perez said. "I still believe in myself and I believe in this team and my teammates. This is not over. We've got one month left and we've got to finish strong."
Perez handed the ball over to left-hander Dario Alvarez with two outs in the sixth, but things did not get much better for the Rangers. Alvarez allowed a career-high three runs in 1 1/3 innings, and left-hander Alex Claudio allowed three more runs in the ninth.
Ryan Posner is a reporter for MLB.com based in Texas. This story was not subject to the approval of Major League Baseball or its clubs.