Indians end funk with furious 17-hit attack
Offense shakes off four-game slump for AL Central leaders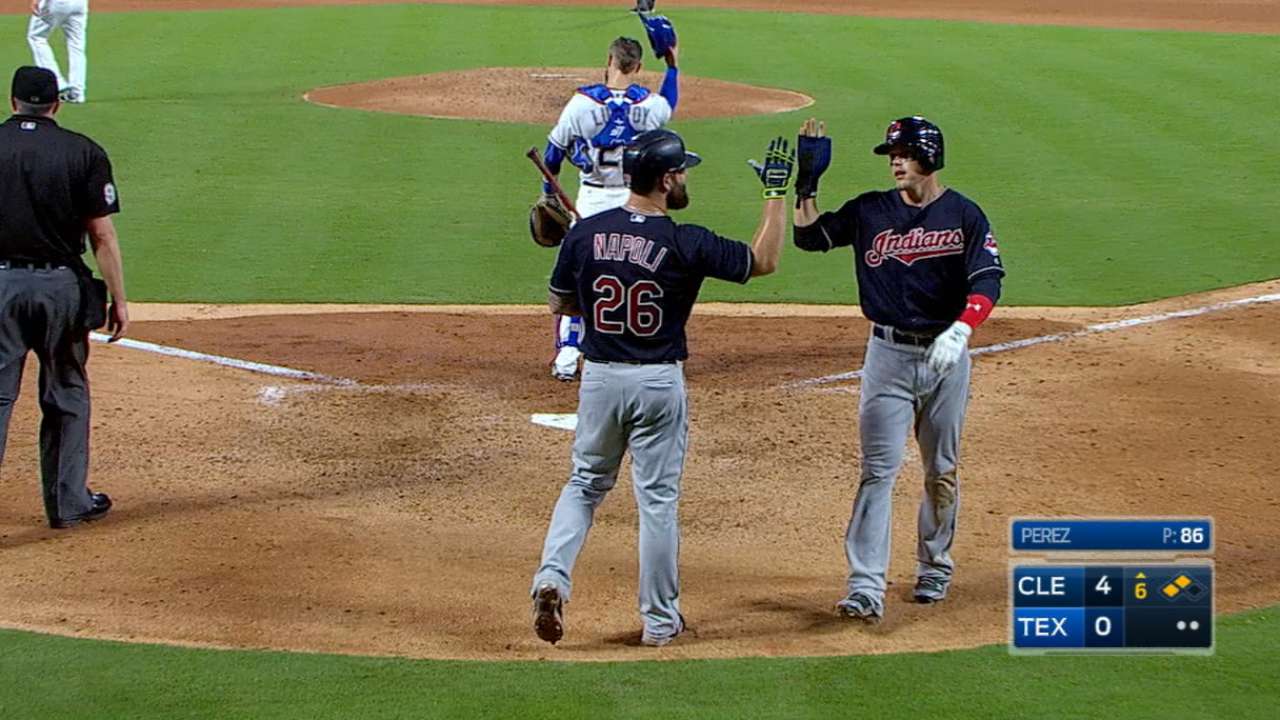 ARLINGTON -- There was no panic in Cleveland's clubhouse on Thursday night. The offense was mired in an ugly slump, but the Indians still had a nice view from atop the American League Central and could trust that one of the league's top lineups was just going through a cold spell.
"I wouldn't be surprised if we come out of it here soon," Indians second baseman Jason Kipnis said 24 hours before Friday's 12-1 rout over the Rangers. "Tomorrow's going to be a good day to say we're just going to get back to the basics of some good line drives, put it in play, get some guys on base and have a little bit more fun."
Kipnis' prophetic statement came true in the form of a dozen runs and 17 hits.
Following a four-game stretch that saw the Indians score only three runs -- all via solo home runs -- the team needed a win like this one. On Thursday night, Cleveland took a 9-0 loss on the chin against the AL West leaders. That was against ace Cole Hamels. It happens. On Friday night, the Indians broke out against Texas southpaw Martin Perez and three relievers.
It was a more characteristic evening for Cleveland, which ranks second in the AL and fifth in the Majors with 631 runs scored. Rather than relying on the long ball, the Indians got men on and went 5-for-15 with runners in scoring position. Kipnis broke the ice with an RBI double in the third, marking the Tribe's first run not via home run since the sixth inning on Sunday.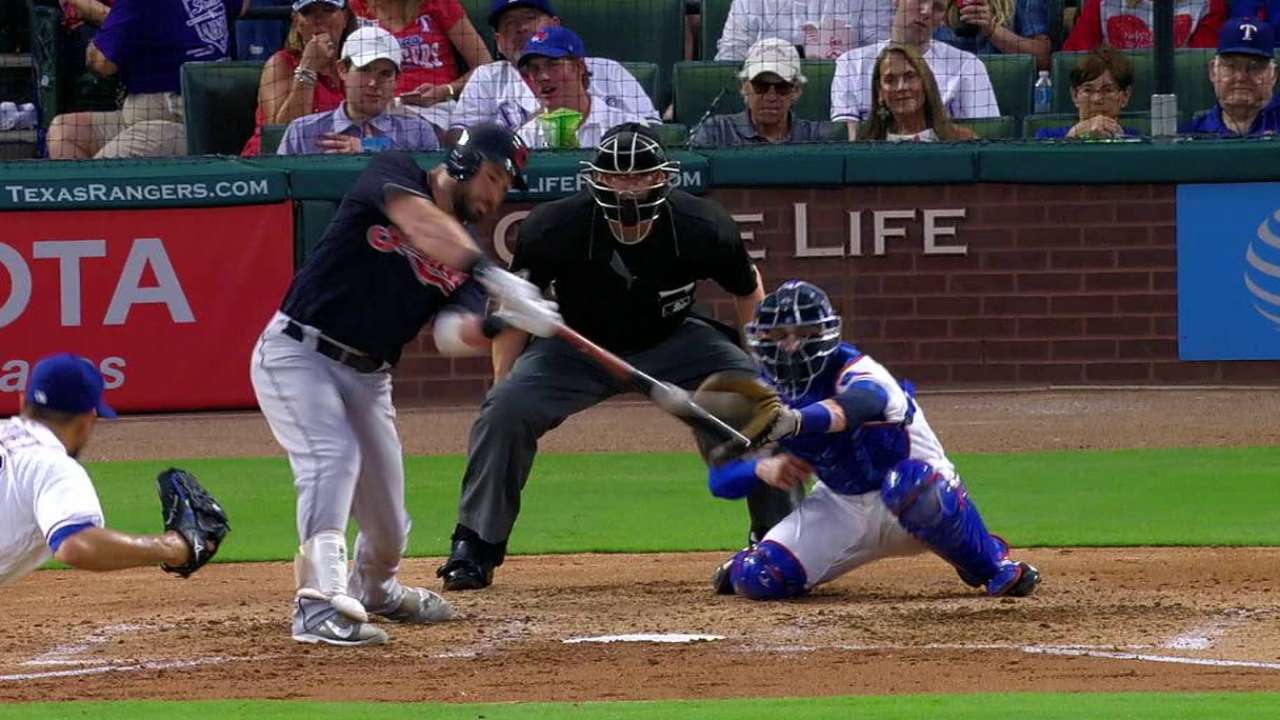 The door was kicked wide open shortly thereafter.
"It was a good night for us," Indians manager Terry Francona said. "It let guys breathe a little bit."
Cleveland's offensive outpouring was more than sufficient in supporting a strong six-inning effort by Corey Kluber, who improved to 14-8 with a 3.07 ERA in the win. The pitcher said he was pleased to see the lineup come through, considering how the past handful of games had gone.
"You're bound to have a stretch where the offense doesnt score, or the pitching [struggles]," Kluber said. "It's bound to happen. I think it's just a matter of keeping trust in each other and not getting down or anything like that. I think that's the way we need to score, is to go out there and manufacture runs. Home runs are nice, but I dont think we can just rely on those."
Abraham Almonte, who is ineligible for the postseason after a drug suspension, says he feels "a huge responsbility" to help the Tribe get there. He delivered two doubles, three hits and four RBIs. Roberto Perez, who entered the night batting just .104, churned out four hits and knocked in three.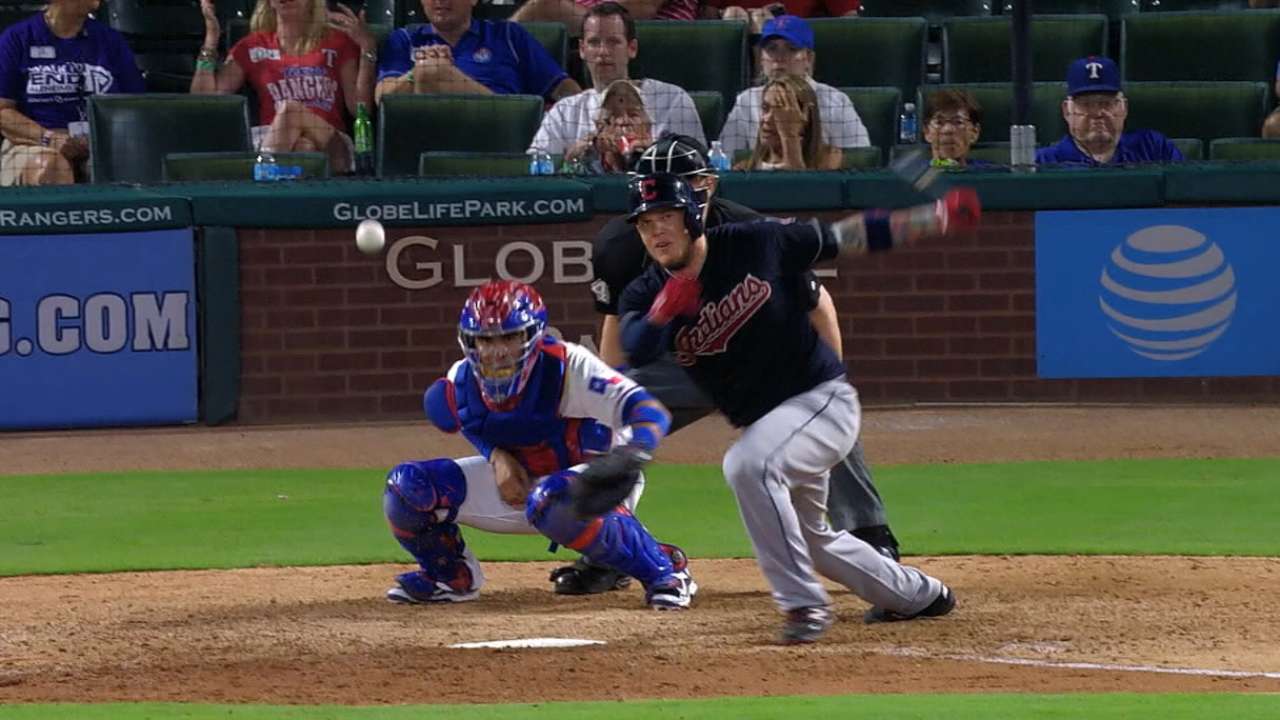 Mike Napoli chipped in two hits and a sacrifice fly. Jose Ramirez drove in a run with a groundout. Rajai Davis was hit by a pitch with the bases loaded. Carlos Santana got on base four times. Brandon Guyer reached four times -- twice via hit-by-pitch -- and crossed the plate four times.
It was an all-around effort by the Tribe nine.
"Sometimes, this game can be a little tough," Almonte said. "We always know what type of team we are, how we do things and how we've got to do it to score runs. Tonight, we found it."
Jordan Bastian has covered the Indians for MLB.com since 2011, and previously covered the Blue Jays from 2006-10. Read his blog, Major League Bastian, follow him on Twitter @MLBastian and listen to his podcast. This story was not subject to the approval of Major League Baseball or its clubs.