On eve of birthday, Bucs' Mercer hits 1st slam
Shortstop breaks game open with blast in five-run sixth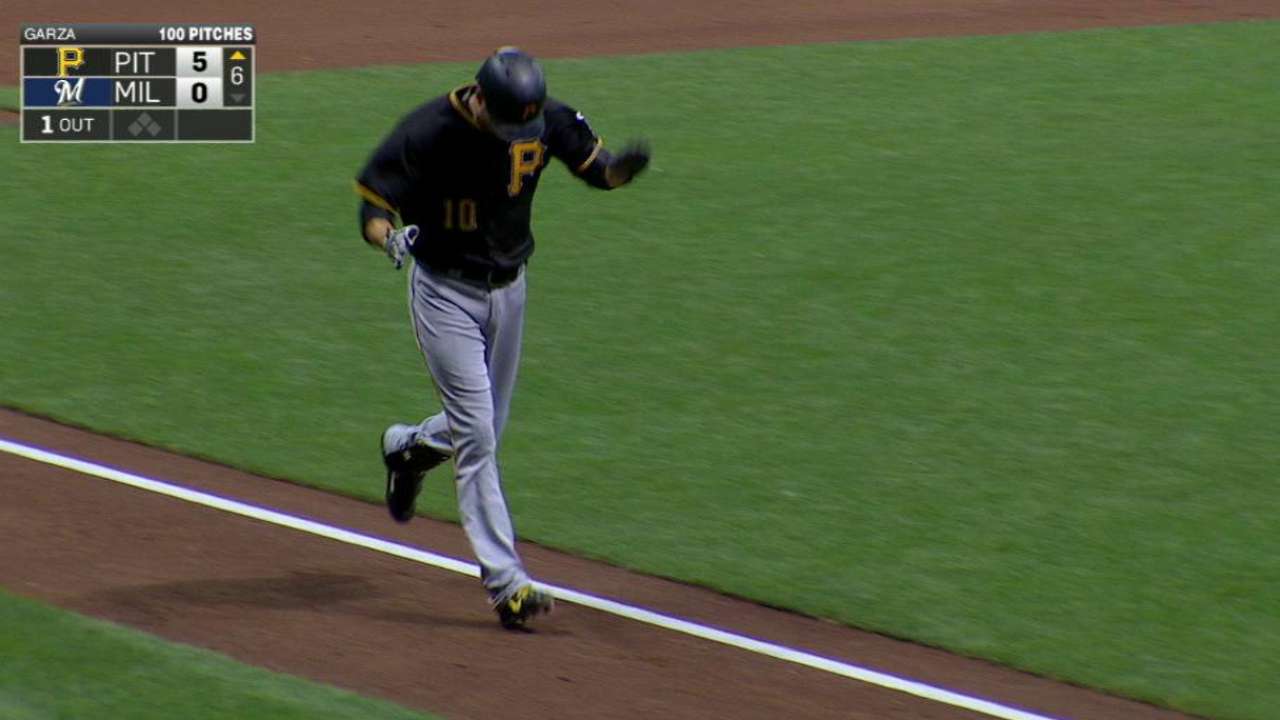 MILWAUKEE -- Before Friday's game against the Brewers, Pirates manager Clint Hurdle directed a short lesson on two-strike hitting to reporters gathered in his office. Shortstop Jordy Mercer was not in attendance, but he must have gotten the lecture notes from somebody.
Mercer launched his first career grand slam on an 0-2 slider against Matt Garza to vault the Pirates to a five-run lead in an eventual 5-3 win at Miller Park.
• Grand slams mean 40% off pizza
"You look at batting average with two strikes, it's not good," Hurdle said. "Runner in scoring position batting average with two strikes is lower. It's a mentality for me as much as anything.
"Not that you have to give anything up, but it becomes more personal. You're going to sell out, you're going to hold your ground, you're going to keep your backside, you're not going to jump out and try to hook anything. You're just going to hold your ground and try to hit the ball where it's pitched -- that's when we're at our most effective."
Mercer found himself down early in the count with the bases juiced and one out in the sixth, then proceeded to follow his skipper's plan of attack. He fouled off a fastball and slider from Garza before catching another slider down but over the plate and driving it into the Brewers' bullpen in left-center.
"When you're down 0-2, you just try to go into battle mode and try to get the job done, get the run in somehow," Mercer said. "I was able to get underneath it and put it up in the air, and that's what I was wanting to do. I just got enough of it to get it over."
The Pirates had not had much success until the sixth against Garza, particularly with two strikes, as he struck out a season-high nine. Thanks to two errors by Brewers third baseman Jonathan Villar, however, and an intentional walk to load the bases against Mercer, the Pirates capitalized.
"It puts a little chip on your shoulder, for sure," Mercer said of the Brewers intentionally walking Francisco Cervelli to load the bases. "It definitely gets you going. You want to do something, you want to make them realize they made a mistake. Sometimes it works, sometimes it doesn't, obviously, but that's kind of the thought process when it starts before you get in the box."
It was Mercer's 10th homer of the season and his second career long ball in an 0-2 count. Before the slam, Mercer was 1-for-12 with two strikeouts against Garza.
"He's been a really good player for us all year," Hurdle said. "Solid defensively, he's added offense to the game that really wasn't there before. And it's his [30th] birthday [Saturday], so why not hit a grand slam the night before your birthday on an 0-2 pitch?"
Curt Hogg is a reporter for MLB.com based in Milwaukee. This story was not subject to the approval of Major League Baseball or its clubs.