Sale nearly makes history in hard-luck defeat
Lefty ace strikes out six straight during 14-K outing vs. Seattle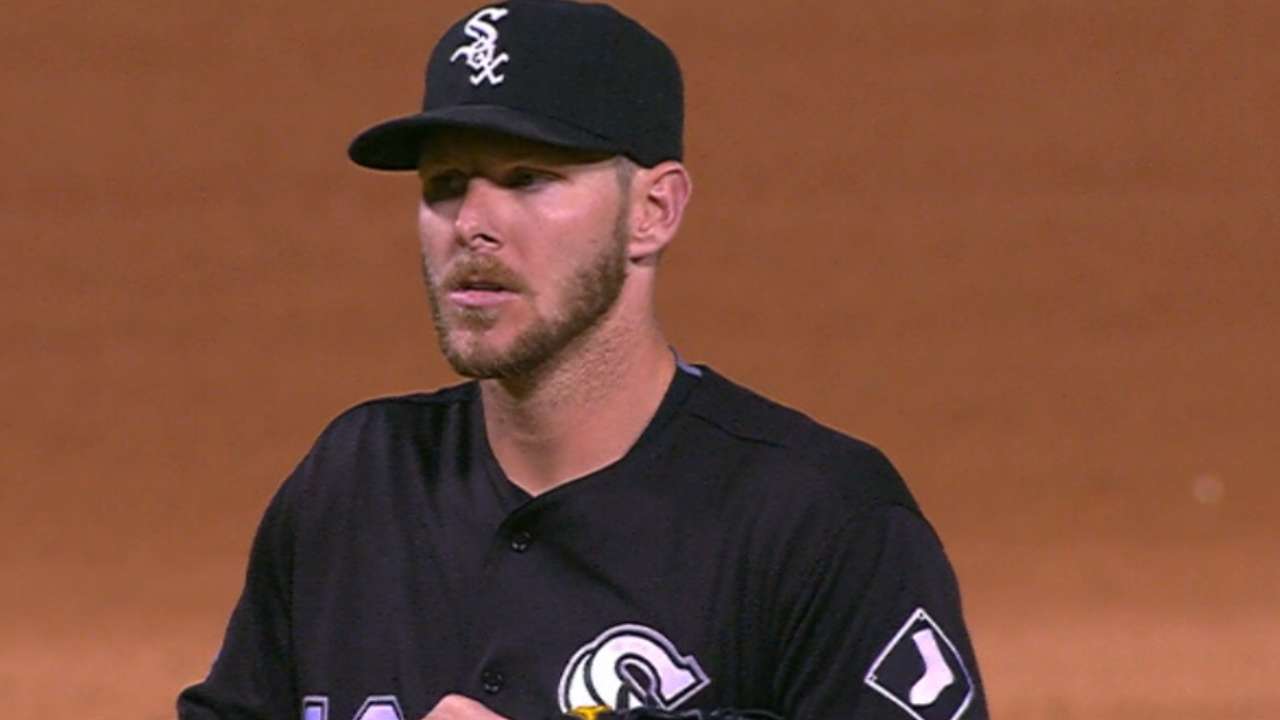 CHICAGO -- Chris Sale was unhittable from the fifth inning through the final Seattle batter he faced on Friday night in his Major League-best fifth complete game this season.
Somehow, though, the White Sox ace suffered the loss in a 3-1 setback.
"Thank God we did it early because as everybody saw, when he gets on a roll it's like lights out," Seattle manager Scott Servais said. "He's obviously one of the best pitchers in the league for a reason.
"We had no chance, really, after the fourth and fifth inning. He got into a groove and got all his pitches working."
It wasn't as if the Mariners hit Sale hard in the first four innings. But in an aces-high matchup between the five-time All-Star and Cy Young winner Felix Hernandez, Seattle's hitters did enough damage to escape.
Franklin Gutierrez homered in the second, a bases-loaded double-play grounder scored a run in the third and left-handed-hitting Adam Lind doubled home a run in the fourth. Sale retired the final 16 after that double, striking out 10 during the shutdown.
Sale fanned six straight starting with Robinson Cano to open the sixth and ending with Shawn O'Malley to finish the seventh. He finished one short of tying the franchise record of seven consecutive strikeouts in a game and his 14 strikeouts produced a seventh career 14-plus strikeout game.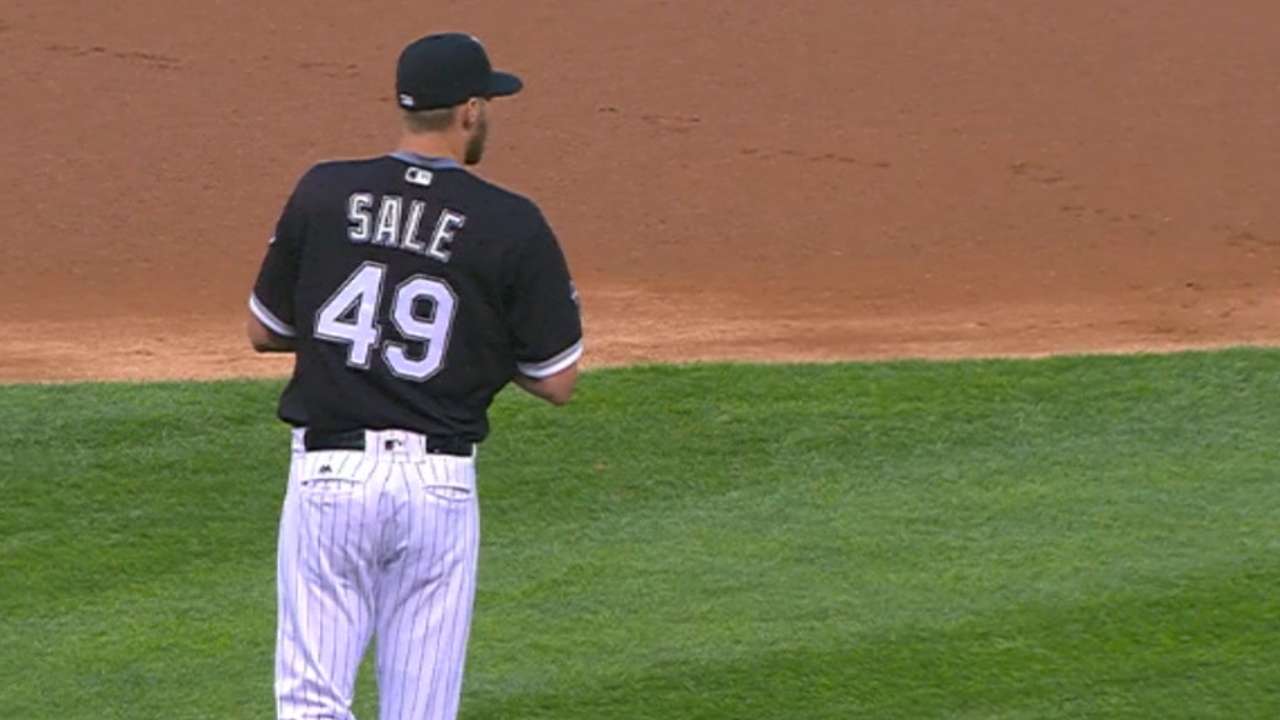 Yet, Sale fell to 15-7.
"I guess it looks good on paper, but you want to come out on top in a game like that, no doubt," said Sale, who threw 120 pitches for a second straight start and didn't issue a walk. "It was a grind from the first pitch. It just didn't fall our way.
"We definitely had a good matchup tonight. It's what the people came to see. The wrong team came out on top. It depends on who you ask, I guess. Sometimes you run into people like that."
Hernandez held up his end of the deal in this mound battle, yielding one run on eight hits over 7 1/3 innings. The right-hander also received strong defensive help from O'Malley at third and caught Todd Frazier and J.B. Shuck leaving first too early on stolen-base attempts in the second and third, respectively, after they reached to open the frame.
"That's the frustrating part," White Sox manager Robin Ventura said. "You know you're not really going to have too many opportunities. You might be able to hit and run or all of a sudden you're first and third, but if you just take it out of your own hands, that's where you scratch your head.
"Both of those guys [Sale and Hernandez] were on their game. It's fun to watch two guys go at it like that, and they got the best of us."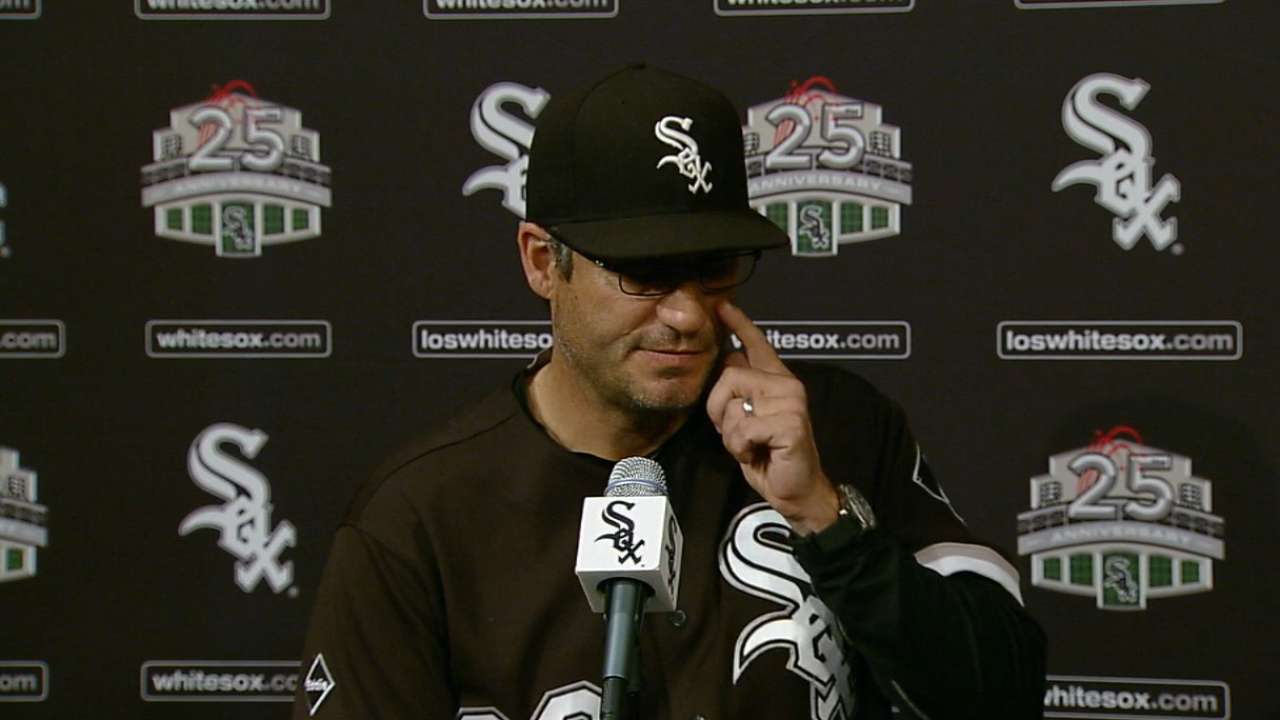 Over Sale's last seven starts, he has a 1-4 record with a 2.56 ERA. He certainly pitched well enough to win on Friday in his 13th career complete game and fourth in a losing effort.
"Just tried to lengthen it as much as I could, fill up as many innings as I could," Sale said. "I wanted to find a groove and I felt like after the fourth inning I got into a pretty good groove."
Scott Merkin has covered the White Sox for MLB.com since 2003. Read his blog, Merk's Works, follow him on Twitter @scottmerkin, on Facebook and listen to his podcast. This story was not subject to the approval of Major League Baseball or its clubs.