MLB.com Columnist
Mike Bauman
Vogelsong rewriting ending to Pirates career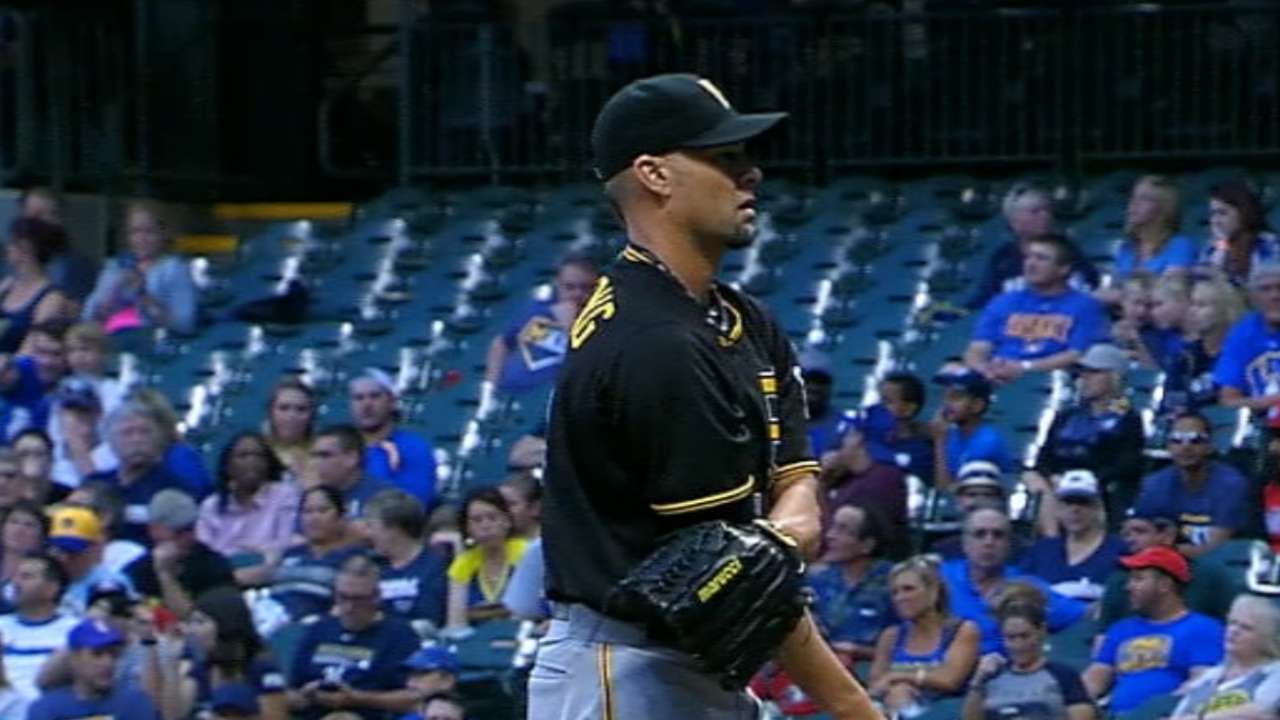 MILWAUKEE -- Ryan Vogelsong, coming back from his latest bout of adversity, continues to provide baseball with an uplifting story. More to the current point, he is providing the Pittsburgh Pirates with outs.
Vogelsong was the winning pitcher Friday night as the Pirates defeated the Milwaukee Brewers, 5-3. Over 5 1/3 innings, Vogelsong gave up two runs, both of which scored after he left the game. The Pirates, who had lost nine straight at Miller Park, have now won two in a row in Milwaukee.
And Vogelsong continued his successful comeback from the facial fractures he suffered when he was hit with a pitch on May 23. In his five starts since returning from the disabled list, Vogelsong has an earned run average of 2.48.
Vogelsong's long and winding road to this moment included portions of five seasons with the Pirates much earlier in his career that did not go well. Vogelsong, after three years pitching in Japan, resurrected his career, becoming an integral part of two World Series championship teams with the San Francisco Giants.
As a free agent last winter, he was highly motivated to return to Pittsburgh and make some better personal history.
"I was not really happy the way things went for me in my Pirates career the first time around," Vogelsong said. "We all know that we don't get a lot of second chances in this life to redo things and do something differently than before. I thought about that, too, coming back and changing from the way my first Pirates experience went."
This time the Pirates can see the inspirational quality of Vogelsong's career.
"He wasn't happy with the way the story ended here, but it ended well in a couple of other places," Pirates manager Clint Hurdle said. "The resiliency of the man throughout his career; he's done what he needed to do to stay alive. He's had belief in himself when he might have been the only one who had belief in himself.
"He went to Venezuela, he went to Japan, where he learned how to pitch effectively. Went to Venezuela when probably nobody cared if he went to Venezuela, other than his wife, Nicole.
"There's redemption in the story," Hurdle said. "There's reconciliation with the guy, coming back and getting his career where he believes it should be. And part of that story is going on right now; the way he's dealt with the adversity he's had this season."
Friday night, Vogelsong rated his work "so-so, it wasn't great." He struck out six but issued four walks, one intentional. His command was not as sharp as he would have liked, but he worked his way out of difficulty. That's not at all unusual for him.
"I've always been a guy that gets out of stuff, sometimes better than others," Vogelsong said. "Most of the time it's get some traffic, make pitches and get out of it. So it's something I'm used to. I don't panic. I continue to try and make good pitches and let the guys behind me work, try to read swings and go from there."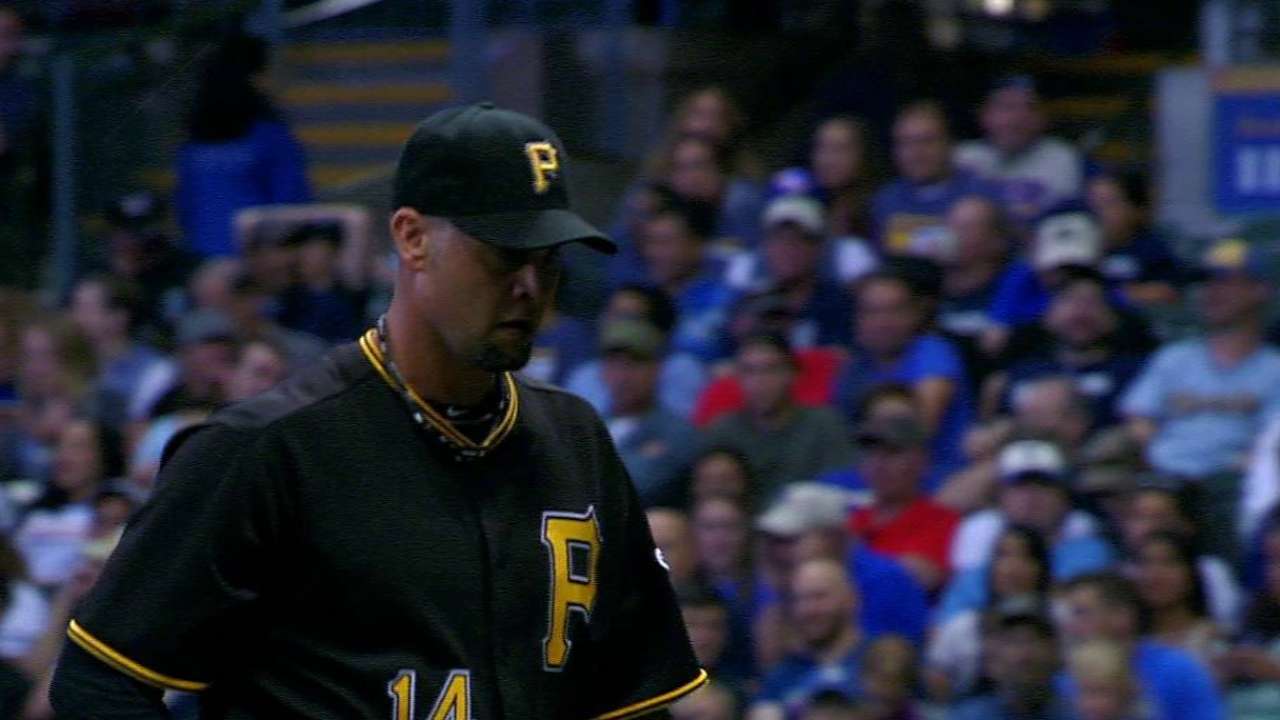 At 39, Vogelsong isn't throwing as hard as he once did, but he compensates with guile, changing speeds, changing locations, making whatever adjustments need to be made.
"Obviously, I don't have the explosive heater like I used to have when I was younger, when I was running it up there, 95, 96," he said. "So definitely, you can't afford to live in the middle of the plate. So, fortunate for me, I've found a way to command the strike zone, stay off the barrel and stay out of the middle of the plate for the most part. That's how I have to live. I don't have any other choice.
"Tonight was one of those nights when I made pitches when I needed to, but overall I wasn't happy with the whole body of work."
Vogelsong may be his own worst critic, but he has earned a loyal following in baseball. When he pitched for the Pirates earlier this month in San Francisco, he was treated by Giants fans as a returning hero.
"You look what happened in San Francisco," Hurdle said. "That's just great stuff. One of the most empowering things I've seen in my career in the Major Leagues was the ovation he got in San Francisco , the videography they put on the board to honor him. Then when he walked off the mound, the tip of the cap, the stop before he got to the dugout, I actually stopped because I wanted to watch that."
Ryan Vogelsong's career path has had some serious downturns, but those were always followed, sooner or later, by recoveries. Perseverance has been the thread tying the story together. Yes, it has been worth watching and worth applauding.
Mike Bauman is a national columnist for MLB.com. This story was not subject to the approval of Major League Baseball or its clubs.