Upton on one of his tears since mental break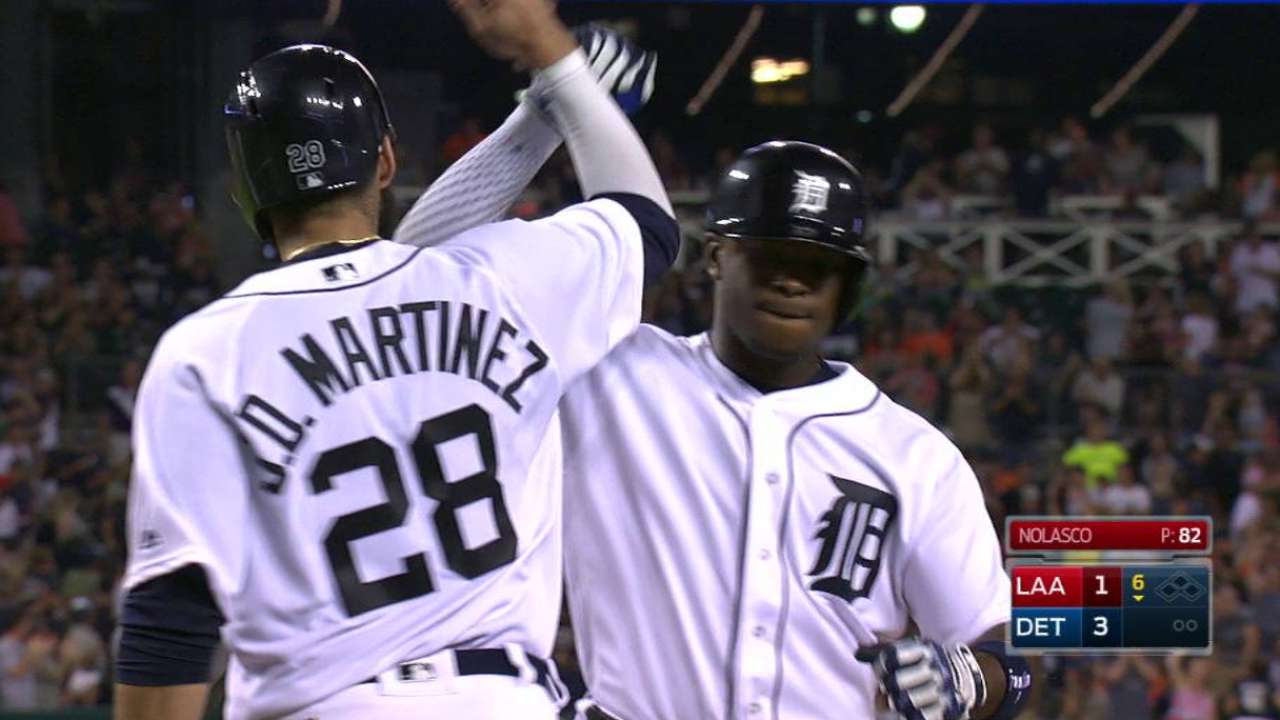 DETROIT -- This is the Justin Upton the Tigers had heard about. This is the guy that had Tigers fans rejoicing when they signed the slugging outfielder in January.
"He's a guy that can carry a club when he's hot," teammate Justin Verlander said after Upton's go-ahead home run in Friday's 4-2 win over the Angels. "Hopefully he's getting hot at the right time."
The Tigers knew that when they signed him. They knew he could be streaky. They had to wait a while to see the good streak.
"His history shows he's capable of going on tears like this," manager Brad Ausmus said.
It came together suddenly enough. A week ago at this point, Upton wasn't even in the starting lineup. Mired in a 1-for-31 slump, he was held out for three games to get a mental break and a mechanical refresh. Instead of getting ready for a game, he was getting work with Tigers coaches, from the video room to the batting cage.
They weren't looking for an overhaul, Ausmus said, just an adjustment.
"Without getting into the details, I know exactly what they were working on, and you can see it," Ausmus said. "You can see the work that [hitting coach] Wally [Joyner] and [assistant] David Newhan have put in.
"He worked on some things with Wally in the cage, and David Newhan in the cage, and it seems to be bearing some fruit."
Upton is 10-for-24 since his return to the lineup, with three doubles, four home runs and 11 RBIs. One of those doubles was his ninth-inning drive off the center-field fence last Saturday. He has as many homers in the last week as he had from the All-Star break until last Friday, with three more RBIs.
He doubled and homered this Friday. The former created a second-and-third, no-out opportunity that the Tigers couldn't convert in the second inning. The latter put Detroit ahead for good in the sixth, a no-doubt drive estimated at 423 feet at Statcast™.
With two more games to go against Angels pitching, Upton has a chance at American League Player of the Week honors when the award is announced on Monday. The Tigers are hoping his hitting carries a bit longer than that.
"Quite frankly, I hope he goes on a prolonged tear for about five weeks, even longer if necessary," Ausmus said.
Jason Beck has covered the Tigers for MLB.com since 2002. Read Beck's Blog, follow him on Twitter @beckjason and listen to his podcast. This story was not subject to the approval of Major League Baseball or its clubs.