Newcomer Francoeur gets latest party started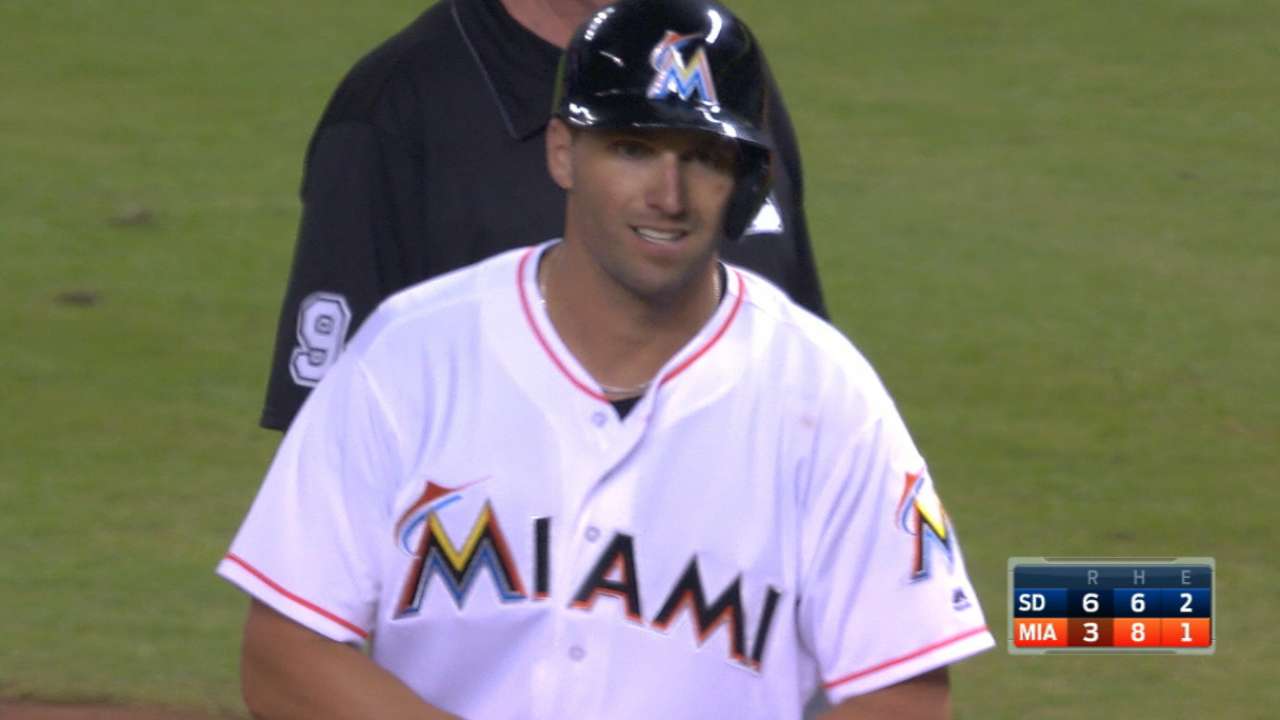 MIAMI -- When he was dealt to the Marlins from the Braves on Wednesday night, Jeff Francoeur knew he was joining a team in the postseason race. It wasn't until Friday that the veteran outfielder realized he was also joining the party.
Francoeur scored from second on Chris Johnson's walk-off ground-rule double in the ninth inning of the Marlins' 7-6 win over the Padres at Marlins Park. It didn't take long for the 32-year-old to see celebrations are a bit different in Miami.
After the usual mob scene on the field, the players went into the clubhouse, which has become an anything-goes party scene for about 10 minutes until reporters are allowed to enter, and order is restored.
Francoeur collected three hits and a walk in his first start with the Marlins.
"It's unbelievable," Francoeur said. "I was actually more tired from dancing than playing today."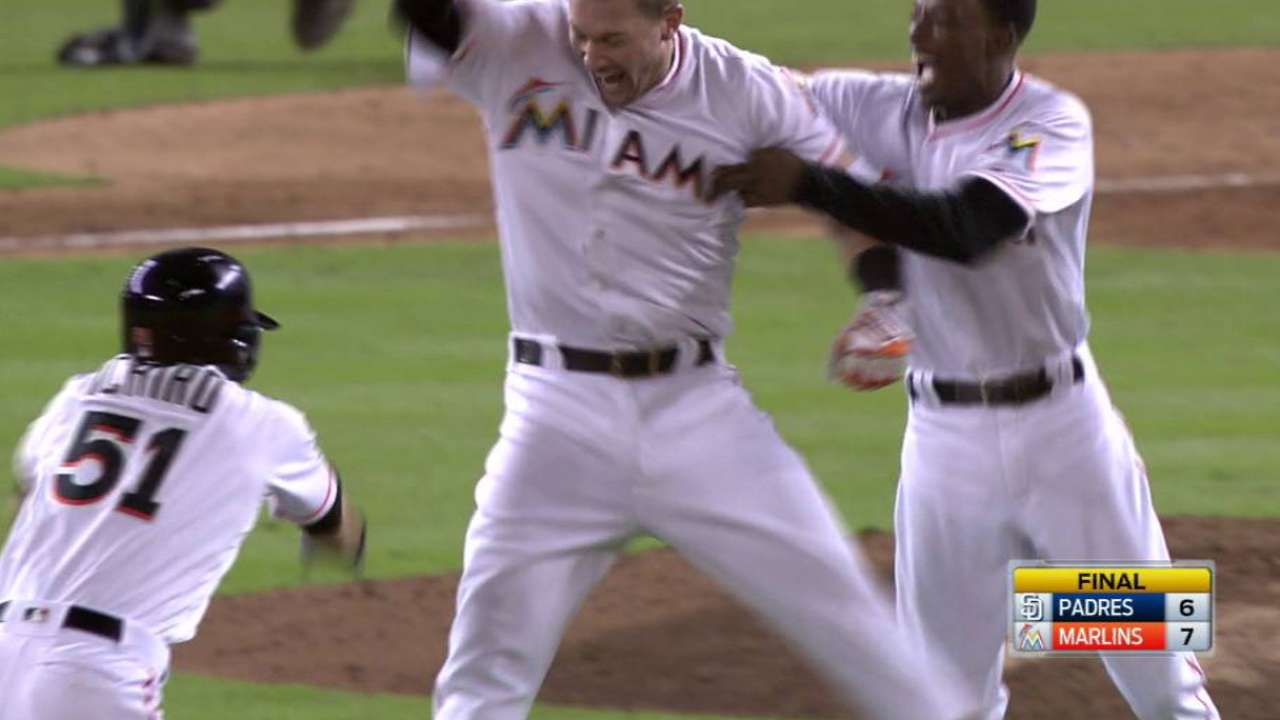 Win or lose, the Marlins like to keep things loose. And when they win, they wear masks, blare music, turn off the lights and dance around through the mist from their smoke machine.
Friday was certainly one of the biggest games of the season, as Miami rallied from four down late to win in dramatic fashion.
"It's a lot of fun, man," Francoeur said. "To see the comeback. To see the party after the game. It was a great night. Hopefully, we can keep it going."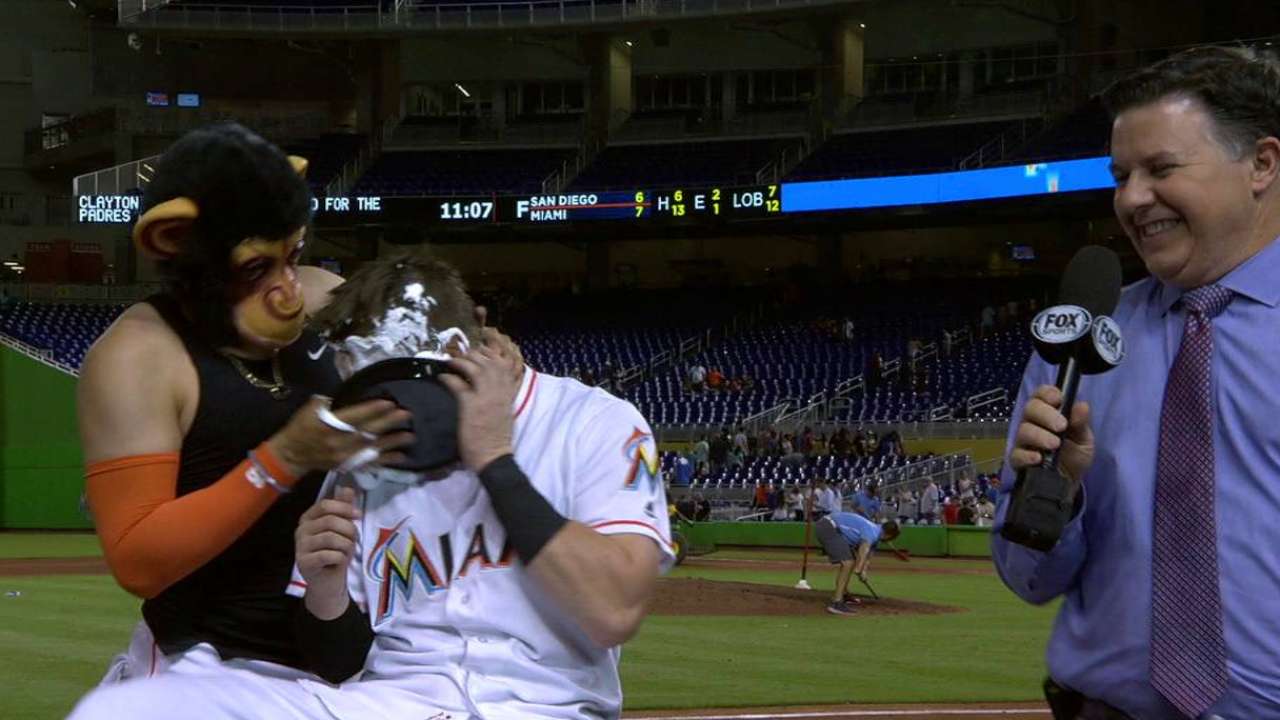 The Marlins kept pace in the standings, staying 1 1/2 games behind the Cardinals for the second National League Wild Card spot.
For most of the night, the Marlins appeared lifeless. But Francoeur, acquired to provide a spark, did his part to keep the team pushing forward. His single in the ninth inning was basically a swinging bunt, but it got the inning rolling towards Johnson's clinching double.
"He's a gamer," said Martin Prado, a former teammate of Francoeur's in Atlanta. "I love the fact he always has something positive to say, something positive to bring to the table. He doesn't get as much credit as he deserves. Just great at-bats today. He just put everybody in a better place."
Francoeur was added for depth and experience to split time in right field with Ichiro Suzuki, now that Giancarlo Stanton is on the disabled list with a left groin strain.
The Marlins considered signing Francoeur as a free agent in January, but they instead opted for Johnson, who played first base. Francoeur is a true outfielder.
"No. 1, he's a good fit for what we need right now," Marlins manager Don Mattingly said. "He's a great guy, a guy who is really competitive, and we knew he was going to be really excited about being here, because he wanted to be in a pennant race. And he's a guy who has been in these games. Everything works in this scenario, and he's a guy we've been talking about since the winter."
Joe Frisaro has covered the Marlins for MLB.com since 2002. He writes a blog, called The Fish Pond. Follow him on Twitter @JoeFrisaro and listen to his podcast. This story was not subject to the approval of Major League Baseball or its clubs.