Sardinas' career night comes in front of family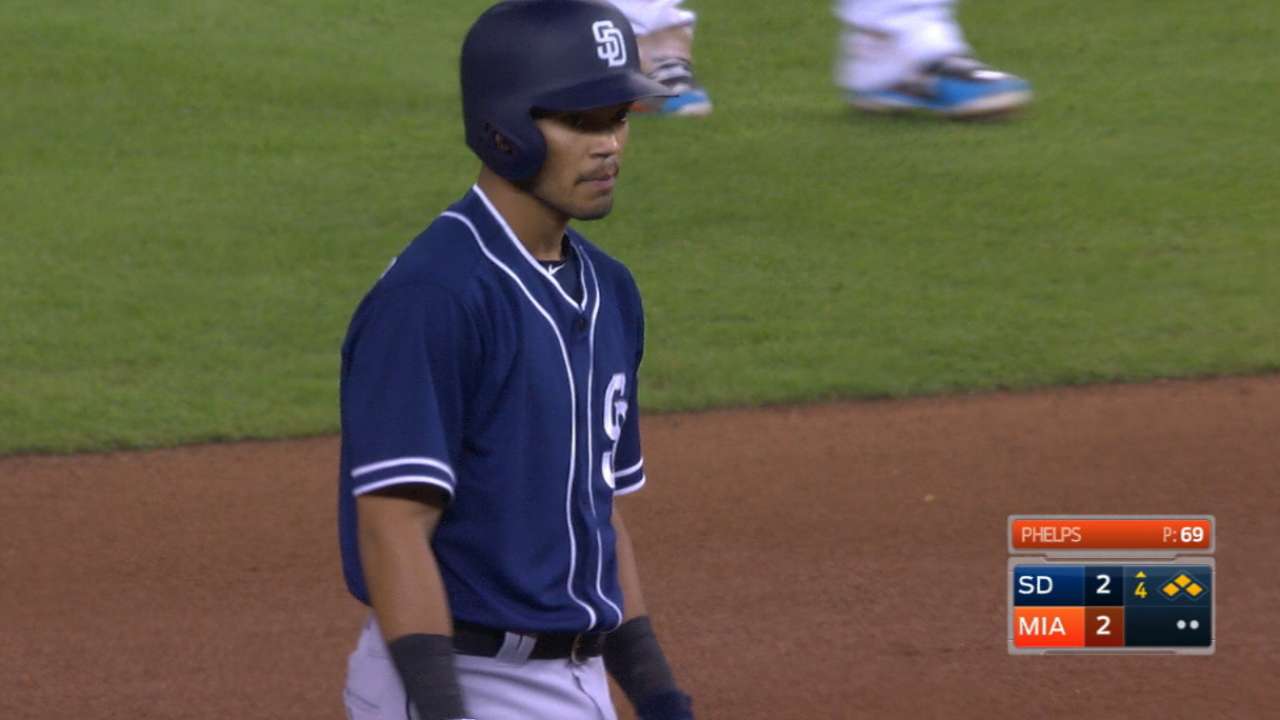 MIAMI -- Luis Sardinas has only played in four games, but San Diego's shortstop is already fitting in nicely. Despite a disappointing 7-6 loss to Miami in the series opener on Friday at Marlins Park, the Padres' newcomer tied a career high with four RBIs on a 2-for-3 night that included a solo homer and a three-run double.
Sardinas' bases-loaded two-bagger erased a 2-0 deficit in the fourth inning to cap a 13-pitch at-bat, and he slugged a solo shot in the sixth that upped the lead to 6-2.
That appeared to be enough to give starter Jarred Cosart a win over his former team. But the bullpen couldn't hold it, and the Marlins tied the game with three runs in the eighth and won it in walk-off fashion with a run in the ninth.
Sardinas entered Friday with just one hit as a Padre after being called up from Triple-A El Paso on Sunday. He was acquired from Seattle on Aug. 15. The homer was his third of the season, which set a career high, and his first with the Padres.
"I think every opportunity I get, the more I get in the games now, the more confidence I'm going to have," Sardinas said through an interpreter. "Every time you get more chances, you start developing that confidence."
It was a most opportune time to have the best game of his career. Sardinas' family was in attendance, enjoying the rare occasion to see him play.
"It's really fun to play in front of them," Sardinas said. "Every player wants to play in front of his mom and his siblings. My dad always told me to enjoy myself as well. I think you saw a little bit of that today. But at the end of the day, it's still about the team, and unfortunately, we weren't able to get the win."
However, Sardinas did all he could. His clutch two-out double gave the Padres the lead.
"With two outs there, I was just trying to be aggressive in the zone, trying to look for a good pitch and make solid contact, which I did," Sardinas said. "The biggest thing was just to stay aggressive and be ready for that pitch."
Then came the homer. Sardinas' only out of the night was a loud liner to right field. But Sardinas was hesitant to say he has become a power hitter.
"I'm just looking to make hard contact," Sardinas said. "It's going to depend on the pitch. Whatever the pitcher throws, I'm just trying to adjust to that and make good contact. The power comes from there."
Despite his big day at the plate, Sardinas said he takes more pride in his defense.
"I've always taken pride in playing a team game," Sardinas said. "At the end of the day, if you go 0-for-4 but you make a game-saving play, that's going to make a big difference. So in regards to that, I'd pick defense over offense."
Glenn Sattell is a contributor to MLB.com based in Miami. This story was not subject to the approval of Major League Baseball or its clubs.