Smyly turns his start to keep Rays in game
Lefty yields 3 runs early before retiring the final 14 batters he faced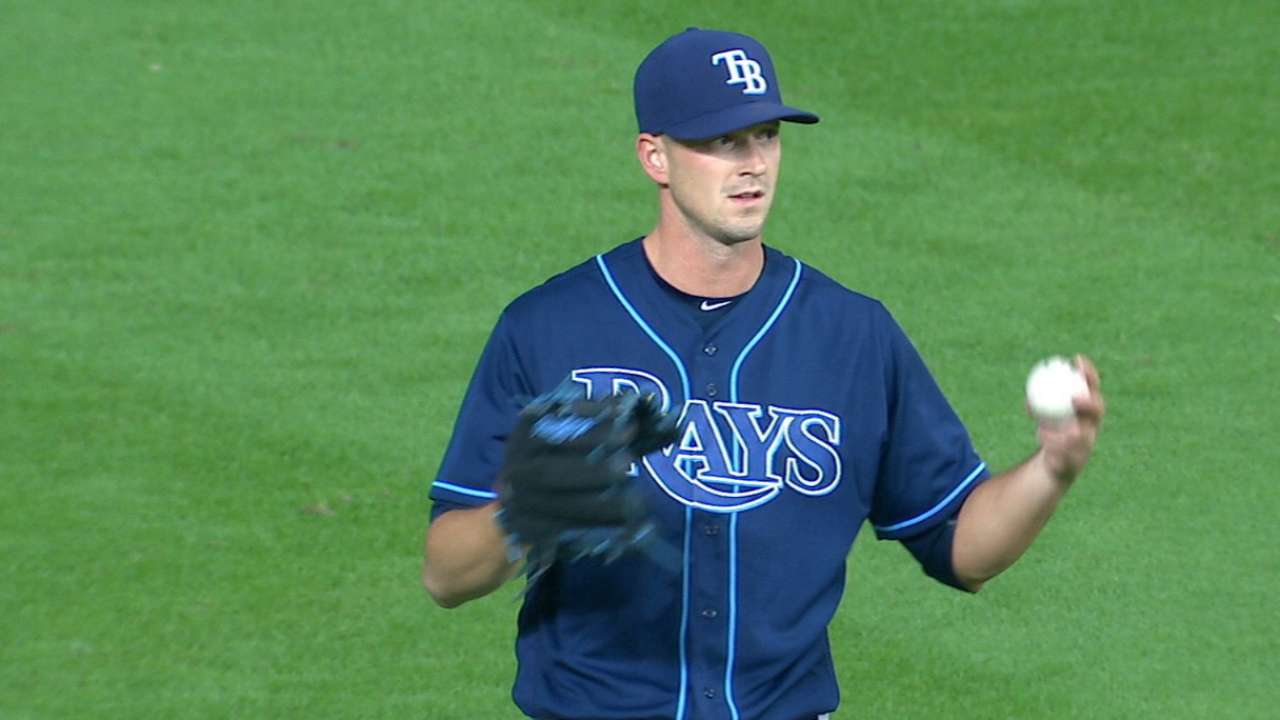 HOUSTON -- Drew Smyly finished strong after a tough beginning on Friday night. Unfortunately for the Rays, the left-hander's good work went for naught in a 5-4 loss to the Astros at Minute Maid Park.
Smyly wasn't sharp in the first, but a sloppy play by first baseman Brad Miller did not help the pitcher's cause, eiither.
Jose Altuve's fielder's choice drove home George Springer to put the Astros up 1-0. Then, when Smyly threw to first to hold on Altuve, Miller could not hang on to the ball. Altuve scampered to second base and when Miller soft-tossed the ball back to Smyly, Altuve alertly raced to third. He scored on a single by Evan Gattis.
"Drew didn't have the best first inning," manager Kevin Cash said. "We didn't help him out. Uncharacteristic play, allowed a couple of runs. But Drew at the same time wasn't very sharp. And then he dialed it up pretty good."
Jake Marisnick homered off Smyly in the second, marking the 27th homer surrendered by Smyly this season. Since 2015, he has allowed 38 home runs in 216 2/3 innings.
"I guess I was just nibbling a little bit in the first couple of innings," Smyly said. "Just missing. Got behind in the count. Made it hard on myself. But I was happy to get out of the first with just two runs. My pitch count was up, so in my head I was just thinking attack, go right at them and see how long you can last."
Marisnick's home run would be the last hit and run the Astros mustered against Smyly, who came away with a no-decision after allowing two earned runs in six innings. He retired the final 14 batters he faced.
Mikie Mahtook hit a go-ahead homer in the ninth for the Rays, but closer Alex Colome gave up back-to-back blasts to Carlos Correa and Gattis in the ninth for his second blown save.
"It was great to see that he turned it around and gave us every opportunity to get slowly back into the game and ultimately tie it," Cash said of Smyly.
Smyly attributed his success to being "more aggressive with my fastball."
"That's probably the biggest difference between the last three or four innings versus the first couple of innings," he said. "That's a good-hitting team. A lot of righties who can do damage. I just attacked and tried to be aggressive."
Smyly has now logged six quality start in his last seven outings.
"I really think it's just being confident," Smyly said. "Baseball's a crazy game. Colome made good pitches there and got hit. That ball Gattis hit was at his chin. I don't know how he got on top of that to hit it out.
"You never really know. All their hitters are good. They know how to hit a ball. You just compete and throw what you've got. And just believe that you can get outs. And hopefully good results will come."
Bill Chastain is a reporter for MLB.com and covers the Rays. This story was not subject to the approval of Major League Baseball or its clubs.