Verlander provides another true ace effort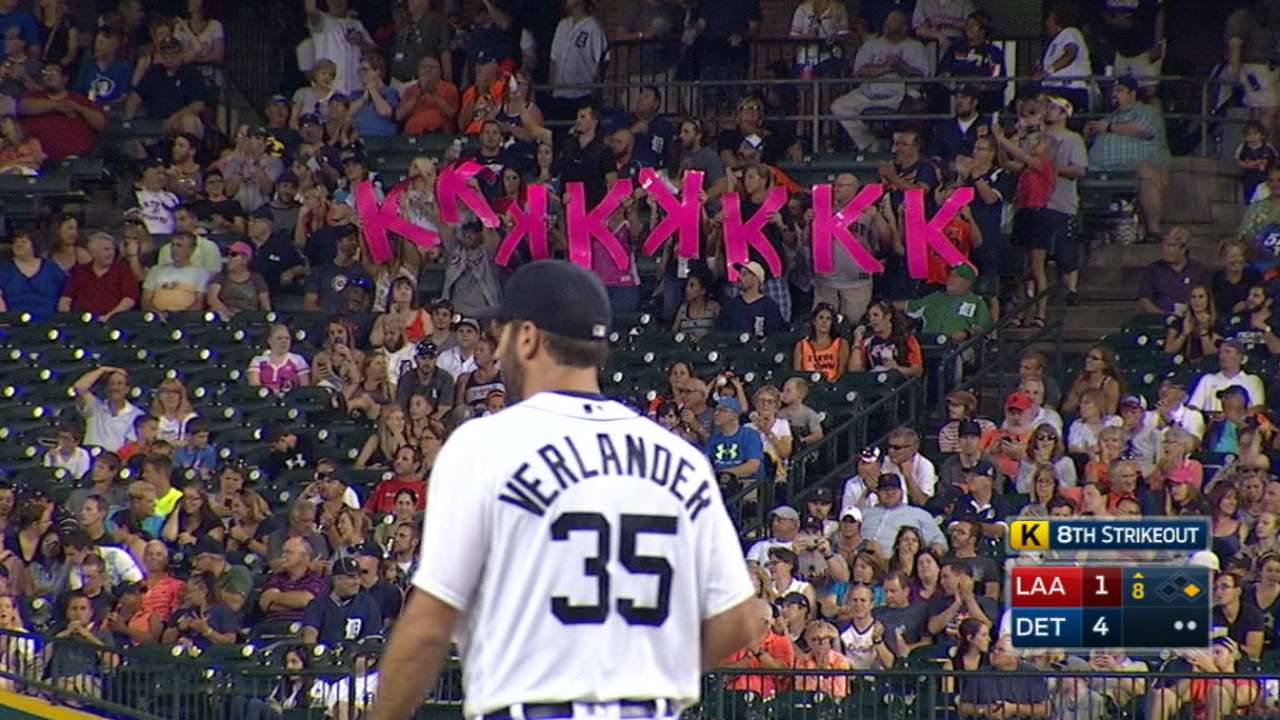 DETROIT -- The Tigers have withstood injuries and stayed in contention with three young pitchers in their rotation. Friday was a reminder why their chances still rely on the veteran ace.
"He's battle-tested," manager Brad Ausmus said of Justin Verlander after Friday's 4-2 win over the Angels drew the Tigers within one game in the American League Wild Card race. "I'm never worried about Verlander, especially with how he's pitched over the last 13 months.
In some ways, Verlander got the Tigers to this point before the season. His second-half resurgence last year, Ausmus explained, was a big reason the Tigers believed they could contend again with a few offseason moves.
As they head to the end of August, they're very much competing. And Verlander, more than belief, pitched them into a chance win Friday night.
As Verlander watched Albert Pujols' 585th career home run carry out in the first inning, he was struggling to find the feel on his fastball and slider. The righty had located a first-pitch fastball on the corner, then left the next one over the plate. When Verlander took the mound for the third inning, he said, he tried to use his warmup tosses on finding that form.
"For whatever reason," Verlander said, "it just clicked."
Cliff Pennington and Kole Calhoun fanned on sliders. Mike Trout swung and missed at a slider for strike two before Verlander came back with back-to-back 96-mph fastballs, the last for a called strike around the outside corner.
"My slider and fastball really weren't great in the first couple innings," Verlander said, "but after that I just tried to stay back a little bit better on my back leg, and I think that allowed my timing and everything to work the way it's supposed to, and just kind of went from there."
From there, Verlander rolled. He fanned Pujols on a slider and C.J. Cron on fastballs in the fourth, giving Verlander five consecutive strikeouts before he walked Andrelton Simmons. He retired 11 in a row from there, 19 of 20 from the end of the first inning through the seventh.
"His slider was, in the middle innings of his outing, was as good as we've seen it all year," Ausmus said. "He got swings and misses, even against left-handed hitters."
By silencing the Angels' offense, Verlander dared Ricky Nolasco to make his 1-0 lead stick. Nolasco couldn't, not against Detroit's offense, not with the momentum Verlander provided.
As the regular season heads into its final month, that's what makes Verlander vital. With rookie sensation Michael Fulmer being pushed back for rest, Daniel Norris and Matt Boyd entering their first playoff races, and Jordan Zimmermann and Mike Pelfrey working their way back from the disabled list, Verlander is the rock being counted on every five days -- not games, days.
"He may get an extra day here or there," Ausmus said, "but he's the one guy we know we can stick every fifth day if we have to."
Verlander feels he's ready.
"I mean, this is what you work for," he said. "This is what you work so hard in the offseason for, so you can be strong at the end of the season and continue to give your team a chance to win when it really counts."
Jason Beck has covered the Tigers for MLB.com since 2002. Read Beck's Blog, follow him on Twitter @beckjason and listen to his podcast. This story was not subject to the approval of Major League Baseball or its clubs.