Rookie Healy finding his footing with A's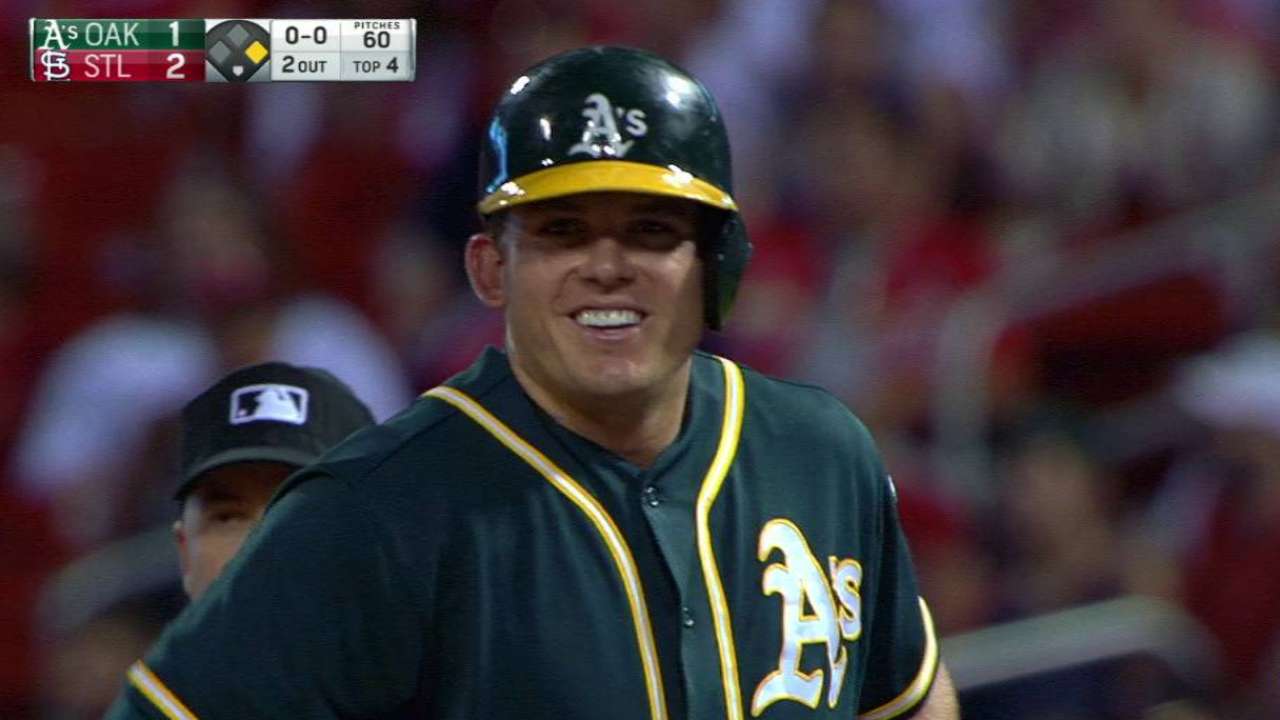 ST. LOUIS -- Even on a night when most A's bats slowed, Ryon Healy's continued to roll.
Healy picked up a fourth-inning single in Friday's 3-1 series-opening loss to the host Cardinals, extending his career-best hitting streak to 12 games.
The A's mustered just four other hits, including two from Yonder Alonso, after plating a combined 14 runs in their previous two games.
Alonso, who homered in the second inning, was wiped off the base paths in the ninth on Healy's ensuing double-play groundball; Healy was understandably frustrated by the at-bat, but only in a way that will make him better during his next trip to the plate.
The rookie third baseman has greatly impressed with a mature and composed nature that has helped him through an ongoing adjustment period at the big league level.
"I think it's been a nice learning curve," Healy said, "and I'm hoping that with the preparation I put in and the work I put in I can just continue to get better."
The kid's doing all right so far. Healy is batting .400 during his hitting streak, which is the longest active streak in the Majors, and .281 overall in his young Major League career.
"He's got a good approach right now," A's manager Bob Melvin said. "The more he's here, the more confident he is. He's playing every day, seeing pretty much every type of pitcher, and he's been good about making adjustments."
Healy's bat has proved consistent no matter the stage this year; he began the season at Double-A Midland, posting a .338 batting average ahead of a promotion to Triple-A Nashville, where he kept going, hitting at a .318 clip before the A's pulled the trigger and made him their everyday third baseman, pushing out veteran Danny Valencia from the position.
The scenery may have changed, but Healy's approach hasn't. On the side, he's been clocking hours with A's hitting coach Darren Bush to work on his timing against different arms. Even on his own, he's studying video of similar right-handed batters and the way they're pitched.
Healy, 24, is also dogged in his ways, hurrying the pace at which he's feeling comfortable against big-league pitchers.
"He's not scared at all," Melvin said. "From the moment he got here, there was a tenacity about him. Now, he's very respectful of his teammates and the game, but he's pretty tenacious. Since he's gotten here, he's been hungry, he wants to prove himself, and he wants to stay."
Jane Lee is a reporter for MLB.com. Follow her on Twitter @JaneMLB. This story was not subject to the approval of Major League Baseball or its clubs.